Yamaha's New CX series of Grand Pianos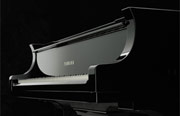 The year 2012, marking their 125th anniversary, Yamaha introduced a new line of pianos. For those who have been in the trade, you will know that Yamaha became famous for their G series grands in the 60's and 70's. The C series soon became the popular models throughout the 80's and 90's and through the millennium. In 2010, Yamaha introduced a brand new concert grand replacing the CFIII with one called the CFX. Just two years later Yamaha unveiled the entire CX line utilizing the 'trickle down' effect where technology on the highest level of design has been applied to smaller sized grands. So what are the features of the new CX series? Like any scale design changes, they must be observed first hand. But here's the skinny on major points.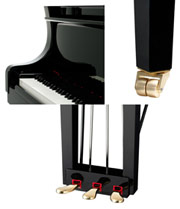 1. Thicker back-post structure. Yamaha has increased the thickness by about 20% on supportive beams.
2. New soundboard design. Although not much has been revealed about what this entails, with years of experience and millions of pianos having been made, Yamaha states that the new manufacturing process to create the crown offers more projection and response.
3. New hammers. Based on the same felt as the CFX concert grand, these new hammers offer wider color range and tonal expression.
4. European wire is now utilized throughout the CX series presenting more pure fundamentals and distinctive sustained overtones.
5. Cabinet redesign. Pedal lyre, case arm, music rack and legs now have a minimalist look to them.