Posts tagged
tour

The NAMM show is always an exciting show. NAMM (the National Association of Music Merchants) contains everything related to the business of music. If you're a music teacher, musician, technician, sound man… every imaginable product is represented. Above and beyond the displays, there are workshops, concerts, demonstrations and specials happening for the full 4 days. It's hard not to be excited with the buzz of almost 100,000 visitors all interested in something musical. Invariably there's always one piece that stands out in the crowd. Without question this year's prize went to Bosendorfer for the remarkable vision combining piano making with bronze sculpting at the hands of Franco Castelluccio. Better images can be found on the Bösendorfer website and you can also see the making of this extraordinary piece. In keeping with the theme on visuals, Pearl River has come out with a clever way of customizing upright pianos. The Panda upright pictured is actually a type of almost vinyl application on top of the white backdrop. Discussing this great idea with one of the Pearl River representatives, the overlays and background colors can both be customized ~ a simple yet effective concept. The possibilities are limitless for interior designers. The Panda, one of China's national treasures, is featured in the zoo at Guangzhou, the same location as the Pearl River Piano Company.
I couldn't help but take notice to the small display of Charles Walter pianos. Their furniture pianos are detailed meticulously and show the hand rubbed lacquer beautifully. I've never had the opportunity to meet Mr. & Mrs. Walter before and we chatted for quite some time. I asked them to reminisce of their early days starting a piano company and it wasn't long before we heard stories of the challenges raising both a family and building this piano manufacturing business. They truly are living legends and build very fine American-made pianos.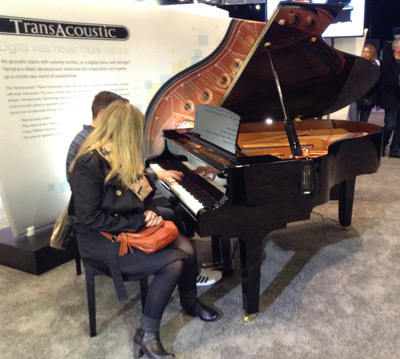 NAMM is a fantastic event to discover the piano. It's a place to sit down and try out different instruments – to put aside pre-conceived ideas about brands, companies or country of origin and simply… play. You can try various uprights and grand pianos and feel how the keys respond – what tones are pleasing to your ears and view examples of fine cabinetry. This year on Piano Price Point, I decided to give the virtual tour version of the NAMM show. You can try looking around for yourself. While you can't play the pianos on the virtual tour, it will give you a glimpse of what's available. Below is a picture of the NAMM entrance at the Anaheim Convention Center. Simply click and hold your mouse button anywhere on the background of the picture (or on touch screen, press down anywhere) and then move the pointer in the direction you would like to see (while holding down). You should be able to see the scene move as if you are standing there. Click the location arrows (found just above descriptives) to move to the next location. The purpose of this tour is to give a brief glimpse into what it's like being at the show. Although I included a few scenes from the main floor, the pianos are located on the 2nd and 3rd floors. The main floor exhibits go on for miles. Some of the images aren't clear due to constant traffic movement and close quarters but it will give you the perception of what the show is like.

This content requires HTML5/CSS3, WebGL, or Adobe Flash Player Version 9 or higher.
In attendance this year were Baldwin, Bösendorfer, Brodmann, Charles Walter, Geyer, Hallet Davis, Hailun, Hardman, JF Hessen, Kawai, Kingsburg, Mason & Hamlin, Ottomeister, Pearl River, Perzina, Pramberger, Ravenscroft, Rönisch, Samick, Schultze Pollmann, Seiler, Story & Clark, Yamaha and Young Chang.
Did you like the VIRTUAL TOUR? You can now visit INSIDE a piano factory. Hailun was the first to open the doors for Piano Price Point. You can visit that HERE. Petrof, from Czech Republic will be the next tour released (within weeks) followed by Sauter, in Germany so stay tuned to be able to see these virtual tours to see how pianos are made behind the scenes. Enjoy!
Three weeks ago I was in a discussion with Basilios Strmec of Vienna International (North American distributers for Hailun, Petrof & Sauter) regarding the creation of virtual piano factory tours on Piano Price Point.
After a slight pause his first response was, "Glen, how flexible are you?"
"Pertaining to what exactly?" was my reply not having any clue where he was headed.
"I'm leaving for China in 10 days and if you can clear your schedule, I'd like to invite you to Hailun Piano Company to do your first tour".
Knowing I was planning a trip to Toronto for that week I said "Let me call you within 24 hours". I managed to shuffle some dates to make this happen as I deemed it an exciting new adventure and opportunity.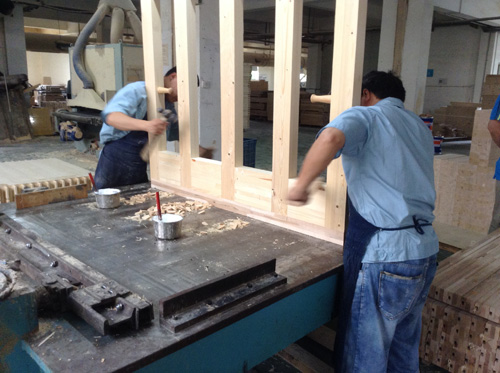 With new-to-me technology of panoramic photography I started to explain to Basilios during the shuttle from Shanghai what it is I hope to achieve. "I want to bring the masses to the factory" I said, knowing that it is an impossibility in reality but plausible with virtual technology. "I would like to give people the opportunity to look around – to see the stuff of every day life – to see the sawdust and the chisel shavings, to see the rough cast iron frames before they get sprayed beautifully in gold, silver and rose. I'd like consumers to begin with lumber and iron, leather, cloth and felt and end with a finished product ~ to show from inception to creation this process of making the piano." OK I wasn't quite that poetic but… you get the point.
In usual enthusiastic manner Basilios replied "Well let's make this happen! Hailun is transparent and I'd like you to feel at home – to photograph and walk around as you would like." It wasn't until I started shooting panoramic images that his eyes lit up. "Wow this is fantastic! It really shows the factory as if you're standing right here." That was my intention precisely. The new chapter called Piano Factory Tours is in editing stage and will be released August 2015.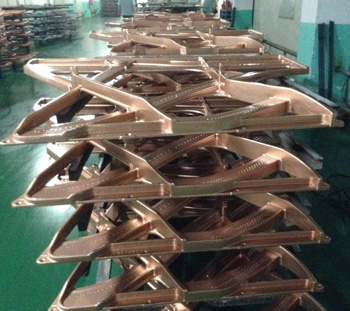 5 Days Later
Debriefing this whirlwind, it's simply overwhelming the stature and size of the Hailun Piano Company. They manufacture roughly 38,000 pianos per year. Now if you do the math, that's just over 3,150 pianos per month in 4.2 MILLION square feet of factory space.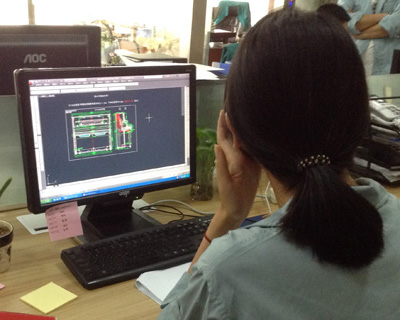 The construction of the piano is divided up into stations where each employee is trained in specific tasks. Some work on tone wood – the sound producing elements of bridges and soundboards while others work on action parts and how the piano plays. Some produce beautiful finishes and others are involved in the construction of the frames. At the end of the assembly there are usually at least 3 levels of refinement ~ rough tuning and regulation (making all the parts function evenly), then 2nd tuning and voicing (making all of the notes sound consistent) and then 3rd regulation and tuning. All pianos are inspected along the way at various levels. Oh and when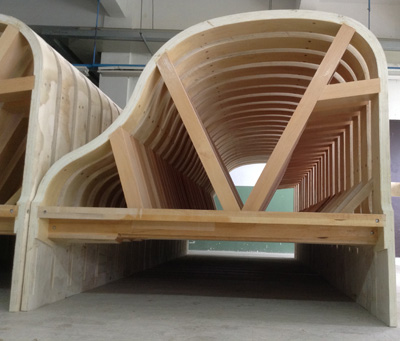 you walk into the factory, the sounds – you can't even begin to describe this one machine – up until this point I had only seen pictures –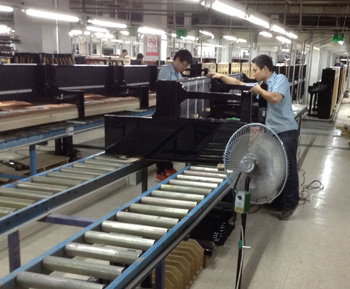 The piano gets sent into an extremely well insulated booth where this machine strikes the keys to 'break in' the piano. The sound of all 88 keys hitting in rapid succession settles the entire piano; the tuning of the strings settle, the hammers find their strike point and the tone begins to really blossom and not sound so 'green'. All pianos roll through the factory on what look like train tracks. They move from one section or station to another. There are some areas in the factory with tools not dissimilar to my own wood shop having the reminiscent smell of sawdust and conversely, there are multimillion dollar polishing machines working with exacting precision to achieve that mirror gloss many refer to as "piano black finish" or ebony polish. In order to create a piano however, it's not simply the sum of the parts – it's the design team of piano visionaries and engineers working at computers and CNC machines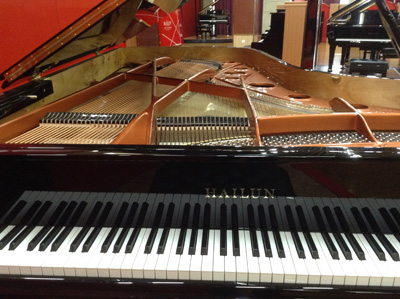 (computerized cutting tools precisely notch and cut down to 1/1000th of an inch).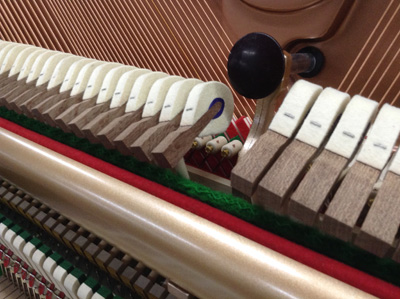 It's also logistics – transporting parts from one area to another and not get bottle necked at any stage along the way. Imagine if there would be a problem in one section, pianos would just start piling up at over 100 per day! So the entire process needs to flow from one section to another. And don't forget about packaging – the creation of boxes, pallets and air tight packaging. At the helm of this giant ship is Mr. Hailun Chen – an absolute larger than life personality who despite cultural and language barriers makes everyone feel welcome. The few interactions over dinner and meetings, there were great laughs but you also recognize that he's a remarkable leader who would be first to tell you that it takes a team to build a piano. Hah… and I thought my 5 day trip to China was a whirlwind – try building an entire line of pianos, manufacturing facilities, installing giant machinery, with hundreds of workers, an entire sales force with global presence, achieving publically traded stock status all in just 15 years. Wow.

Special thanks Mr. Hailun Chen & Basilios Strmec (Vienna Piano) and the entire staff at Hailun Piano for accommodating this photo shoot and for facilitating and sponsoring this entire trip from start to finish. Thank you so much for the tour – halfway around the world and back within 5 days. Cheers to Hailun Piano and may you see continued success and growth in the coming years.

Oh and one last thing… in between meetings, I had the opportunity to sit at a Hailun grand piano ~ model 218 (7'3" long) in a performance venue built within the factory. (You'll be able to see it on the virtual tour). It was lovely not only to catch my breath for a moment but to also sit at this FANTASTIC piano and remember that it's the inspiration of music that moves mankind to create and build instruments of beauty for the indulgent purpose of expressing what our hearts feel.