Posts tagged
Samick

The NAMM show is always an exciting show. NAMM (the National Association of Music Merchants) contains everything related to the business of music. If you're a music teacher, musician, technician, sound man… every imaginable product is represented. Above and beyond the displays, there are workshops, concerts, demonstrations and specials happening for the full 4 days. It's hard not to be excited with the buzz of almost 100,000 visitors all interested in something musical. Invariably there's always one piece that stands out in the crowd. Without question this year's prize went to Bosendorfer for the remarkable vision combining piano making with bronze sculpting at the hands of Franco Castelluccio. Better images can be found on the Bösendorfer website and you can also see the making of this extraordinary piece. In keeping with the theme on visuals, Pearl River has come out with a clever way of customizing upright pianos. The Panda upright pictured is actually a type of almost vinyl application on top of the white backdrop. Discussing this great idea with one of the Pearl River representatives, the overlays and background colors can both be customized ~ a simple yet effective concept. The possibilities are limitless for interior designers. The Panda, one of China's national treasures, is featured in the zoo at Guangzhou, the same location as the Pearl River Piano Company.
I couldn't help but take notice to the small display of Charles Walter pianos. Their furniture pianos are detailed meticulously and show the hand rubbed lacquer beautifully. I've never had the opportunity to meet Mr. & Mrs. Walter before and we chatted for quite some time. I asked them to reminisce of their early days starting a piano company and it wasn't long before we heard stories of the challenges raising both a family and building this piano manufacturing business. They truly are living legends and build very fine American-made pianos.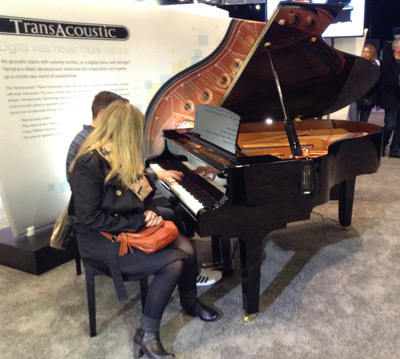 NAMM is a fantastic event to discover the piano. It's a place to sit down and try out different instruments – to put aside pre-conceived ideas about brands, companies or country of origin and simply… play. You can try various uprights and grand pianos and feel how the keys respond – what tones are pleasing to your ears and view examples of fine cabinetry. This year on Piano Price Point, I decided to give the virtual tour version of the NAMM show. You can try looking around for yourself. While you can't play the pianos on the virtual tour, it will give you a glimpse of what's available. Below is a picture of the NAMM entrance at the Anaheim Convention Center. Simply click and hold your mouse button anywhere on the background of the picture (or on touch screen, press down anywhere) and then move the pointer in the direction you would like to see (while holding down). You should be able to see the scene move as if you are standing there. Click the location arrows (found just above descriptives) to move to the next location. The purpose of this tour is to give a brief glimpse into what it's like being at the show. Although I included a few scenes from the main floor, the pianos are located on the 2nd and 3rd floors. The main floor exhibits go on for miles. Some of the images aren't clear due to constant traffic movement and close quarters but it will give you the perception of what the show is like.

This content requires HTML5/CSS3, WebGL, or Adobe Flash Player Version 9 or higher.
In attendance this year were Baldwin, Bösendorfer, Brodmann, Charles Walter, Geyer, Hallet Davis, Hailun, Hardman, JF Hessen, Kawai, Kingsburg, Mason & Hamlin, Ottomeister, Pearl River, Perzina, Pramberger, Ravenscroft, Rönisch, Samick, Schultze Pollmann, Seiler, Story & Clark, Yamaha and Young Chang.
Did you like the VIRTUAL TOUR? You can now visit INSIDE a piano factory. Hailun was the first to open the doors for Piano Price Point. You can visit that HERE. Petrof, from Czech Republic will be the next tour released (within weeks) followed by Sauter, in Germany so stay tuned to be able to see these virtual tours to see how pianos are made behind the scenes. Enjoy!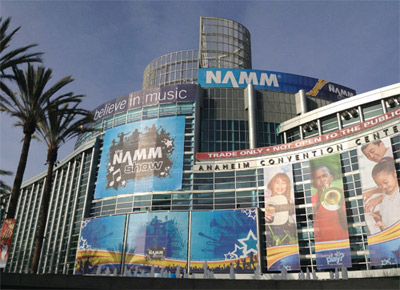 If you've never heard about NAMM, it's the largest music trade show in North America. NAMM stands for the National Association of Music Merchants. So if you're in the trade, whether it be musical instruments, band instruments, music software, support – like sound reinforcement, lighting, guitar strings, music books… this is the place to be. Established in 1901, the show now has reached an attendance of 95,709 visitors. Hosted in sunny Anaheim, California, the following pictures are the piano highlights for me. Hopefully they'll give you a glimpse in terms of what it's like. Enjoy!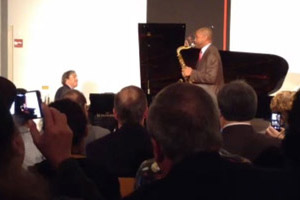 In the middle of the trade show was a small concert highlighting Branford Marsalis and Joey Calderazzo, hosted by Schimmel. It was an intimate event in a venue that held only about 80 people. Kudos to Schimmel for this. For years I've followed the musical careers of both Wynton and Branford Marsalis. Joey and Branford play at such a high level and yet somehow make it so incredibly accessible and fun… best moment of the show for me. And it also brought back home again why we are involved in the music business… to make music.
Many of the brands that you see in stores were represented at the show. On the 3rd floor were Kawai, Samick, Schimmel, Pearl River, Kayserburg, Ritmuller, Hailun, Kingsburg, Petrof and Cline. On the 4th floor on display were Fazioli, Bluthner, Ronisch, Baldwin, Otto Meister, Hallet & Davis, Schumann, George Steck, Schulze Pollmann, Baldwin, Mason & Hamlin, Perzina, Story & Clark, Ravenscroft as well as Young Chang.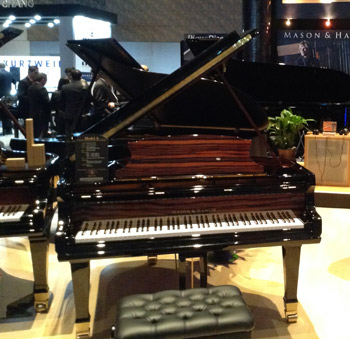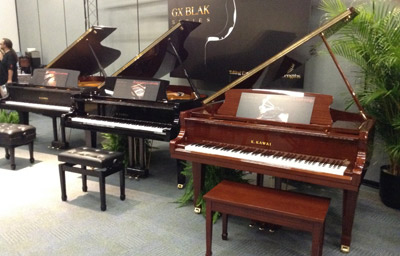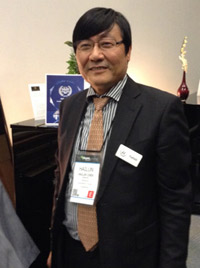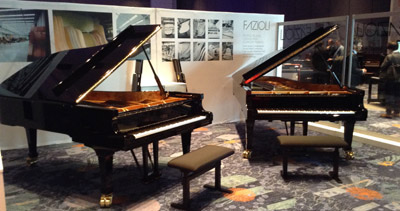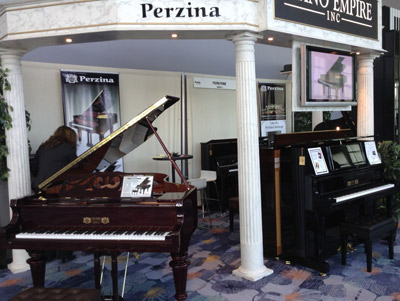 I always count it a privilege to meet people at this show who are what some would call 'movers and shakers'. It was great to meet Mr. Hailun Chen (from Hailun pianos). He's this unassuming man humbly standing in the corner. After I showed interest in the technical side, we then started dismantling his pianos in order to show me the finer points. Despite the language barrier (he's pointing out features and I'm nodding) we still managed to connect about some of the new features of Hailun. When you consider that the Hailun company is responsible for manufacturing not only tens of thousands of pianos but is also a supply house of action parts to many companies, it was truly an honor to meet him. Connecting with Christian Bluthner (Bluthner pianos), Michael Spreeman (Ravenscroft pianos), Kirk Burgett (president Mason & Hamlin), Del Fandrich (designer of Young Chang), Thomas Dolan (CEO of QRS and Story&Clark) was also very exciting to hear what is going on in each of their respective companies.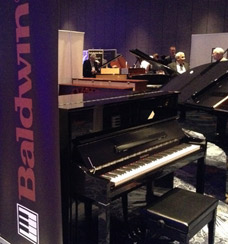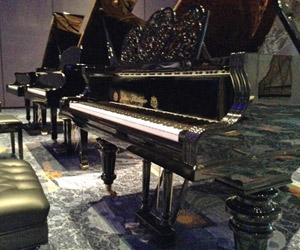 One of the FIRSTS this year was the Kayserburg release of their grand piano from Pearl River Piano Group (see Piano Price Point blog October 2013 for more details on Kayserburg). The piano played and sounded wonderful… and although the price is TBA, in usual Pearl River fashion it will represent excellent value when it hits the market in North America. Unbeknownst to me, someone snapped a picture of me playing the Ravenscroft piano. They also released a VERY fine computer based sample of their piano. Pictured to the right is the unmistakeable look of Bluthner music rack and legs.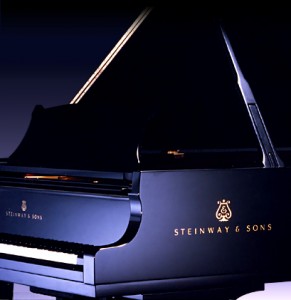 From its inception in 1853, Henry Steinway had 2 goals – make pianos that produce beautiful music and build a successful company. The former is done through innovation and craftsmanship. The latter is a result of sales and marketing. With success (as in the case of Steinway and Sons) comes change. Procedures are multiplied and streamlined, while efficiency and productivity are examined. In the early years, Steinway manufactured 1000 pianos per year or roughly 80 per month. Within 7 years (1860), those numbers doubled.
By 1900, Steinway was producing three and a half times the amount of pianos they originally made per year and then by the 1920's, they were producing 5000 per year. Think about making approximately 400 pianos per month. That's a major accomplishment for the 1920's. It begs the question however, "why more?" Why do companies need to be bigger, better, stronger, faster? In a word – economics. It's just business.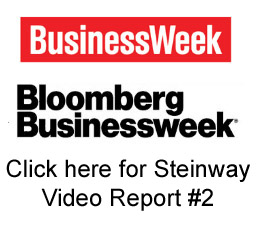 The year 1972 marked when Steinway was first sold out of the hands of the Steinway family to CBS. After plans to build a musical conglomerate didn't turn out as speculated, the company was sold to a group of Boston investors in 1985. In 1996, the company became a publicly traded stock with Samick (Korean piano company) as the major stock holder. It wasn't until July 1st, 2013 that Kohlberg put an offer on the table of $438 million for the company. Steinway had a 45 day period in which to shop for higher bidders. Samick placed a bid of $499 million which was topped once more on August 14th, by Paulson & Co. with a bid of $512 million.
So why the interest in purchasing a piano company like Steinway? Money moguls aren't interested in sitting on a company for the sake of boasting rights. They're in it for the same reason Henry Steinway was over 100 years ago: to make sales. The concern from many is that the company will get watered down. Despite the trends of the last decade to trade upon name value and cash in for the 'quick nickel' selling name rights to produce lower priced products, it is apparent that many companies conversely see the upper middle class emerging in areas such as Russia, Brazil and China. What John Paulson is interested in is a great American icon – one that is so branded, it is synonymous with quality. In the words of Bloomberg Businessweek "The Steinway brand is both opulent and bulletproof". It is my opinion that it would be unwise to rock the boat as it were in production if the aim is set at higher sales and market share of luxury items. Giants such as Kohlberg and Paulson hedge bets not on dismantling companies but developing new markets and pushing values higher because they want to get their money's worth. After all, they didn't exactly buy it for a song.