Posts tagged
quality

"World War II – July, 1944 ~ 71 years ago almost to the day, 85% of the Renner factory was destroyed. Wilhelm Megenhardt, then 70 years of age simply replied 'We'll just build it up again'. He continued working until 85 years of age after Renner had become a leading producer of piano parts. He was my grandfather."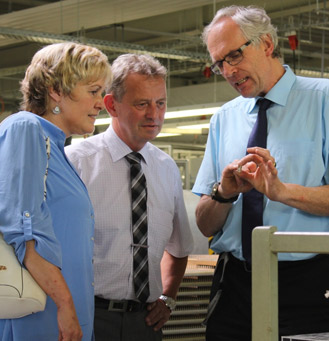 Glen Barkman: It was a delight and privilege to sit with Clemens von Arnim (pictured left) and ask him about his connection to Renner. I had no idea that it was his grandfather, Megenhardt who partnered with Renner in the early days of this business and eventually became sole owner.
Established in 1882, Louis Renner opened a small workshop in Stuttgart. Operating with 25-40 workers, he built a successful business around making piano parts (also known as action parts). Twenty years later, as he began to struggle with his health, his son Oskar Renner assumed position as technical head of production. Shortly thereafter in 1906, in partnership with Wilhelm Megenhardt, they opened a modern factory manufacturing action parts as well as piano hammerheads.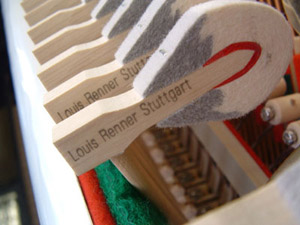 Why is Renner important? Aren't there other makers of action parts? The answer is yes, there are many makers of parts, it's just that none of them have the reputation of Renner. Throughout the pages of Piano Price Point you'll come across this phrase "Renner option available" or "Renner hammers". When I've asked consumers, pianists and even aficionados about Renner, I usually hear a similar response: "I've heard of Renner but don't really know what it's all about."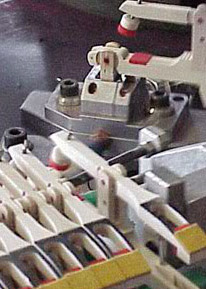 In short, Renner builds the finest action parts money can buy. The most prestigious, exotic piano makers in the world use Renner parts. Take a look at the chart below of piano companies that Renner supplies to.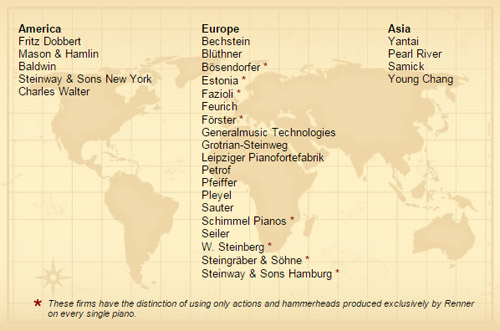 If you know some of the names on this list you'll know that they produce the finest instruments in the world. And so why use parts from a company like Renner? Listen to the words of Clemens von Arnim to hear more:
Demand
Clemins von Arnim: Our philosophy is based on 4 words: Quality, Reliability, Precision and Durability. How we accomplish that comes from the original mandate set out by Louis Renner himself. A standard grand action has more than 4000 parts. He set out to meet the demand for consistent quality. When you play a piano, all 88 notes need to respond precisely in the same manner and each of those keys has a minimum of 45 action parts. How does one manage to meet the stringent criteria for the highest level of quality? The answer is multi-faceted but let me start off by telling you a simple example that is decades old in the Renner factory about planing wood – one that set Renner apart. You see, to make piano parts, you must plane or cut wood to specific shapes and sizes. Cutting with the grain of wood is easy. Cutting across the grain at 90 degrees requires the correct tools. If the machinery is not extremely rigid, the edges of the cutting machine will 'jitter' against the wood and you will end up with course or substandard parts. In my grandfather's era, at the Renner factory they over-built, over-constructed these planing machines to almost 2 ½ times the specifications so that cutting the smallest pieces would be accurate and smooth.


CvA: That original machine existed in our factory for decades. And it got replaced not because we had outgrown its usefulness, but rather automation in manufacturing prevailed. But it was this commitment to quality – to engineer and have machines that could produce the finest parts of the highest quality that set Renner apart more than a century ago.
GB:
That story sounds like one where they call the inventor crazy until they see the end result. Tell me about your parts and how they are made.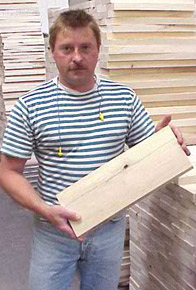 CvA:
Our parts are made of hornbeam wood. Trees need to be cut between November and March when growth is slow and not so wet. Boards are then cut and air dried for one full year. This is very important because if you dry it too quickly, it has too much tension. It is then kiln dried until it reaches uniformity at around 8-9% humidity. After that, boards are sorted by our specialist for usage (see diagram). Vertical grain is used for hammer shanks while horizontal and diagonal grain wood is used for other action parts. In the end, 60% of our production lumber we deem as firewood and only use about 40% due to our stringent quality controls."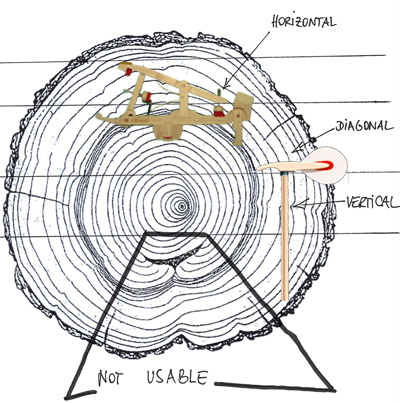 Delivery
GB:
How has Renner managed to stay on top of the industry for so many years?
CvA:
Aside from the commitment to quality, Renner has over 100 years of technical experience. There is a balance between modern automation and know-how when it comes to natural products. You cannot simply rely on machinery to have intuition regarding natural materials of wood and felt. And so 50% of our processes are automated and 50% involve hand-made personal touch. We have two facilities – one at Gärtringen (near Stuttgart) and one at Meuselwitz (near Leipzig). What has kept Renner going is that we can deliver and have met the demand without comprimise. Renner is the largest purely piano action manufacturer in the world. Over 3 million piano actions have left our production facilities.
GB: Somebody please do the math… conservatively 4,000 piano parts per action x 3 million actions… anyone? 12 BILLION parts. I think it's safe to say that Renner can deliver.
Diversity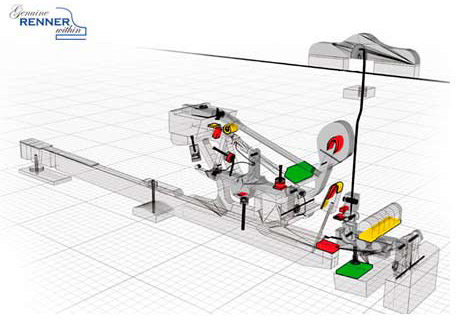 CvA: In 1952, we expanded yet again to offer not only parts for new fabrication but also for repair and rebuilding. We manufacture over 1000 types of piano hammer heads. One of the reasons Renner continues to exist is the fact that we can supply not only volume but also make hammers with custom requirements. Clients tell us how firm the felt should be, how much felt is required around the wood and what sound they're trying to achieve. We can troubleshoot and even offer suggestions to those wanting to customize action parts. Now, in the age of computer assisted design, the diversity is even greater. Over the years we have gained so much knowledge in working with wood and fibres of felt that we can control variances to very small percentages. Our tolerances at Renner are less than 1/10th of 1 millimetre which is sporty if you know what it's like to work with natural products of wood and felt.
GB: This was one of those moments that made me smile .. "sporty" (I thought to myself) was the perfect word that describes the healthy pride in accomplishment and ownership but also denotes great satisfaction.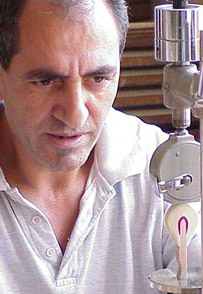 The Renner Advantage
CvA: Because of such tight tolerances in product manufacturing, our long standing knowledge base, combined with our hands-on technical team, we are capable of not only making beautifully crafted actions for today but also ones that will remain consistent for long periods of time. Our actions need little adjustment.
GB: If you've ever sat down at a piano with a Renner action, you'll know that the touch and feel is superb. They play as smooth as silk and feel as rich as chocolate.
Many thanks to Clemens von Arnim. It was fantastic to meet face to face and to learn about Renner and the history of not only your family but the heritage that Renner has made. Renner has changed the world in creating music with the most prominent piano makers in history. The greatest concert pianists have played on piano actions created by Renner.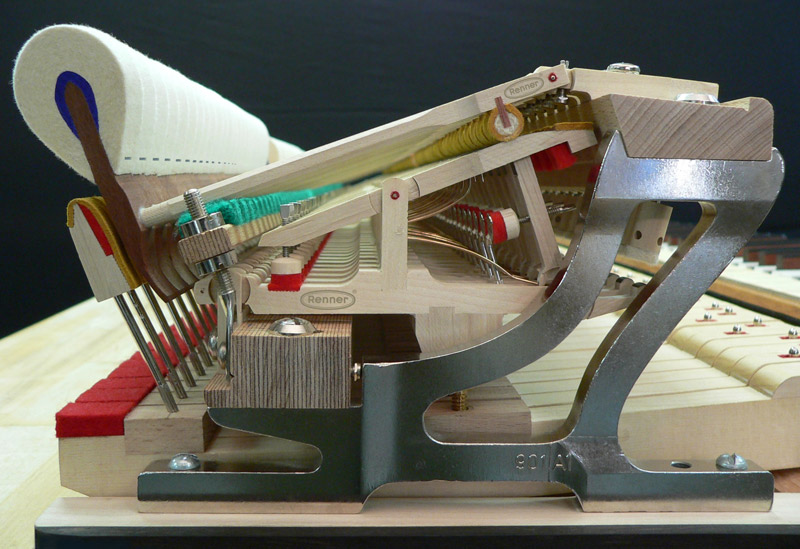 Renner has its own Academy for training purposes on piano actions. Below are some links to Renner around the world. Enjoy!
Renner Germany ~ Renner USA ~ Renner Academy

I have to admit, I'm a duck to water when it comes to playing the piano. If I see a piano, I'm always curious as to how it sounds and plays. Recently someone said to me "y'know you really should do a blog about how to test pianos… I don't have the slightest clue how to go about that". It's one thing I do instinctively and it made me stop and think about my procedure.
Going back just over 20 years, I was a new upstart that just got hired by the local piano store. With 2 Classical degrees behind me I felt confident I knew my way around the keyboard. Fortunately my boss at the time – now a designer and consultant for Samick Music Corporation put me in my place. I'll never forget his words "Glen" he stated, "for years you've played the piano but don't presume that you know how the piano works. You're a race car driver but don't make the mistake in thinking you're a mechanic. Drivers are not mechanics". Thankfully I had enough sense at the time to heed his words.
Over the years, I've literally played thousands of pianos. I must say that now knowing cause and effect – what mechanical processes and components creates a certain touch or tone – is a huge asset. And so I've compiled my thoughts from the 'front end' – from the keyboard side to try and explain a little of what is going on 'under the hood' and what tests are fundamental to any piano. I've reduced these to 5 steps for newbies (I know… I know… it's what my kids call me… "Dad you're such a noob")


1. Sustain – A piano that sings speaks to its ability to sustain the tone and not disappear after a few short seconds. One thing that I listen for is a piano that sings. Sustain, means that when you depress a key the tone continues to resonate. This sustain speaks to great manufacturing techniques and great components.
Test: Play any note on the piano with medium pressure and listen to the sound as it gradually dies away. How long did it take? What was the sound like as it decays? Carefully listen to low and high notes doing the same. In every octave (every 8 white notes) you'll hear differences of the 'decay' (don't worry… it's not the same as tooth decay. It's the more technical term of ADSR – Attack Decay Sustain Release)
Technical: The strings resonate with just the correct amount of pressure (called down-bearing) onto the bridge where the vibrations are transferred to the amplifier we know as the soundboard. Working properly, the materials should not be 'inhibiting' the tone from freely singing. The piano is a transducer, converting the energy of touch to string vibrations and then into sound waves. All three of these elements must be working in sync to produce tone. A piano that sings – that's a thing of beauty. I've played many a piano that has a 'sweet spot' in a certain range or octave but to get a piano to sustain from top to bottom, that requires excellence in manufacturing and design. While a good technician can alter some elements of the piano to bring out tone, sustain is a tough one that in my mind either 'you got it or you don't'.

2. Evenness – My piano teacher (when I was 13) asked me to play a scale "like a string of pearls – each one should be matched in color and size". That's a great lesson in musicality but also for testing pianos. What happens though when you apply the same amount of pressure but neighboring notes don't respond the same way on the piano? It's REALLY difficult to express a melody when the piano parts are not manufactured or prepped so that all 88 notes respond with evenness. Often notes 'jump out' at you – either in volume or brilliance.
Test: Play a series of adjacent notes with even pressure and see if the volume or brilliance changes. Quite often it is better to strike each note with the same finger if you're not accomplished at the piano. People unversed with piano technique will unknowingly play heavily with a thumb or finger and think it's the piano not responding correctly.
Technical: There are approximately 6,000 parts in a piano action. The action is the 'engine under the hood'. When pianos don't respond evenly, this could be one of many adjustments (also called regulation). I've played pianos that once regulated, you wouldn't know they're the same instrument. In addition to adjustments, too much friction, not enough friction, action design, quality of parts, execution in manufacturing, balanced keys – all of these play a part in making all 88 keys function to make the piano play smoothly.
3. Control – Aside from evenness, there is an aspect called control. This is by far the most difficult aspect to explain and most difficult to test. While evenness speaks to neighbouring note difference, control refers to the feel of the keys moving through varying degrees of pressure. This is not referring to the sound of the piano but rather the correlation of key pressure sensitivity to piano tone. What you're wanting is a piano where the keys feel like an 'extension of your fingers'. I've played many pianos that feel hard to control. This refers to the subtleties of touch. For example, sometimes you'll be trying to play quietly but the keys feel inordinately heavy and when the tone comes out, it's not the whisper you're looking for. At other times you're looking for power but the piano doesn't deliver. Making your softs soft and your louds loud – control is vital to satisfaction.
Test: Test one key at a time. First depress a key in slow motion so that the note makes no sound: pay attention to how the key feels. Does it feel succinct at the beginning stage? Does it feel loose or does it feel heavy at the top? How about halfway through the key stroke? Can you feel more pressure? And the 'click' at the end of the key stroke – every piano has one – that's the reset of the key. And finally the cushion of the felt at the bottom – is it too spongy or hard? Play the same note repeatedly getting louder all the while paying attention to the feel. At maximum pressure, how does it feel? The best test for this is to A/B compare different pianos in this process and determine which one feels most 'natural'. I've often said that everyone should play a concert grand at some point in their lives. The most expensive grand pianos usually have been given the most attention at the factory. Sometimes it's great to get a reference point of a piano that you may not be able to afford… but to try it to see what excellence feels like. Then… reality check – match your budget with the closest piano you can afford. If you're new to the piano, test the best benchmark you can find.
Technical: Intrinsic to piano design is the geometry of the action. Action design – the weight of a hammer, the degree of the whippen, the placement of the capston, and the quality of all of these parts – all of these small seemingly insignificant parts play a vital role when we attempt to control the piano through varying degrees of pressure.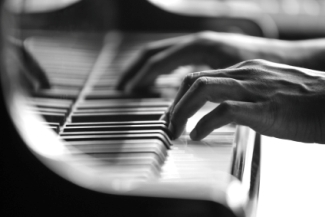 4. Tonal quality – This refers to the sound of a piano. I've played many pianos that excel at one certain volume level but sound terrible at another. Myself? I look for versatility. Ideally I want that really felty soft tone when playing quietly and a more bold strident sound at louder volumes. What do you like? This is by far the most significant element where personal taste is involved. If, for example, the piano sounds great at soft volumes and you only intend to play quietly you may want to look for a piano that suits your ears in more of the quiet range. Some people only play loud and louder and look for a more percussive sound. Different folks, different strokes.
Test: Depress keys one at a time and listen for the color spectrum going from soft to loud playing. Does it change or does it sound the same from soft to loud playing? Does the piano excel at one volume level but not another? Sometimes a piano may seem dull at louder volumes or too bright when playing softly. The harmonics (in plain speak the "ring" or overtones) are at times clanging or distorted. Does the depth of tone feel satisfying in the bass (lowest notes) and do the highest notes (top octave) sound defined or too 'plinky'.
Technical: As we heard in the interview with Jack Brand, resiliency and elasticity of the hammer felt are vital for the production of great piano tone. The design or 'scale' of the strings also plays an important part. In fact, this topic is so immense, we could discuss piano tone all day – the composition or the soundboard, the bridges, the cast iron, the placement of the hammers… the list goes on and on. The main thing is that you actually enjoy the piano you are playing. BTW, often overlooked is simply TUNING the piano! Pianos in tune or out of tune sound vastly different.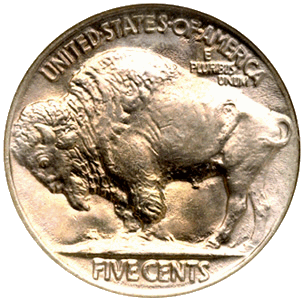 5. Touch weight – Do you know how much a nickel weighs? Most piano technicians do. Why? Because touch weight refers to the amount of weight required to set a piano hammer in motion. If the keys feel too heavy, even by the weight of a nickel a piano can often feel laborious or tough to play. (A nickel weighs approximately 5 grams and technicians will use them in a pinch for measuring key weight). But there are in fact two measurements for piano weight – static and rotational inertia. Soft playing 'dead lifts' the hammers while loud playing deals more with the inertia of the hammer once set in motion on a rotating axis. Sound complicated? LOL it is!! I've had many people ask if something can be done with the touch. The answer is yes but… it's also complicated and costly to implement. More often than not I advise people to find a piano where the touch feels comfortable.
Test: Play a song or various keys and make mental note to the actual resistance to your fingers. This should feel comfortable. Try and remove your ears for a moment. You're now not supposed to be listening but feeling. Too light of an action doesn't provide proper dynamic expression while too heavy can feel tiresome.
Technically: If you look at the wooden edges of the piano keys, you'll most likely be able to see circles of inserted lead. These weights are inserted into the keys to offset the weight of the hammers and assist in playing at quiet volumes. The weight of the hammer itself however is responsible for most of the rotational inertia at loud volumes. Pianos can play incredibly different at polarized extremes and sufficient testing should be done at different dynamic levels.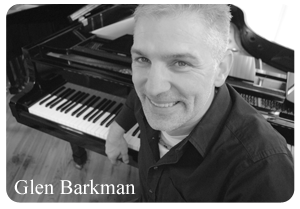 So you've narrowed down which piano you like? You may want to confirm your decision with a professional. Remember, drivers are not mechanics. Have a word with a local technician. For a list of local technicians in your area, see our Find-A-Tuner chapter.
I've often thought that it's a shame that the new starting point for children has moved away from the piano to an electronic keyboard. We don't ever fall in love with keyboard sound or touch. I truly believe that kids today quit piano before even being introduced to a real instrument. I remember once having a discussion with someone who had come to my house remarking that they had never seen a grand piano in a home before. They'd seen pictures on TV of grand pianos on stage but never actually come across one in real life. That was amazing to me. I hope that if you're a newbie at the piano and you read this that you'll take courage enough to go to a piano store and try one. You'll be amazed at what you find. These electronic devices we call keyboards are not even a shadow of the depth and beauty of real piano tone. It's like handing someone a box of crayons and saying "paint a masterpiece"… it simply can't be done. The depth and richness of shading and color that can be achieved from a real piano that is properly tuned, voiced and regulated is not only a dream to play but allows full expression of tone that goes beyond words. As the great Bill Evans put it, "When you play music you discover a part of yourself that you never knew existed."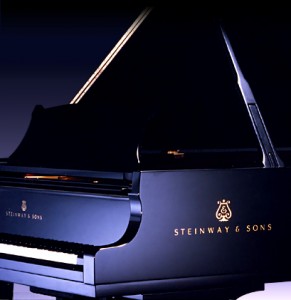 From its inception in 1853, Henry Steinway had 2 goals – make pianos that produce beautiful music and build a successful company. The former is done through innovation and craftsmanship. The latter is a result of sales and marketing. With success (as in the case of Steinway and Sons) comes change. Procedures are multiplied and streamlined, while efficiency and productivity are examined. In the early years, Steinway manufactured 1000 pianos per year or roughly 80 per month. Within 7 years (1860), those numbers doubled.
By 1900, Steinway was producing three and a half times the amount of pianos they originally made per year and then by the 1920's, they were producing 5000 per year. Think about making approximately 400 pianos per month. That's a major accomplishment for the 1920's. It begs the question however, "why more?" Why do companies need to be bigger, better, stronger, faster? In a word – economics. It's just business.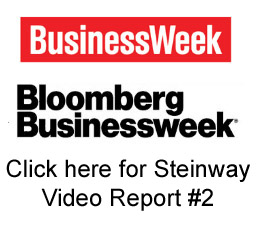 The year 1972 marked when Steinway was first sold out of the hands of the Steinway family to CBS. After plans to build a musical conglomerate didn't turn out as speculated, the company was sold to a group of Boston investors in 1985. In 1996, the company became a publicly traded stock with Samick (Korean piano company) as the major stock holder. It wasn't until July 1st, 2013 that Kohlberg put an offer on the table of $438 million for the company. Steinway had a 45 day period in which to shop for higher bidders. Samick placed a bid of $499 million which was topped once more on August 14th, by Paulson & Co. with a bid of $512 million.
So why the interest in purchasing a piano company like Steinway? Money moguls aren't interested in sitting on a company for the sake of boasting rights. They're in it for the same reason Henry Steinway was over 100 years ago: to make sales. The concern from many is that the company will get watered down. Despite the trends of the last decade to trade upon name value and cash in for the 'quick nickel' selling name rights to produce lower priced products, it is apparent that many companies conversely see the upper middle class emerging in areas such as Russia, Brazil and China. What John Paulson is interested in is a great American icon – one that is so branded, it is synonymous with quality. In the words of Bloomberg Businessweek "The Steinway brand is both opulent and bulletproof". It is my opinion that it would be unwise to rock the boat as it were in production if the aim is set at higher sales and market share of luxury items. Giants such as Kohlberg and Paulson hedge bets not on dismantling companies but developing new markets and pushing values higher because they want to get their money's worth. After all, they didn't exactly buy it for a song.