Posts tagged
Mapes
Meet Mr. Charles Walter, CEO of the company which bears his name. I had the privilege of speaking with him both at the last music trade show (NAMM 2016) and also a few days ago. I enjoy meeting those who are directly involved not only in piano make-up and design but those who are living legends. The Walter Piano Company is the oldest family run American piano company in existence today. And when I say family run, I mean that each of the Charles Walter pianos that come out of the production facility has been manufactured in part by members of the Walter family. Since the founding of their company they've had more than 25 family members spanning 3 generations working at Walter Piano.
Never heard of the Charles Walter piano? In the masses of pianos produced each year, there is a handful of what I would call "boutique" manufacturers that produce hundreds of pianos instead of tens of thousands. The Walter piano company is one such maker. They are completely hand built instruments and require sometimes months to complete each piece. But rather than telling you about Walter Piano, let's hear the words from Charles himself and how this company came into existence.
Glen Barkman: How did you get into the piano making business?
Charles Walter: Well, I graduated with a degree in engineering physics from the University of Illinois and some years later I was hired by a company called C.G. Conn. Many people know them as an organ maker and my first job with the company wasn't actually working with pianos. I was hired to work under Dr. Earle Kent, who was a true inventor for Conn. They had asked me to build something called a "beat counter" – an electronic frequency device. Back in that day, Dr. Kent was given the opportunity to have a research facility.
GB: I did some background reading on Dr. Earle Kent and was surprised to find out that he held over 28 patents relating to sound and music! He seemed passionate about exploration and development as well as the science of sound.
CW: Yes and it was while I was working for him that I was transferred to piano research with soundboards. In 1964, Conn had purchased the Janssen piano company in New York. But to make a long story short, Conn hadn't been doing well financially and the opportunity presented itself to purchase the piano division in 1970. And those were the beginnings of the Walter Piano Company.
GB: And so how does one go about establishing a piano company?
CW: We moved into a 102 year old building in Elkhart, Indiana. The building was previously used for making the Elkhart Automobile. Starting out the company meant long hours. There was a lot of work to be done and at the same time we were raising a family.
GB: Rachel, you were born and raised with full knowledge of the factory and now are Vice President for Walter Piano correct?
Rachel DeMercurio (nee Walter): Yes, I grew up spending a lot of time at the factory and remember many a night when my parents were working those long hours, they would put us to bed on the showroom floor.
CW: And that old building had many hallways. You used to practice your basketball dribbling there. Haha
GB: I remember speaking with your wife, Barbara asking why you didn't just carry on with the Janssen name and she said "Well you [Charles] just about re-designed the entire piano so you might as well put your name on the front"
CW: Yes it was actually her idea. We started out on one floor of that old building making only spinet, console and studio pianos and then gradually took on the 2nd, 3rd and 4th floors.
GB: Your reputation must've preceded you because you were the only piano to be sold along side of Steinway in the Steinway Showroom in the 80's.
CW: I remember getting the call when they placed their first order for 26 pianos.
GB: So what is it about your pianos that make them unique? What makes them such high quality instruments?
CW: Back when I was working for Conn, we were striving for what is called "smooth inharmonicity". A gentleman by the name of Paul Bert calculated string scale design and as mentioned, I was working in soundboard
experimentation. The research facility at Conn allowed us to approach sound from a scientific means as well as one that is musical. Many years later with the help of designer Del Fandrich, we added 2 models of grand pianos to the line as well.
GB: In piano tone, the fundamental is the "base" of the note that one would describe as the pitch of a given note and the harmonics are the other "overtones" which are the frequencies singing above that. When you say smooth inharmonicity, are you speaking about making the harmonic ring of the piano more pleasing to the ear?
CW: Yes, correct and we also worked at uniformity in the piano so that as you transition from note to note, section to section, it was also smooth.
GB: I've played your pianos and they are truly lovely to listen to.
RD: You achieve a high quality instrument by design (which my father had lots to do with obviously) but also the combined effect of high grade, top quality parts. For example, we have our cast iron frames made here in the USA at OS Kelly in Ohio. We use Delignit pinblocks. When it comes to soundboard material, we only order top grade. Most components of our pianos have solid wood core instead of pressboard or MDF. Our bass strings are the top Gold series from Mapes. Each piano has individually weighted keys meaning that it's not just formula, we actually go through and weigh each key to balance it correctly. And speaking of keys, our uprights have longer keys than most, which allows for greater control with regards to piano touch.
GB: Looking at your pianos, there's something else that sets them apart.
RD: Yes, that's because they're finished in lacquer. Our hand-rubbed lacquer is durable and looks less "glassy" and more natural on wood. One of the advantages of working with lacquer is that it's much easier to touch up or repair which just means that our pianos can look better over the long period of time.
GB: And your designs are very natural looking American designs. Who did those?
RD: Well actually those again were my parents' designs.
My mother, Barbara had a lot to do with designing music stands and it's all been developed in-house.
GB: The combination of natural looking finishes and American cabinetry makes the Charles Walter pianos look like they could fit so comfortably into any home.
GB: Tell us about the touch of your pianos.
CW: We offer 2 options – We have our Walter action as well as the option of a Renner action.
GB: We did an interview with Renner some time ago and they're known to be the best actions in the world.
GB: And hammers?
CW: We mainly use Abel and for an even softer tone we turn to Ronsen (an American hammer maker) upon request.
GB: You have different facilities than the old Elkhart building correct?
CW: Oh yes. In 1995 we moved to another building here in Elkhart. Hard to believe that's already over 20 years ago.
GB: And what has changed over the decades with the advancement of computers and technology?
[silence]

RD: Well… nothing really. We still build pianos by hand like we always have. We added a stringing machine because our guy here who was putting the strings on was getting a sore arm.

GB: Hah that's great. It's wonderful to know that piano manufacturing still functions like it has for over 150 years in a workshop making each component by hand.
RD: It's been the Walter way of life really – earmarked by hard work. When I was growing up, my first job was as a floor sweeper. There was none of that "oh you must be the boss' daughter" privilege. There were no favours here, let me tell you. And each summer, we had a new summer job in a different department of the factory. As family members we've all had parts to play in the business. Currently 11 family members – a mix of full and part time workers still work at the factory and we have 3 generations represented here.
GB: Well thank you for taking the time especially at Thanksgiving when it's a busy time of year.
RD: Yes, it was our pleasure. My parents are having no less than 70 people over for Thanksgiving.
GB: WOW! That's a big ordeal… especially considering that Mr. & Mrs. Walter are in their 80's! That's fabulous.

It was truly a pleasure speaking with both Rachel and Charles Walter. They're honest, hard-working Americans who take pride in their work. They are wonderful people who build lovely pianos and in my talks with them over the past few weeks I have found that they have a deep commitment to faith, family, community and the art of building pianos of excellence… and it shows.
Stephen Mapes established the Mapes Piano String Company in 1912 and shortly thereafter in 1918 it was purchased by John Adam Schaff. Now 4 generations later and employing 125 people in a space of 200,000 square feet, Mapes produces piano wire for many of the pianos we play on today. This month I had the pleasure of sitting down with Andy Wilson from Mapes to discuss some of the basics of piano string making.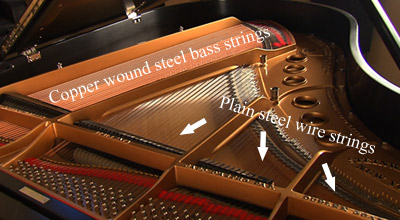 Glen Barkman: Mapes is the oldest piano wire maker in North America. How old is the Mapes company?
Andy Wilson: Mapes is not only the oldest but the ONLY piano wire maker in North America. Established in 1912, our company is 103 years old this year.
What exactly does Mapes manufacture?
Mapes manufactures piano wire, spring wire and specialty wire.
My division looks after piano wire. On any piano you'll see that there are 2 different kinds of strings. The top 2/3rds of the piano are plain steel wire that we manufacture. Just by looking at them with the naked eye they look the same but there are actually many different sizes of wire on a piano. The bottom 1/3rd contain strings with a steel core wrapped with copper to make the lower tones of a piano. Mapes manufactures both the plain steel wire as well as custom bass strings for pianos.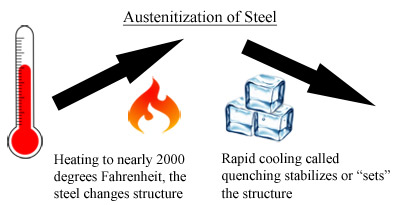 Both the steel wire and the core of the bass strings are drawn wire correct? Can you tell us a little about the drawing process?
In order to make great sounding strings you need to start with good raw material. There are over 3,500 grades of steel. We have a steel mill that makes high grade steel to our requirements. So to begin with, you need to specify the chemistry – one of our closely guarded secrets. Before getting into drawing wire, it goes through a process called austenitizing where we heat up the steel to 2000 degrees and then "quench" or cool it again. This changes the structure of the steel.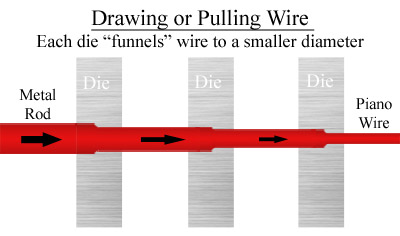 We then press the steel through a funnel which is also called a die. It is pulled or drawn through the die where each time it reduces in diameter by as much as 30%. Think of steel like a piece of wood. Wood has pores or grain. Each time the steel gets reduced, the grain or fibers also get compressed. Heating opens up the "grain" in the steel while the cooling process stabilizes or sets the structure of the steel. So in piano wire making, there are at least 3 heating occurrences and 4 drawing processes to make the finished size.
In your opinion what makes for a great piano string in terms of singing tone?
There are three elements which make great piano strings – First you need great raw material. Chemistry is so important. Second, you need perfectly round wire. And third, when making bass strings, you need correct and consistent tension of the copper wrapped around the steel. Without these 3 necessary components, you could end up with unwanted vibrations which can lead to an inferior tone. Out of shape roundness causes distortions. In order to make a piano string vibrate freely, our job is to manufacture in such a way that it does not interfere by having any anomalies.

When the hammer of a piano strikes that string, the vibration moves up and down the wire. Any interference alters that tone. So it's our goal to make as round and as pure of a string in such a way that it does not obstruct or alter that vibration.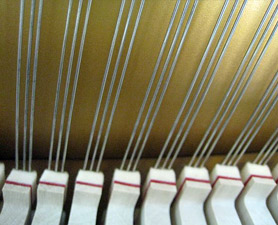 How many sizes of treble piano wire does Mapes offer?
We make sizes from 12-22 in half sizes (12, 12 ½ , 13, 13 ½ etc) and then 23-27 in whole sizes. So we make 25 different sizes of piano wire. Each size is one thousandth of an inch (about 0.025 of a millimetre increments) – approximately one third the thickness of a human hair with tolerances of 3/10ths of one thousandth.
The history of drawn wire seems to have been established in about 1840. With technology, how has the process been refined or made more efficient over the last 175 years?
Over the years, the raw materials have definitely improved. But within our own company, the basic premise is the same but what have changed are the controls. So instead of simply heating up the steel, we have accurate sensors and controls that are indicating more precise measurements of temperatures, tolerances, speed indicators and cooling controls.
Are piano wires ever coated at least to prevent corrosion or does that interfere with tonal properties?
Nickel electroplating is actually the finishing step of piano wire for silver look. That might create some corrosion prevention but electroplating is only microns thick. Some think it's polishing but it's actually electroplating. Any piano wire however will rust over time because that's just the nature of steel. When it comes to copper coatings in the bass, I have not found anything relating to coatings that doesn't affect tone.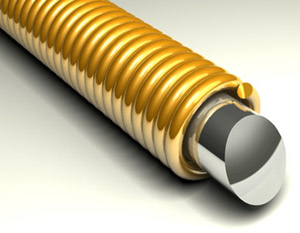 How are bass strings made?
Bass strings are a combination of steel and copper wire. The addition of the copper wire adds mass to the bass string for depth of tone. Correct tension during wrapping stage requires consistent tension. Copper compacts somewhat when wrapping and pulls down in diameter and so uniformity is everything.
When you look closely at bass strings where the copper terminates there is a flat part. What is that?
The flattened portion is called a "swedge". Since the center steel core wire is completely round, the copper wrapped around it needs a place to attach so that it doesn't slide up and down the core. If you flatten the steel at each end it gives the copper something to bind to.
Large bass strings are often double wrapped with 2 layers of copper. What is the purpose of double wrapping a piano string?
The purpose of any wrap is to add weight to a string. The weight gives more depth to lower notes. Generally, the shorter the length of a piano, the more you need copper to add weight to a string to get those low vibrations. Conversely, the longer the piano, the less copper you need for lower tones. If you want a lower tone, you can have either a single large copper wound string or 2 smaller copper wraps to achieve the same mass. There's a lot of debate – some manufacturers would like single wound strings while another might do 2 small wraps. We simply make custom strings to the manufacturer's specifications. Those decisions regarding double or single wraps are part of the "scale" of a piano that are made at the design level.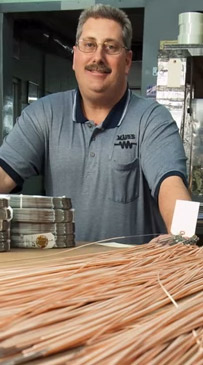 I just wanted to thank Andy Wilson for giving us a few insights as to the industry of making piano strings. There are very few companies globally who have the capacity to make the quality with tolerances as fine and consistent for piano making. Congrats to Mapes for continuing this pursuit of excellence for over 100 years.
To learn more about Mapes Piano String Company, you can find their contact and ordering information on their website: Mapes Strings
The Mapes Piano String Company
#1 Wire Mill Road
Elizabethton, TN 37643
Phone: 423-543-3195