Posts tagged
Lothar Thomma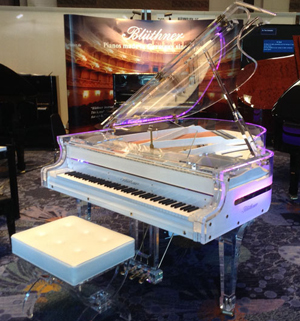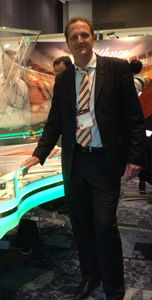 I always enjoy the back story – the behind-the-scenes look at why pianos are made and developed the way they are. This year I had the opportunity to have a few minutes with Christian Bluthner. Without question one of the eye-popping pianos was the acrylic Bluthner grand. I did not know that Christian Bluthner is actually Doctor Christian Bluthner ~ a certified physician. When speaking with him about the piano he remarked "It took me back to my medical days in researching the acrylic for this piano (released in 2014). We used to use Petri dishes made of medical grade acrylic which would not distort the light. With this high grade acrylic, it can be buffed and polished and will not turn yellow. That's what we incorporated into this piano". Absolutely fascinating.
One of my other favourite moments took place early on Saturday morning in the Pearl River room where I chanced upon Lothar Thomma and Stephen Mohler. I snapped this pic as they were making last minute adjustments to a Ritmuller grand piano. Piano Price Point featured these two (see October 2013 on Kayserburg)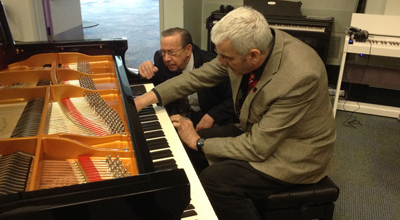 Together they are the designer and builder for Pearl River, Ritmuller and Kayserburg lines. Although they are serious about their work they are actually quite humorous together. We laughed and had a great exchange for quite some time. Stephen Mohler who was raised in Switzerland, lives year round in China and spends his time teaching principles of piano building. He said "You cannot teach piano making on infrequent trips to China. It must be done consistently and daily".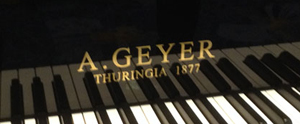 Also at NAMM: newcomers to the piano land – A.Geyer. Although not an old name, Geyer is an old German brand revisited again and manufactured in China. At the booth is no stranger – Colin Taylor (formerly Bosendorfer and Brodmann). Specs and stats will be on Piano Price Point when they come hot off the press. While many piano companies are raising prices slowly in the industry, Geyer is seizing entry level price points with pianos that present well. Congratulations to Geyer for their launch into what many deem a challenging marketplace for a start-up.
So fast I almost missed it… In fact I did a double take. In the midst of the Young Chang group was this grand named "Fridolin by Schimmel". When I inquired about this instrument, I was told by Larry Fresch about this interesting and unique collaboration. It's no secret that many companies build for other makers.
What makes this unique however is that Young Chang builds the piano and also sells it under its own dealer network. Usually if a company builds for someone else, the piano is then marketed and distributed by the commissioning agent. Not so in this case – it is completely built, distributed and marketed by Young Chang.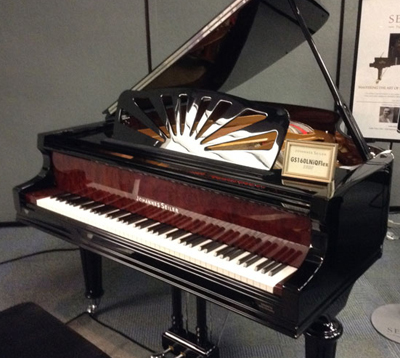 Introductions – Samick unveiled its Johannes Seiler line. Seiler is an old German name which was purchased from Ursula Seiler in 2008 by Samick. Now available are 3 lines – Still "made in Germany" Seiler – the company is continuing to manufacture there with models marked SE and sport Renner actions. Relative copies also called Seiler are made in Indonesia called the ED line. For the first time this year, the entry level GS series called Johannes Seiler were unveiled which are pianos made in Indonesia with different yet beautiful designs.


Perzina also introduced the Gerhard Steinberg for North American distribution (not to be confused with Wilhelm Steinberg). Under direction of Marti Gordon formerly of Empire Music, both the Perzina and G.Steinberg pianos are hand built instruments from Yantai Perzina factory in China.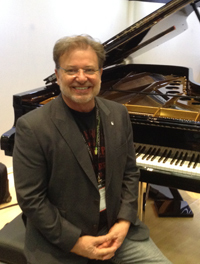 I'm not into digital pianos but there's one piano that I must mention worth noting. Ravenscroft under the direction of Michael Spreeman make 2 models of concert pianos which he meticulously recorded into digital samples. This new division called Ravenworks – a combination of piano sounds and custom built keyboards are made to emulate the real McCoy. When I listen to most keyboard recordings I can spot them a mile away. Not so with Ravenscroft! If you ever need to do serious recording in the studio, I have to go on record by saying this is the most believable piano sample I've ever played. And it also takes a technician like Michael Spreeman to deliver a keyboard that has touch response like an acoustic piano.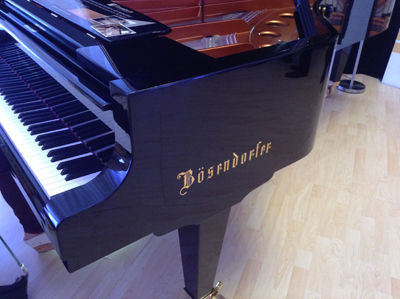 Finally, Bosendorfer showed a prototype of what will most likely be officially released mid year – the new 280 Concert Grand. Although not at liberty to say anything technical at this point, Ferdinand Braeu (senior technical director for Bosendorfer) said the new design will deliver wider dynamic range and was on display for sampling.
This year was an exciting trip connecting again with friends and contacts. My only regret – not catching Paulo Fazioli to talk about piano design. Hopefully next year.
To view the entire slide show of 140 photos, click HERE.
Present at the show in alphabetical order:
A.Geyer ~ Baldwin ~ Bluthner ~ Bosendorfer ~ Brodmann ~ Cline ~ Fazioli ~ Fridolin ~ Grotrian ~ G. Steinberg ~ Hailun ~ Hallet Davis & Co. ~ Hardman ~ Irmler ~ Johannes Seiler ~ Kawai ~ Knabe ~ Mason & Hamlin ~ Otto Meister ~ Pearl River ~ Perzina ~ Petrof ~ Pramberger ~ Ravenscroft ~ Samick ~ Schumann ~ Shigeru Kawai ~ Seiler ~ Wilh. Steinberg ~ Weber ~ Yamaha ~ Young Chang
Carte blanche literally translated means "blank card", a canvas ready for creation. But it also denotes "blank cheque", signed with no numerical value yet filled in. Such was the case for famed piano engineer Stephan Mohler and designer Lothar Thomma when asked by Pearl River to build a line of pianos with no holds barred. They were given creative and financial freedom to produce pianos similar to their heritage in Europe – having worked for both C.Bechstein and Steingraeber. Pearl River, presently the largest piano company in the world producing more than 100,000 pianos annually has impressed the musical community with the vast improvements in their pianos yearly with contributions from Thomma on both the Pearl River and Ritmuller lines. In the largest growth market in the world (China), they have become the undisputed champion surpassing even Yamaha in volume.
For those of you who are sceptics, I can relate. It wasn't until interviewing the CEO of Pearl River America, Al Rich at NAMM 2011 that I started to follow this company more closely. He stated that instead of hiring a small army of manpower to facilitate manufacturing, they chose rather to invest millions into automated CNC machines. So advanced is their manufacturing that companies like Steinway (with their brand Essex) have entrusted them to build their pianos.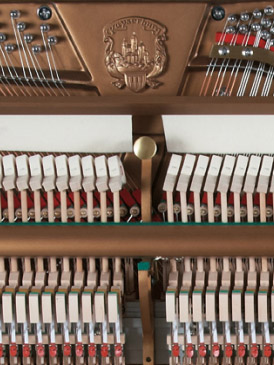 Fast forward to January 2013, Pearl River Piano Group (PRPG) released the all new Kayserburg line. PRPG successfully constructed a "company within a company" – a separate division to undertake building their highest level of instruments to compete with European makers for the most discerning pianists. So what makes a piano compete at this level? Only those with a background, namely Thomma and Mohler would know.
Introducing Kayserburg pianos featuring:
Louis Renner premium hammers from Germany ~ Ebony wood sharps ~ European Roslau strings ~
High elevation spruce soundboard ~ Maple bridges vertically laminated with rosewood, beech capped ~
Traditional sand cast plate ~ Nickel blued tuning pins ~ Schwander type action with all maple parts ~ Solid spruce keys with maple buttons ~ Tuned hammer shanks ~ Hand wound bass strings ~ Quarter sawn ribs doweled to the soundboard and mortised to the rim ~ "Ivolan" German keytops (mineral-plastic substance that is very ivory-like) ~ Hand-made by the Artist team and each finished product inspected by Mohler
What caught my attention was a blind 'taste test' in California this January where the Kayserburg went head to head against some of the most expensive pianos in the world. The results? 80% thought that it was the highest priced piano. 100% thought that it was within the top 2. In fact, the retail price was the lowest.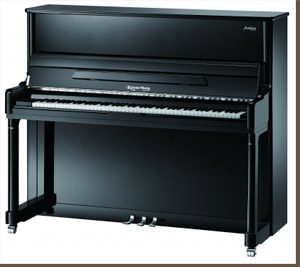 It was stated by one pianist "the touch of this piano is so far superior to the others that it MUST be the most expensive one." Why mention this piano? I think it's going to be one worth watching in the coming years. Never before has China produced a piano that can compete on a Tier 1 (highest) level of pianos… all for a price that is by most considered reasonable. Grands to follow within the next year.
My only caution is to not get the branding levels of Kayserburg confused. Apparently Pearl River has in past used the Kayserburg name in Australia. This new series is appropriately called the "Artist" series and is labelled in the top right corner of the cabinet (as pictured). The other Kayserburgs are apparently more similar to the Ritmuller line except with laminated soundboards. New Artist pianos have the model designation KA while the others are UH. They are vastly different pianos… and just wanted to clarify. If you want to see the pianos in Piano Price Point, simply press the button below.