Posts tagged
humidity

The soundboard of a piano ~ to the naked eye, it looks like a giant sheet of wood located under the strings. To piano makers, this is one of the most critical elements of science in the instrument. Why? The job of the soundboard is to transform tone of the vibrating piano strings into audible waves which also color the tone. Truly, it is inseparable from the voice of the piano.
Doing some light reading 😀 (Wood for Sound by Wegst, 2006, American Journal of Botany) it becomes apparent that soundboards are this careful balance of elasticity and stiffness or rigidity. In the diagram, it reveals that there is a correlation between density of wood and elasticity (Young's Modulus). Generally the lower the density, the greater the vibrational properties. Balancing this concept is stiffness required to resist what is called the down bearing of the strings – the pressure of piano strings pressing down on the soundboard. So the soundboard makeup is this marriage between rigidity (resistance) to pressure while maintaining elasticity for vibration allowing optimal dynamic range and sound radiation.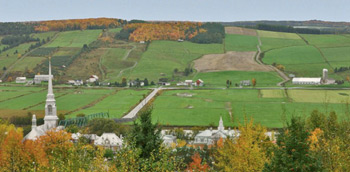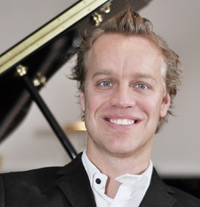 What then makes for a good soundboard? We thought it would be appropriate to go to the source. Bolduc, one of the few independent piano soundboard makers in the world allowed us a glimpse at what is involved in the making of a soundboard. Situated in bucolic Quebec, Canada, they supply both to piano makers as well as independent piano rebuilders. So without further, adieu, let's talk to Christian Bolduc, factory superintendent.
Glen Barkman: Tone wood – why white spruce? Is it structural, is it the density or mass? What makes it ideal for piano soundboards?
Christian Bolduc: The North American White spruce has been used for over a century for the making of piano soundboards, as well as violins and other stringed instruments. It has proven its outstanding tonal properties with the most prestigious North-American piano manufacturers. The cold and vigorous North American climate contributes to the strength of the spruce which offers appropriate structure and elasticity required for making a good and resistant soundboard.


GB: When choosing a great log for tonal purposes, what characteristics are you looking for when you view a log in its natural state? Ie. What diameter, length, areas without branches, bark etc.
CB: We need the nicest spruce logs available for making piano soundboards. Most of the time, we use only the base of the tree and cut just under the first branches. The length of the logs we use can vary from 2.5 meters long up to 5 meters (8-16 ft). The tree needs to have grown slowly, gradually, without any twisting, blue marks or other impurities. After having selected the best logs, only 20 to 25% of the tree will be selected for making a 1st grade grand piano soundboard. The rest of the wood will be used for making upright soundboards because the colour is less important because they face the wall. The remaining wood can also be used for other products such as house mouldings and lumber.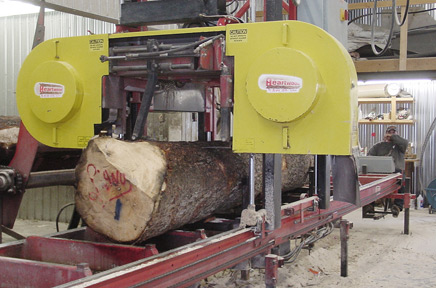 GB:Do you happen to know usually how old the trees are when they are logged and when it is the best time to harvest these trees and why?
CB:The tree needs to be cut in the winter time to prevent any sap that would affect the stability of the wood. We need at least 15" diameter at the small end of the log in order to be able to make the quarter-sawn cut. Most of the time, the trees are at least 100 years old.
GB:Do different types of spruce or other woods exhibit different fundamentals in the piano as well as overtones?
CB:There have been many experiments made by piano manufacturers in the last century using different species of woods for soundboards. The spruce tree is definitely the best material as far as tone is concerned.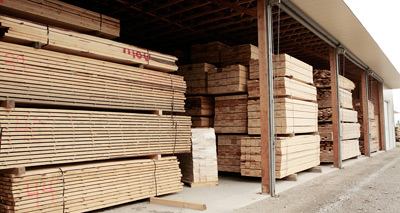 GB: What is the rough timeline from logging to soundboard? Logging, drying, cutting, curing, shaping, sanding…
CB: The spruce needs to be cured slowly before moving into production. The most important criteria is that the tree needs to be cut during the winter time when moisture is at its lowest. The logs will first be cut into lumber at our saw-mill and stacked outside for months for a slow drying process. The wood will then be kiln dried a few weeks and stacked again for many additional months. The spruce is at least a year old when we start making the soundboard panels.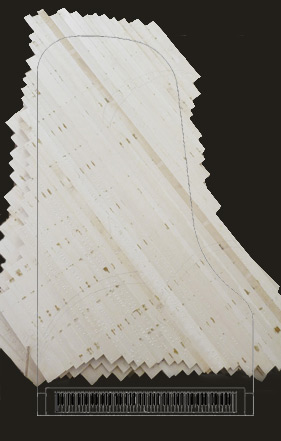 GB: What is the ideal "curing" humidity or moisture content in the wood?
CB: The soundboard will need different drying periods during the process of production. In the final step, while gluing it into the piano, the soundboard can reach as low as 4-5% humidity content.
GB: Are soundboards planed and then sanded or rough cut and then thickness sanded?
CB: The spruce lumber is cut into oversized planks. The pieces are color and grain matched and then glued together. The soundboards are sanded to their final thickness in a 74″ wide abrasive wood planer.
GB: Do you customize pianos for specific companies and how do you go about doing that?
CB: We manufacture all types of soundboards based on the piano manufacturers' specifications. Thickness, shape and grain alignment vary from one piano to the other.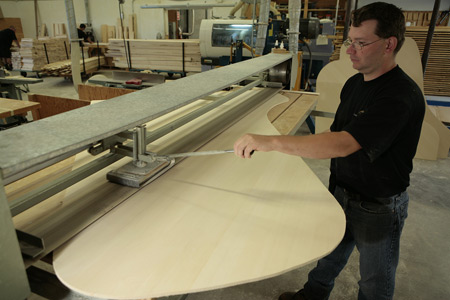 GB: How thick on average is a piano soundboard?
CB: A regular piano soundboard can vary from ¼"(6.5mm) for a small model up to 3/8"(9.5mm) for a concert grand piano.
GB: Why quarter sawn? Why vertical grain?
CB: The main reasons are for stability, strength and sound transmission. The soundboard is firmly glued into the piano but still needs to expand and retract without splitting, depending on the ambient conditions and humidity variations. Maintaining the annual rings in a vertical position guarantees that the wood will change dimensions without cracking. The quarter sawn cut makes it also stronger to support the downward force applied to the soundboard by the strings which can reach over 600lbs.


GB: What is the purpose of ribs to a soundboard? How do you incorporate crown (slight arc) into your soundboards?
CB: The ribs help maintain the crown of the soundboard and also counterbalance for the down force exercised by the strings. The ribs can be pre-shaped to match the crown or glued under tension in a press.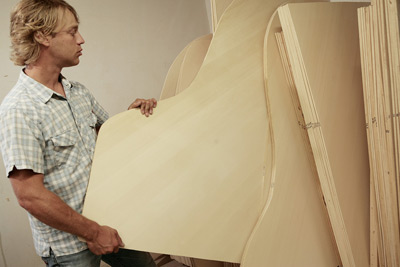 GB: What types of glues hold the planks together?
CB: Most manufacturers from the 19th and 20th centuries have been using the hot-hide glue for gluing soundboard panels, pinblocks, veneers, etc. The hot-hide glue was not only good to fix the parts together but also a very good sound transmitter. Today, we use a glue which was developed with the same philosophy of "sound transmission" as it becomes as hard as glass but with a superior resistance to any type of environment.
GB: Obviously with 19 tons of string tension on a piano bearing down onto a soundboard, the soundboard needs to be stable enough to withstand that pressure. Do you measure clamping pressure when joining planks or have other measurements to determine adhesion and subsequent rigidity and stiffness?
CB: The glue used for laminating the soundboard panels is actually stronger than the wood itself. We may think having maximum force is better, but too much pressure with the clamps is not good. There must still be room left for the glue itself.
GB: Are soundboards finished with resins or lacquers or left in their natural state? Or are they finished by the piano manufacturers who purchase them?
CB: The finishing of the soundboard is done by the manufacturer after its installation into the piano. The soundboard needs to be lacquered in order to seal and protect the wood.''
GB:How is the soundboard adhered to the inner rim of the piano?
The soundboard is glued to the inner rim as a flat glue joint. There are notches in the inner rim to allow room for the ends of the ribs to fit within.''



I just want to express my thanks to everyone at Pianos Bolduc for answering questions and also supplying most of the images. Due to the wasteful nature of quarter sawn lumber, it makes me happy to see that Bolduc is also concerned with the environment and not letting any scraps go to waste. They only work with suppliers involved in reforestation. The shorter pieces unusable for pianos are sold to guitar luthiers and the sawdust is used by local farmers for litter while the bark for heating sugar shacks and cottages. Excellent!
For more information about Bolduc, visit their beautifully designed website. There's lots more information on their company, soundboards and pinblocks as well as an array of tools that they also sell.
One final note ~ if you're anything like me, you're curious as to their inscription on their logo "Je veux, Je peux". Translated from French it literally reads "I want, I can" and the insinuation is that we can really make things happen if the desire is strong enough to succeed. Congrats to Bolduc for nearly 40 years of this pursuit!

"World War II – July, 1944 ~ 71 years ago almost to the day, 85% of the Renner factory was destroyed. Wilhelm Megenhardt, then 70 years of age simply replied 'We'll just build it up again'. He continued working until 85 years of age after Renner had become a leading producer of piano parts. He was my grandfather."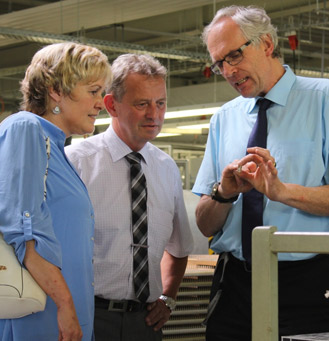 Glen Barkman: It was a delight and privilege to sit with Clemens von Arnim (pictured left) and ask him about his connection to Renner. I had no idea that it was his grandfather, Megenhardt who partnered with Renner in the early days of this business and eventually became sole owner.
Established in 1882, Louis Renner opened a small workshop in Stuttgart. Operating with 25-40 workers, he built a successful business around making piano parts (also known as action parts). Twenty years later, as he began to struggle with his health, his son Oskar Renner assumed position as technical head of production. Shortly thereafter in 1906, in partnership with Wilhelm Megenhardt, they opened a modern factory manufacturing action parts as well as piano hammerheads.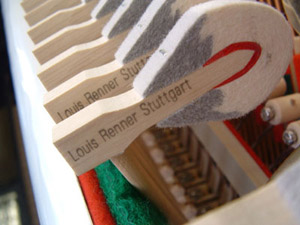 Why is Renner important? Aren't there other makers of action parts? The answer is yes, there are many makers of parts, it's just that none of them have the reputation of Renner. Throughout the pages of Piano Price Point you'll come across this phrase "Renner option available" or "Renner hammers". When I've asked consumers, pianists and even aficionados about Renner, I usually hear a similar response: "I've heard of Renner but don't really know what it's all about."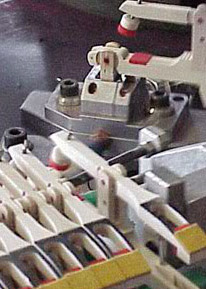 In short, Renner builds the finest action parts money can buy. The most prestigious, exotic piano makers in the world use Renner parts. Take a look at the chart below of piano companies that Renner supplies to.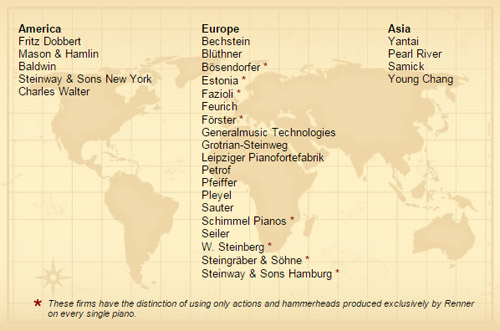 If you know some of the names on this list you'll know that they produce the finest instruments in the world. And so why use parts from a company like Renner? Listen to the words of Clemens von Arnim to hear more:
Demand
Clemins von Arnim: Our philosophy is based on 4 words: Quality, Reliability, Precision and Durability. How we accomplish that comes from the original mandate set out by Louis Renner himself. A standard grand action has more than 4000 parts. He set out to meet the demand for consistent quality. When you play a piano, all 88 notes need to respond precisely in the same manner and each of those keys has a minimum of 45 action parts. How does one manage to meet the stringent criteria for the highest level of quality? The answer is multi-faceted but let me start off by telling you a simple example that is decades old in the Renner factory about planing wood – one that set Renner apart. You see, to make piano parts, you must plane or cut wood to specific shapes and sizes. Cutting with the grain of wood is easy. Cutting across the grain at 90 degrees requires the correct tools. If the machinery is not extremely rigid, the edges of the cutting machine will 'jitter' against the wood and you will end up with course or substandard parts. In my grandfather's era, at the Renner factory they over-built, over-constructed these planing machines to almost 2 ½ times the specifications so that cutting the smallest pieces would be accurate and smooth.


CvA: That original machine existed in our factory for decades. And it got replaced not because we had outgrown its usefulness, but rather automation in manufacturing prevailed. But it was this commitment to quality – to engineer and have machines that could produce the finest parts of the highest quality that set Renner apart more than a century ago.
GB:
That story sounds like one where they call the inventor crazy until they see the end result. Tell me about your parts and how they are made.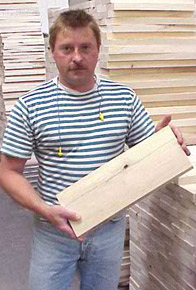 CvA:
Our parts are made of hornbeam wood. Trees need to be cut between November and March when growth is slow and not so wet. Boards are then cut and air dried for one full year. This is very important because if you dry it too quickly, it has too much tension. It is then kiln dried until it reaches uniformity at around 8-9% humidity. After that, boards are sorted by our specialist for usage (see diagram). Vertical grain is used for hammer shanks while horizontal and diagonal grain wood is used for other action parts. In the end, 60% of our production lumber we deem as firewood and only use about 40% due to our stringent quality controls."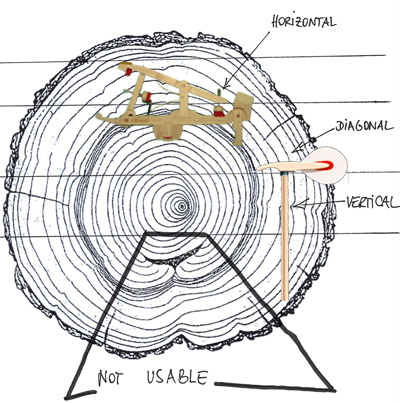 Delivery
GB:
How has Renner managed to stay on top of the industry for so many years?
CvA:
Aside from the commitment to quality, Renner has over 100 years of technical experience. There is a balance between modern automation and know-how when it comes to natural products. You cannot simply rely on machinery to have intuition regarding natural materials of wood and felt. And so 50% of our processes are automated and 50% involve hand-made personal touch. We have two facilities – one at Gärtringen (near Stuttgart) and one at Meuselwitz (near Leipzig). What has kept Renner going is that we can deliver and have met the demand without comprimise. Renner is the largest purely piano action manufacturer in the world. Over 3 million piano actions have left our production facilities.
GB: Somebody please do the math… conservatively 4,000 piano parts per action x 3 million actions… anyone? 12 BILLION parts. I think it's safe to say that Renner can deliver.
Diversity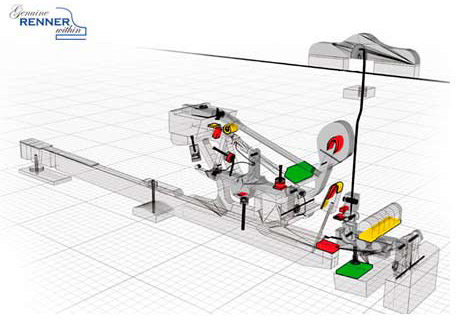 CvA: In 1952, we expanded yet again to offer not only parts for new fabrication but also for repair and rebuilding. We manufacture over 1000 types of piano hammer heads. One of the reasons Renner continues to exist is the fact that we can supply not only volume but also make hammers with custom requirements. Clients tell us how firm the felt should be, how much felt is required around the wood and what sound they're trying to achieve. We can troubleshoot and even offer suggestions to those wanting to customize action parts. Now, in the age of computer assisted design, the diversity is even greater. Over the years we have gained so much knowledge in working with wood and fibres of felt that we can control variances to very small percentages. Our tolerances at Renner are less than 1/10th of 1 millimetre which is sporty if you know what it's like to work with natural products of wood and felt.
GB: This was one of those moments that made me smile .. "sporty" (I thought to myself) was the perfect word that describes the healthy pride in accomplishment and ownership but also denotes great satisfaction.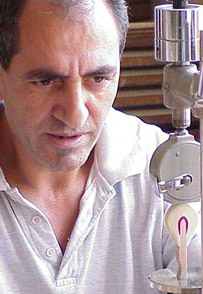 The Renner Advantage
CvA: Because of such tight tolerances in product manufacturing, our long standing knowledge base, combined with our hands-on technical team, we are capable of not only making beautifully crafted actions for today but also ones that will remain consistent for long periods of time. Our actions need little adjustment.
GB: If you've ever sat down at a piano with a Renner action, you'll know that the touch and feel is superb. They play as smooth as silk and feel as rich as chocolate.
Many thanks to Clemens von Arnim. It was fantastic to meet face to face and to learn about Renner and the history of not only your family but the heritage that Renner has made. Renner has changed the world in creating music with the most prominent piano makers in history. The greatest concert pianists have played on piano actions created by Renner.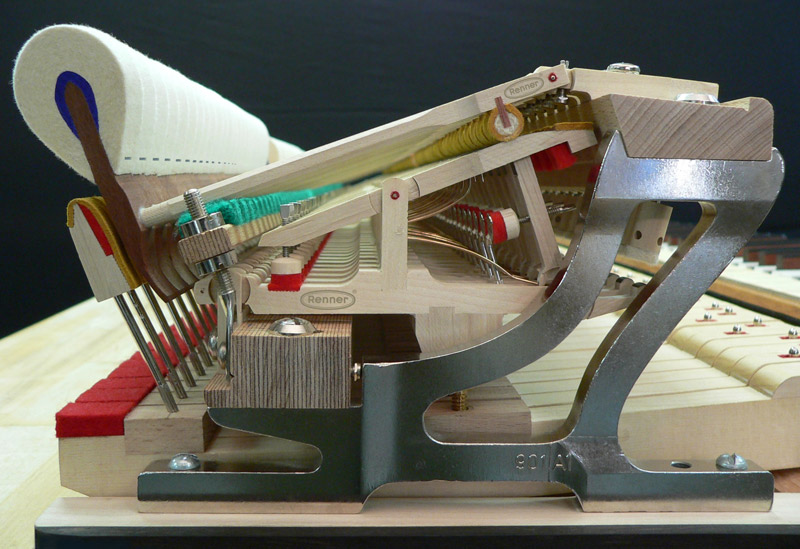 Renner has its own Academy for training purposes on piano actions. Below are some links to Renner around the world. Enjoy!
Renner Germany ~ Renner USA ~ Renner Academy