Posts tagged
Grand
Every piano has one. It is the backbone to structural integrity. It's also what gives a piano most of its weight. What is it? Commonly called the frame, harp or plate, this iron mass in the piano withstands the 19+ tons of string tension.
While iron reinforcement pieces were introduced into the piano by the year 1799, it wasn't until 1825 that a full cast iron frame was patented by a man named Alpheus Babcock (The Piano: An Encyclopedia. Palmieri). All of the piano manufacturing world then saw the great advantage of the implementation of iron, and have incorporated iron frames into their instruments ever since. The addition of metal to the piano all of a sudden meant that the string design could have greater tension, making the resonance, far greater and the power, magnified. It is this frame that turned the page away from predeccesors of harpsichords and clavichords and established the piano more akin to the instrument we know today. It also meant that tuning stability was finally possible.
I've been wanting to feature cast iron making in the piano for some time and found that Doug Atkins (Registered Piano Technician from Dayton, Ohio) had visited the OS Kelly Foundry in Springfield, Ohio where they cast Steinway, Grotrian and Charles Walter piano plates. His photo tour was perfect and he has graciously allowed us to use these pictures. Shown above is exciting process of pouring molten iron to form a piano frame. But before we get to that, let's step back and take a look at how this method of sand casting works.


To begin with, it is helpful to understand the basics process of casting. In its simplest form, casting starts with a pattern, a master template to be reproduced in metal. The pattern can be made from anything ~ wood, styrofoam, plaster ~ anything that can be carved to make the shape that is desired. While there are 2 major types of casting processes for pianos (sand cast and vacuum processed), we are going to examine green sand casting (also known as wet sand casting). After the desired shape has been made, it is then pressed into the sand to make a mold. Once the pattern has been removed from the sand, the negative imprint remains. The compressed sand form impression is filled with molten iron and within seconds, the mold cavity is filled. The iron cools, the sand is broken away and reclaimed, leaving behind the iron shape, the exact representation in metal.

If you're interested in casting on a small scale, here are 2 excellent explanatory videos seeing this process in action (Sand Casting Tutorial & Aluminum Sign Casting). They walk through everything from filling forms to pressing sand and show the iron being poured into the forms. They are an excellent resource in understanding the finer details of casting.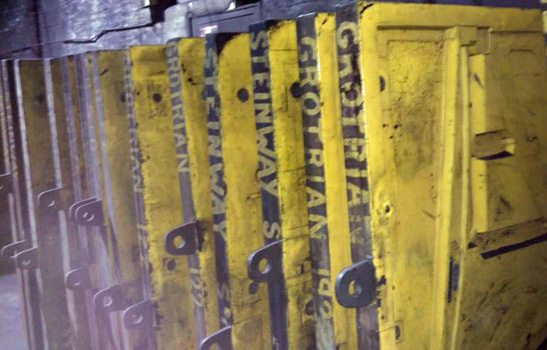 At the OS Kelly Foundry (now owned by Steinway), casting piano frames happens on a much larger production scale. They're not casting small pieces but frames that weigh hundreds of pounds.
Like books on a shelf, the cast iron molds stand vertically in a row; each one, a pattern to become the next iron frame of a piano. Notice both the brand and model for each model are written on the side of the template. These are life size patterns that stand sometimes greater than 6 feet tall.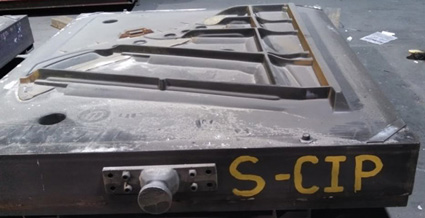 The Model: Echoing the aforementioned process, all casting starts with a master model. Shown (right) is a model of a grand piano ready to be pressed into the sand.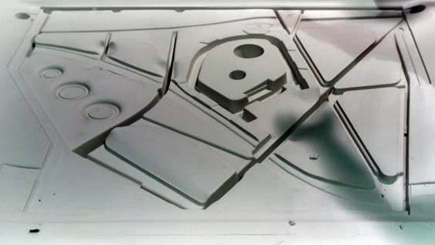 The Impression: Pressing the cast into the sand. Pictured are the detailed lines left in the sand of an upright piano after removing the model. Each of those lines will become a supportive bar in the frame of the piano. Details such as lettering and decorative elements will also transfer effectively from the master model to the sand. Pictured below is the a 30 second clip of the moment when they pour the molten iron into the mold.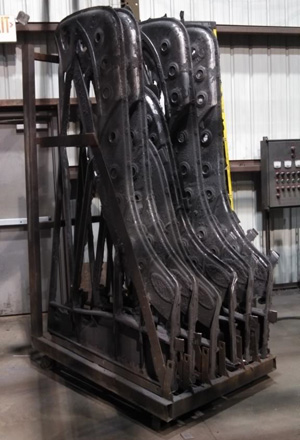 Casting: Pouring the molten iron into the mold, the frames quickly fill the cavity and harden. After cooling, the sand is then removed from the form.
Finishing: Cooled and cleaned, the frames are ready for sanding, finishing and spraying. Extensive time must be taken to process each frame, making it ready for the piano. CNC (Computer controlled lathes) are often used by larger companies after casting to more accurately smooth out the details of the plate and with precision, accurately process each frame to be uniform. Once the grinding and sanding have been completed, the piano plate is then painted with primer. Traditionally, the frames are sprayed in bronze powder mixed with lacquer, gold metallic paint or occasionally silver and then clear coated to appear smooth as glass. Pictured is a cast iron frame installed inside the rim of the grand piano.


Thanks again to Doug Atkins for supplying pictures from his tour. If you want to see the entire tour, click HERE. There are over 100 photos and videos to look at more closely. Enjoy.

"George… hands". I was 22 at the time and this seasoned piano mover was a man of few words. When things at the local piano store were slow, they would send me as a swamper, a helping hand to move pianos. Cigarette hanging out of the corner of his mouth, tanned and etched lines in his face, I always found it amusing that he called any young guy "George". I mean, why bother trying to learn someone's real name? He would always say it with a smirk pretending as if he didn't know. If we were delivering to a small town three hours outside the big city, that meant 6 hours driving there and back. Most of the time we rode happily in silence.
"George… hands". Again I was admonished. When moving pianos, you always place your hands on the outside edges so you can feel if you come close to a wall rather than scraping the piano. He would then quote what has become my favourite piano moving line, "Remember, fingers grow back, pianos do not". Slightly horrified at the thought of having my fingers pinched between the wall and a piano, I would look up to see him give one of the few chuckles at my expense knowing I was a piano player. "You'll learn quicker this way."
Although I only worked with him a short while, he was the most deliberate, cautious and yet efficient piano mover I've ever had the opportunity to work alongside with. Seeing me try and muscle pianos he would stop me and simply say "Let the piano do the work". What did he mean by that? You need to be able to feel the balance and work carefully to tilt, lift and roll these massive instruments.
Want to move your own piano? Before you weigh out this decision (literally and figuratively), let me offer a few facts about moving to help think this through.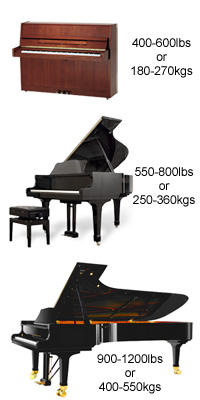 1. Safety first. Last month's blog we looked at string tension and that there are roughly 19 tons (conservatively) of string pressure on any piano. To keep the piano from buckling under such strain, cast iron was introduced into the piano over 150 years ago. This cast iron plate or frame results in pianos weighing so much. The SMALLEST piano weighs in more than twice to three TIMES the weight of an adult. While average adults weigh anywhere from 130 lbs to 210 lbs, the smallest pianos weigh nearly 400 – 450lbs. A mid sized grand (6') weighs in at 700lbs. Baby grands and tall old upright pianos, 550lbs. Semi-concert grands come in at about 800-900 while full concert grands that you would see on stage, 1000 lbs – 1200lbs! Before you consider moving a piano, think through the concept that these pianos weigh much more than you do. A tipping piano or one that is moving down a staircase is a force that should not be taken lightly.
2. Piano wheels. To be clear, piano wheels are only designed to move away from the wall 6 inches when you need to do seasonal vacuuming. They were NEVER designed for piano moving (the exception being concert grand casters for rolling on a stage but they are still not meant for moving locations). You will never see a piano mover utilising the small 1 or 2 inch wheels of a piano. A rubber wheel piano dolly is the only way to move a piano. Back to point 1, this instrument that weighs 400-1200 pounds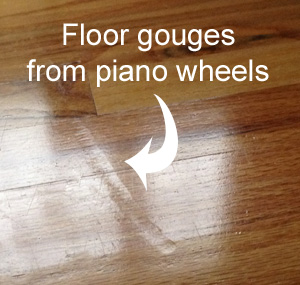 must first be lifted on to a dolly and then wheeled around. The wheels of a piano provide enough force to damage ANY floor. It will crush wood fibers and you will have a difficult if not impossible time getting rid of any dents or roller marks. Even doing the 6 inch move for vacuuming will show marks in the floor if you're not careful. The dents are subtle but noticeable. See the picture on the left.
3. Protection. Piano finishes are durable… relatively. But when faced with rope or strap burns, walls, concrete edges, piano finishes are incredibly soft. Polyurethane finishes (as in black shiny look) are a little like glass ~ they look great until you damage them. Sit them in a room and they can look like new for decades. Dent, scrape or scar them and they are tricky (sometimes impossible) to touch up. Professional movers have thick blankets that protect these finishes. They have straps that are cinched snugly over these pads to protect any movement of the piano against any sharp surface.
4. Transportation. You wouldn't think it but even moving a 600 lb piano over 2 stairs can be a very difficult task without a ramp. The right equipment makes all the difference in the world. Ramps and skid plates are essentials to the professional mover to roll over surfaces or stairs. Getting a piano onto a truck is another obstacle. The deck of a truck is quite often 3 feet off the ground. All professionals either roll up a ramp or they have a power tailgate that gently lifts it into place.

5. Technique. As previously mentioned, the piano needs to "do the work". After having moved many a piano, you get a feel for the balance of pianos. While they are cumbersome, I've seen many slight-framed movers lift and transport pianos because they understand the balance of the instrument. There are 2 common moving techniques for upright pianos and 1 method for grands.

Upright Moving
A. Did you know that there's a handle on the back of a piano? It's built into the back frame. Most movers will position themselves on the end of a piano and then grab under the keybed nearest the front leg of the piano. Lifting the piano on one end, another helper places the 4 wheel dolly under the bottom skid plate of the piano while it is on an angle. Simply by putting the piano down, the piano will then land on the dolly instead of its own wheels.
B. The second method involves having a lifter on each end of the piano who will then lift the piano straight up while a third person places the 4 wheel dolly underneath. It is then easy to roll the piano around the room.
One word of advice: if a piano is on a dolly, it is wise to always have one person with at least one hand on the piano. Leaving a piano unattended on a roll-able surface can be cause for tipping or rolling away on an inclined surface.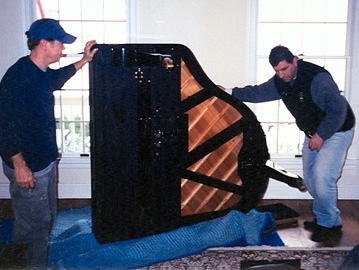 Grand Moving
Grands must first be tilted onto a grand skid. To do this, professional movers do what is called "dropping a leg". The pedals are first removed. On the keyboard side, the left corner must first be lifted up while a second mover removes the leg. The piano will, on its own accord want to angle towards the floor. With two movers, the piano can then be safely angled downwards onto the protective (and blanketed) skid. With the full weight of the piano on the corner, the left flat side of the grand can be tilted so that the piano is standing up vertically. And yes, it's completely fine to have a piano angled in such a direction. It's how all grand pianos are moved. With the piano safely in an upright position, the other 2 legs can be removed.
The piano is then securely strapped and blanketed to the skid, which is an L-shaped protective layer of wood and carpet (or other softer material). Once the grand piano and the skid have become essentially one movable piece, it can then be tilted (from the round end of the grand) and a dolly can be positioned underneath.
Now what?
Placing a piano is only the beginning stage of piano moving. A clear path must be chosen to move the piano out of the room with the least amount of corners, turns and stairs. Ramps are used to bridge over any stairs or ledges. Outside, most ground can be handled by the 4 wheel dolly but at times, on uneven ground, gravel or grass, the ramps (or plywood) can be used to roll over. Once at the truck, it's simply a matter of pushing the piano carefully to the top of the truck deck. This is much easier said than done. Most amateurs have no idea how heavy a piano can be with its full weight bearing down on an angle.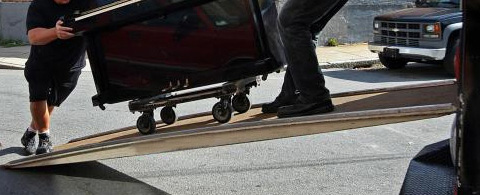 Tie-Downs
Remember the days before ratchet straps? People use to use rope. Cinching a piano to the truck is relatively easy so long as the tie-downs are secure and the piano is generously blanketed. The rule of thumb is: No movement. Parts only rub when there is movement to rub. If the piano is secured to the wall or bed of the truck, the piano will not move and subsequently, the theory is that there will be no damage. And ultimately, piano moving is all about safely moving an instrument without getting hurt.
My advice?
Hire a professional. But how do you know if the professionals have experience with pianos? One day I just happened to show up to a technician's shop just as a piano was being moved out. I asked him "Who's moving?" The technician replied "I don't know. The customer already had it arranged." We waited for awhile and two young guys show up with a dolly. While the company truck was a well-established name, it was apparent that they had substantial turnover in staff and these two had not been on the job long. "Sooooo how do you lift one of these things anyway?", said the one mover to the other. "They sure look heavy". RED FLAG. Needless to say, that same piano was brought back the same day as it fell off of the ramp at the customer's home only this time with substantial damage. How do you know who to hire? There are trucks everywhere saying that they move houses and pianos etc. and quite often, big companies don't necessarily have trained movers for pianos. In a word, ask those who are in the business. Ask a piano tuner or call a store. They handle pianos every day. They also know who they have entrusted their pianos to for safe delivery.
Disclaimer: I feel strongly about not moving an instrument that puts people into danger. While professional piano movers have moved literally thousands of pianos, doing a one-off to save the few dollars is not worth the risk of injury to yourself or to your piano.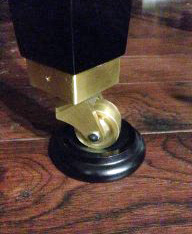 More Thoughts on Piano Moving
Moving across the country? Here's a few thoughts: have you considered factoring in the piano move with your household belongings? If you're driving with a U-Haul or some other rental truck, you can always hire movers just to get the piano safely on the truck. It's a small price to pay but then you don't have to worry about it.
Shipping the piano a long distance? Have you considered freight instead of moving? Freight involves crating a piano so that a forklift can put it onto a semi-truck. For long distance moves, it might be worth investigating that cost. Word to the wise: if you live in sub-freezing temperatures, get a heated truck as well. Pianos don't particularly like crazy cold climates.
How do I save my floors from a piano? Pianos have casters (small wheels) and so to protect your floors, place the wheels into caster cups –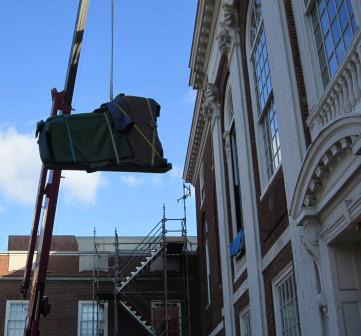 small dishes that prevent the piano from rolling and save your floors.
Does my floor need reinforcing before moving a piano in? I have a couch that weighs 100lbs and has a similar "footprint" to an upright piano. Add 3 adult males each at 200lbs and the total would be 700lbs. Where most household pianos weigh 400-600lbs, I'm going to venture and say that structurally your house should be fine to handle any piano without reinforcement. That said, I've been in a mobile home once where it appeared that the section where the piano was sitting seemed to sag.
Finally, the piano that won't fit: I've only been involved twice with pianos that literally can't fit into a space where it was intended. Either the staircases were too tight or doorways and landings too impossible or the piano was simply too big. Although this sounds crazy, pianos can also be positioned by crane. Since I don't live in New York, I imagine pianos are moved more often by crane than my location. Cranes have a fee attached (obviously) but are more reasonable than you imagine.

The soundboard of a piano ~ to the naked eye, it looks like a giant sheet of wood located under the strings. To piano makers, this is one of the most critical elements of science in the instrument. Why? The job of the soundboard is to transform tone of the vibrating piano strings into audible waves which also color the tone. Truly, it is inseparable from the voice of the piano.
Doing some light reading 😀 (Wood for Sound by Wegst, 2006, American Journal of Botany) it becomes apparent that soundboards are this careful balance of elasticity and stiffness or rigidity. In the diagram, it reveals that there is a correlation between density of wood and elasticity (Young's Modulus). Generally the lower the density, the greater the vibrational properties. Balancing this concept is stiffness required to resist what is called the down bearing of the strings – the pressure of piano strings pressing down on the soundboard. So the soundboard makeup is this marriage between rigidity (resistance) to pressure while maintaining elasticity for vibration allowing optimal dynamic range and sound radiation.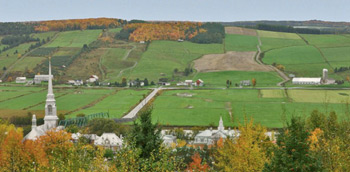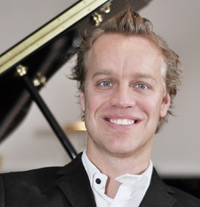 What then makes for a good soundboard? We thought it would be appropriate to go to the source. Bolduc, one of the few independent piano soundboard makers in the world allowed us a glimpse at what is involved in the making of a soundboard. Situated in bucolic Quebec, Canada, they supply both to piano makers as well as independent piano rebuilders. So without further, adieu, let's talk to Christian Bolduc, factory superintendent.
Glen Barkman: Tone wood – why white spruce? Is it structural, is it the density or mass? What makes it ideal for piano soundboards?
Christian Bolduc: The North American White spruce has been used for over a century for the making of piano soundboards, as well as violins and other stringed instruments. It has proven its outstanding tonal properties with the most prestigious North-American piano manufacturers. The cold and vigorous North American climate contributes to the strength of the spruce which offers appropriate structure and elasticity required for making a good and resistant soundboard.


GB: When choosing a great log for tonal purposes, what characteristics are you looking for when you view a log in its natural state? Ie. What diameter, length, areas without branches, bark etc.
CB: We need the nicest spruce logs available for making piano soundboards. Most of the time, we use only the base of the tree and cut just under the first branches. The length of the logs we use can vary from 2.5 meters long up to 5 meters (8-16 ft). The tree needs to have grown slowly, gradually, without any twisting, blue marks or other impurities. After having selected the best logs, only 20 to 25% of the tree will be selected for making a 1st grade grand piano soundboard. The rest of the wood will be used for making upright soundboards because the colour is less important because they face the wall. The remaining wood can also be used for other products such as house mouldings and lumber.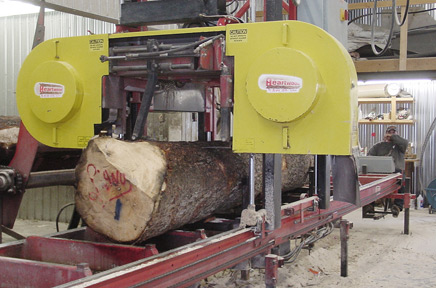 GB:Do you happen to know usually how old the trees are when they are logged and when it is the best time to harvest these trees and why?
CB:The tree needs to be cut in the winter time to prevent any sap that would affect the stability of the wood. We need at least 15" diameter at the small end of the log in order to be able to make the quarter-sawn cut. Most of the time, the trees are at least 100 years old.
GB:Do different types of spruce or other woods exhibit different fundamentals in the piano as well as overtones?
CB:There have been many experiments made by piano manufacturers in the last century using different species of woods for soundboards. The spruce tree is definitely the best material as far as tone is concerned.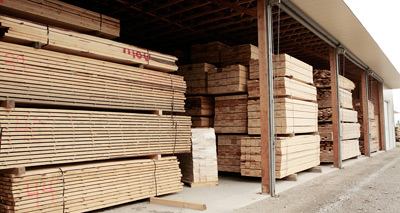 GB: What is the rough timeline from logging to soundboard? Logging, drying, cutting, curing, shaping, sanding…
CB: The spruce needs to be cured slowly before moving into production. The most important criteria is that the tree needs to be cut during the winter time when moisture is at its lowest. The logs will first be cut into lumber at our saw-mill and stacked outside for months for a slow drying process. The wood will then be kiln dried a few weeks and stacked again for many additional months. The spruce is at least a year old when we start making the soundboard panels.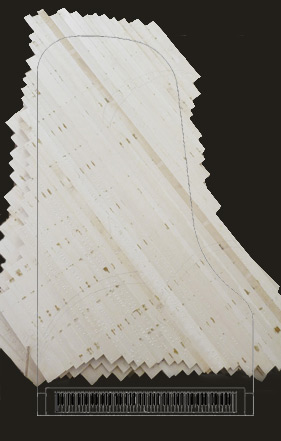 GB: What is the ideal "curing" humidity or moisture content in the wood?
CB: The soundboard will need different drying periods during the process of production. In the final step, while gluing it into the piano, the soundboard can reach as low as 4-5% humidity content.
GB: Are soundboards planed and then sanded or rough cut and then thickness sanded?
CB: The spruce lumber is cut into oversized planks. The pieces are color and grain matched and then glued together. The soundboards are sanded to their final thickness in a 74″ wide abrasive wood planer.
GB: Do you customize pianos for specific companies and how do you go about doing that?
CB: We manufacture all types of soundboards based on the piano manufacturers' specifications. Thickness, shape and grain alignment vary from one piano to the other.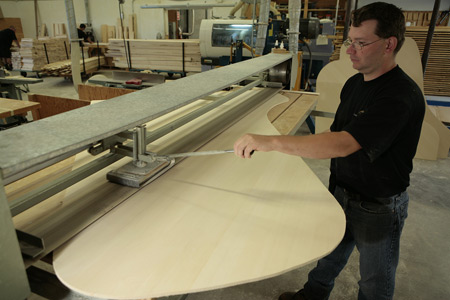 GB: How thick on average is a piano soundboard?
CB: A regular piano soundboard can vary from ¼"(6.5mm) for a small model up to 3/8"(9.5mm) for a concert grand piano.
GB: Why quarter sawn? Why vertical grain?
CB: The main reasons are for stability, strength and sound transmission. The soundboard is firmly glued into the piano but still needs to expand and retract without splitting, depending on the ambient conditions and humidity variations. Maintaining the annual rings in a vertical position guarantees that the wood will change dimensions without cracking. The quarter sawn cut makes it also stronger to support the downward force applied to the soundboard by the strings which can reach over 600lbs.


GB: What is the purpose of ribs to a soundboard? How do you incorporate crown (slight arc) into your soundboards?
CB: The ribs help maintain the crown of the soundboard and also counterbalance for the down force exercised by the strings. The ribs can be pre-shaped to match the crown or glued under tension in a press.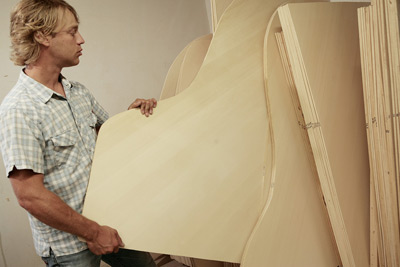 GB: What types of glues hold the planks together?
CB: Most manufacturers from the 19th and 20th centuries have been using the hot-hide glue for gluing soundboard panels, pinblocks, veneers, etc. The hot-hide glue was not only good to fix the parts together but also a very good sound transmitter. Today, we use a glue which was developed with the same philosophy of "sound transmission" as it becomes as hard as glass but with a superior resistance to any type of environment.
GB: Obviously with 19 tons of string tension on a piano bearing down onto a soundboard, the soundboard needs to be stable enough to withstand that pressure. Do you measure clamping pressure when joining planks or have other measurements to determine adhesion and subsequent rigidity and stiffness?
CB: The glue used for laminating the soundboard panels is actually stronger than the wood itself. We may think having maximum force is better, but too much pressure with the clamps is not good. There must still be room left for the glue itself.
GB: Are soundboards finished with resins or lacquers or left in their natural state? Or are they finished by the piano manufacturers who purchase them?
CB: The finishing of the soundboard is done by the manufacturer after its installation into the piano. The soundboard needs to be lacquered in order to seal and protect the wood.''
GB:How is the soundboard adhered to the inner rim of the piano?
The soundboard is glued to the inner rim as a flat glue joint. There are notches in the inner rim to allow room for the ends of the ribs to fit within.''



I just want to express my thanks to everyone at Pianos Bolduc for answering questions and also supplying most of the images. Due to the wasteful nature of quarter sawn lumber, it makes me happy to see that Bolduc is also concerned with the environment and not letting any scraps go to waste. They only work with suppliers involved in reforestation. The shorter pieces unusable for pianos are sold to guitar luthiers and the sawdust is used by local farmers for litter while the bark for heating sugar shacks and cottages. Excellent!
For more information about Bolduc, visit their beautifully designed website. There's lots more information on their company, soundboards and pinblocks as well as an array of tools that they also sell.
One final note ~ if you're anything like me, you're curious as to their inscription on their logo "Je veux, Je peux". Translated from French it literally reads "I want, I can" and the insinuation is that we can really make things happen if the desire is strong enough to succeed. Congrats to Bolduc for nearly 40 years of this pursuit!

There's a church in Dresden called Frauenkirche (translated "Church of our Lady") which was bombed on February 15th, 1945 during WWII. The church sat in ruins for 50 years until the reunification of Germany. But in 1989, a 14 member group under the leadership of a musician named Ludwig Güttler formed the Citizen's Initiative for the reconstruction of the church. This grew into more than 5000 members, spanning more than 20 countries. The church was finally completed in 2005 and stands as a memorial to the world as a collaborative project of art, archaeology, faith and unification.

One of the teams involved in some of the more detailed aspects of carvings within the church were employed recently by Bechstein in a spectacular million dollar piano reproduction of another kind. In 1886, Bechstein had made a one-of-a-kind piano for an exhibition in London called the Sphinx. Similar to the story of the Dresden church where the reproduction was based on photographs, all that remained of the Bechstein instrument was a single image. Bechstein decided to remake a present day version of this 130 year old original.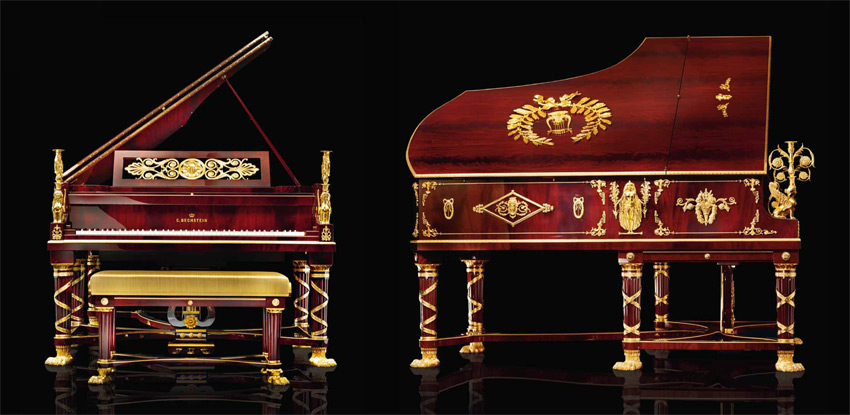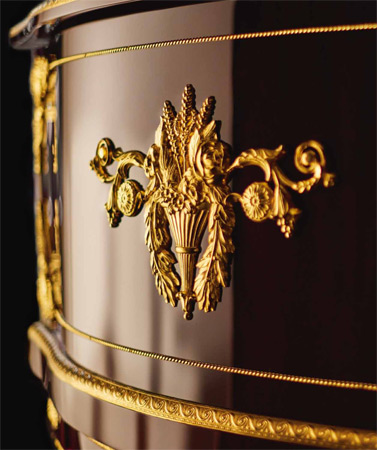 The features of the grand are similar to any world class C.Bechstein: the cabinet contains the feathered lines of pyramid mahogany, ciresa spruce soundboard, beech and mahogany rim, Renner action and hammers, with a traditional sand-cast iron plate. But what sets apart this piano is the cabinetry finesse involving a process called "lost wax". This is more specifically where the team from the Frauenkirche comes in.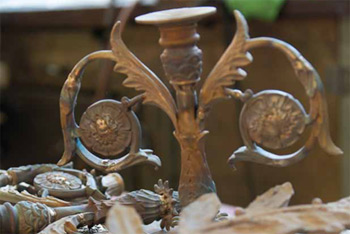 Decorative elements are first carved out of wood and "dry-fit" meaning that they ensure that the parts will fit correctly after they become cast in bronze. The sculptured wooden parts then become the model from which a master mould is made. Wax is used to make models of the various pieces and when the bronze is cast, the wax evaporates through a process called metal-chasing.
The once carved wooden pieces are now identical replications in bronze. But Bechstein didn't stop here. The pieces were then fire gilded with gold. Once they are heat-treated, the gold pieces turn a dull yellow. The vibrant gold only reappears through polishing by hand and through the use of polishing stones. After 32 months and 1800 work hours later, the Sphinx was unveiled.


Appropriately named, the Sphinx is a Greek mythical creature that represents mystery and wisdom. Truly, this piece by Bechstein reveals their manufacturing prowess, their wisdom of 163 years (est. in 1853) and their ability to continue to amaze the world with their artistic flair.
The Price for this magical piece? 1 Million Euro (Approximately $1.12 million US dollars)
For more information on the piano, you can
download the full pdf
.
To see the Sphinx being played, watch the
video on YouTube
.
The
full line of C.Bechstein pianos
can be viewed on Piano Price Point
I wandered through the halls of the Vienna Music Museum the day after visiting Sauter Piano in Germany. It seemed incredible to me to view keyboard instruments from as old as 1750. By the early 1800's, the piano had already undergone dramatic improvements. Two famous builders ~ Nanette Stein (earliest known female piano builder and company owner) married Johann Streicher (famous Viennese piano builder) and together they became a formidable force manufacturing pianos of excellence, having clients and becoming friends with both Beethoven and Mozart. In 1813, a young carpenter from Germany named Johann Grimm joined the Streicher business as an apprentice. For 6 years he worked and studied the art of piano making until the political climate changed in Vienna in 1819 whereupon he returned to Spaichingen to begin building pianos on his own. Having no heir, the company was inherited by his nephew Carl Sauter and thus the lineage of Sauter pianos began. Six generations later, Carl Ulrich Sauter together with economist Otto Hott continue to lead this nealy 200 year old company. In fact, it is the oldest continuously running family-operated piano company in the world.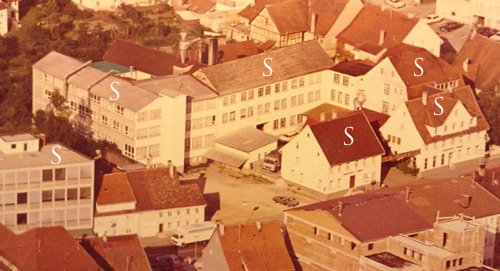 The company remained in its original location adding on to the buildings from 1819 until 1974 (the earliest building located in lower right).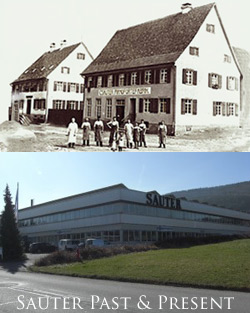 Moving literally 500 meters up the road, Sauter built a state-of-the-art location between 1974-1983 and is presently located there.
"Have you heard of Sauter?" I've asked several people over the years. Most people I know haven't had the privilege of seeing or playing a Sauter piano. Nestled in the Black Forest in Germany, Sauter remains a well kept secret, manufacturing pianos of excellence.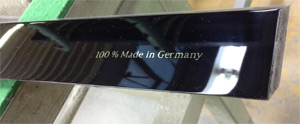 Sauter is one of the few companies that are truly 100% made in Germany. What does that mean? Traditionally, Germany has the highest grades of materials in the world. Sauter's materials are locally sourced, their labour is local, their manufacturing has occured in the same location for just shy of 200 years.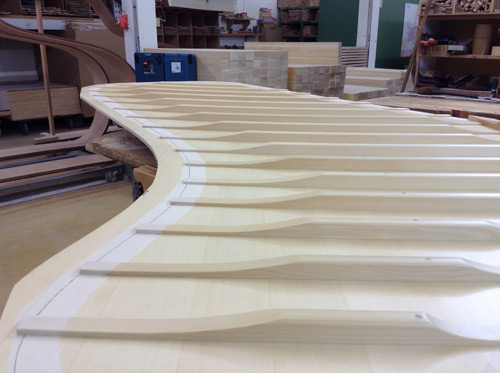 When I sat to play a few of the pianos in the Sauter factory, the tone was very soft and velvety at lower volumes. Not muffled by any means ~ instead, it was focused, clear but never offensive. This continues up until forte (loud) dynamic levels and then when you really play into the piano at fortissimo (very loud), the tone blossoms into this bold sound filled with an array of beautiful overtones. The control is extremely balanced and lovely to the touch ~ incredibly silky. My perceptions of the piano were that of "comfortable to the ears" and I truly enjoyed the fact that you could play the piano with lots of color and control. Voicing a melody line is a beautiful experience. Sauter has some unique and interesting design concepts: Historically they were the first company to introduce steel as a reinforcement into piano actions, providing rigidity and excellent transference of energy to the soundboard. Renner action parts are used throughout. Solid, low altitude spruce is used for their soundboards and they even manufacture their own cast iron plates. Titanium parts are used extensively for termination string points on their larger instruments.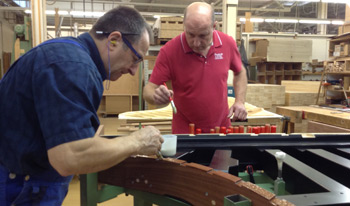 As a company, I have to say that in keeping with German stereotypes, Sauter is efficient in production flow, innovative in their tools and beautiful in their designs. Refined over almost 200 years, their scale designs are well thought through. If you have spent any time in a woodworking shop, you'll know that jigs are vital to consistency. What I enjoyed seeing on the walls are jigs that look like bobsleds – heavily worn with decades of use. Jigs are simply custom made tools that resemble patterns. They might show where to cut out a soundboard or pinblock. Sometimes they're used for tracing around while at other times, they show where to drill precision holes so that each piano turns out uniformly.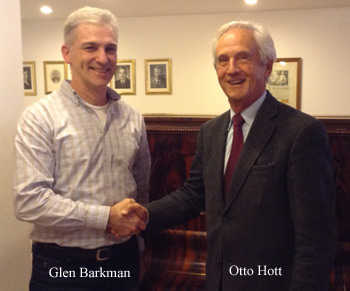 What is also interesting is the fact that being a smaller production facility (hundreds of pianos not thousands annually), the Sauter factory workers will often fill the shoes of more than one production station showing them to be a truly multi-skilled workforce. Where efficiency is required, Sauter is ingenius in developing tools for precision and accuracy and yet fully retain hand crafted involvement and finishing. Specialists work laboriously as they continually refine the pianos to achieve what I would deem near perfection in both touch and tone. At the end of the work week, the entire facility shuts down for an intensive cleanup time to make ready for the following week. Sauter is earmarked by cleanliness and organization. Some of the polishing guys (who I jokingly called "the men in white") wear cleansuits. Wood piles are neatly stacked, floors are immaculately swept and high quality tools are placed at their respective benches.

My tour of Sauter ended up in the showroom. Sauter pianos are visually stunning, incorporating European designs from Peter Maly. Their lines are smooth, clear and sparse. The pianos are modern and incredibly well proportioned. Even their showroom seems more like an art gallery – small, intimate and well planned. If you've never played one of these pianos, you should search one out. If nothing else, it will impress you with how beautifully designed, built and well crafted these timeless instruments are.
To view the complete lineup of Sauter pianos, click HERE

Czech Republic, November 18th, 2015

I walk up the stairs of the bell tower in the town of Hradec Králové ("City of the Queen"). The stone steps are worn because many have visited this monument built nearly 450 years ago. Massive beams are used to support the bell that appears to be about 5 feet tall. I think about the challenge of building a tower out of stone and then raising this 8 ton bell to a height of almost 200 feet without modern equipment. I'm sometimes baffled by the human spirit. It must've been a struggle to survive back then in everyday life. But what is more interesting to me is that there's this determination not only to survive, but to build objects of beauty and to express creatively despite seemingly monumental obstacles. Such is the case also with PETROF pianos. Located in the same town, PETROF has been building pianos since 1864. When you think about building pianos back then – milling trees into lumber, casting iron, making thousands of intricate action parts by hand without modern tools, I must say I'm amazed at the human spirit again to feel compelled to build instruments of such rare beauty.
Today PETROF is very different. It quickly becomes apparent that PETROF, the largest European piano manufacturer, is this wonderful mixture of old-world charm and state-of-the-art advancements. Their facilities replicate their ideas. Out of these rough cut stones of old buildings come polished diamonds of beauty – transformations of wood and iron into dazzling pianos that are not only aesthetically pleasing but musically beautiful and expressive.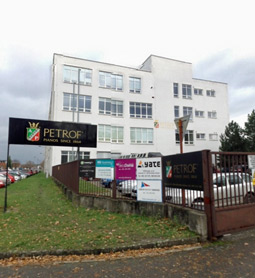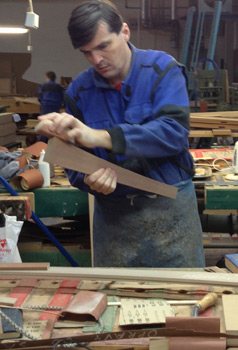 I started the tour in the milling room where they cut wood into usable lengths and sizes. Adjacent to that is their cabinet making shop. It brings a smile to my face when I smell sawdust. I enjoy wood shops. The mixture of rugged machinery from yesteryear is situated right beside sleek computerized lathes which are accurately notching and drilling piano cabinets. My absolute favourite room in the whole factory though was the next area where grand rims are pressed together.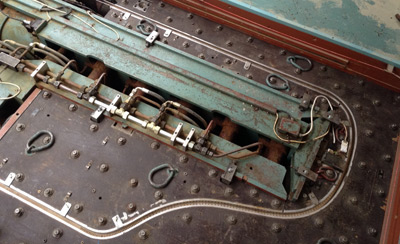 Two workers were preparing layers of the rim as well as beautiful veneers by hand but again, this massive press of brute force joins the layers of the rim together. Without seeing the magnitude of the machine in person, it's hard to grasp. It looks like it weighs about the same as a tank! Thousands of pounds of pressure are used to push the grand rims efficiently and effortlessly together. The technical savvy to build the machine is staggering to me let alone the grand rims that come out of it.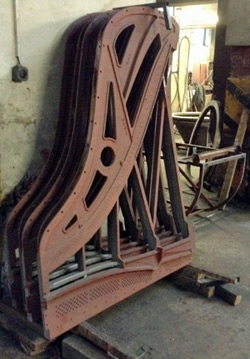 Moving to the metal shop, we see the cast frames being sanded and finished, again by hand. If you've ever been in a machine shop, this smells identical. Concrete and brick with metal filings give this room such a distinct feel. Here the wet sand cast plates are prepared to be sprayed smooth with gold.
We then moved to the assembly area and that's when I noticed one thing right away: Plants.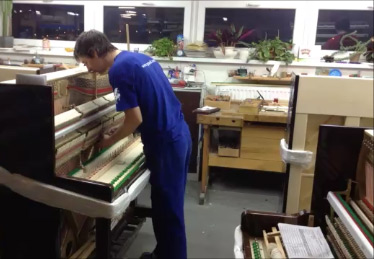 Yes you read correctly. I was just not expecting to see greenery in the piano factory. Why? It's a highly technical reason… just kidding. It's not actually. Here's what I love about PETROF ~ Each of the assembly stations has been personalized by the workers. So at each station I saw something different that reflected the workers who go there every day – I saw plants, lots of pictures of their kids, memorabilia and collectables, pictures of cars and even sporting events. To others, the inspiration was not visual but audible. Some areas had obvious Czech cultural music playing while other areas were playing popular songs on the radio. Does this detract from the professionalism of the company? Absolutely not. Conversely, I find it telling that many of the workers have made piano manufacturing their vocation and have stayed for years. It speaks volumes to me about employee satisfaction. And with longevity comes proficiency.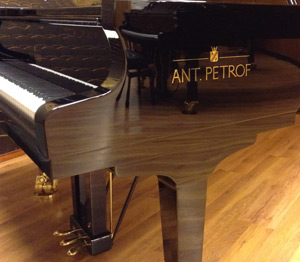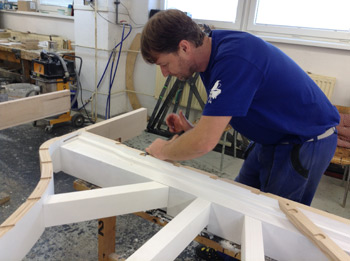 According to Jan Prostředník, the production manager, he said 'we actually have people who have been working here for decades. We even have some married couples or other sons and daughters that have joined operations here as well". So in the midst of the work at PETROF, there's also a sense of family. I respect that. How I digress.
Back to piano making: It's interesting to me how companies who have been making a product for the last 150 years choose to modernize some aspects of manufacturing and yet retain other areas by hand. For example, ten years ago, they installed a giant computerized buffing machine to make their finishes PERFECT. And I mean mirror finish. Yet when it comes to things like intuition – feeling how the keys respond as the new bushings are being tested for friction, it's hands-on labour. There's no replacement for intuition. Again, there's a machine that plays keys repetitively hundreds of times (or possibly even thousands) to break in or settle the piano but when it comes to voicing – listening to the newly installed voice of each hammer, it's all done one note at a time. And just watching the master carver with beautiful chisels carve decorative panels is absolutely fascinating to me.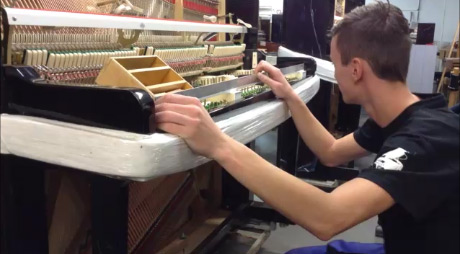 Stepping into the furthest reaches of technology, PETROF is very sophisticated. Aside from computerized advancements in manufacturing, PETROF physically models and designs pianos through software called "Menzurix". How does it work? Well pianos all have strings of various lengths correct? Low notes have really long strings while the top notes in any piano are really short. How do you know what thickness or gauge of wire to use on any note?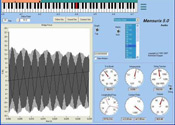 This is where the Menzurix software comes in. Providing the length you require and then typing in a hypothetical gauge of wire, it will mathematically compute and graph out the potential sound for that string. Rather than installing one string after another and listening, the engineers at PETROF can mathematically compute and optimize the strings before a single wire goes into the piano. This is cutting edge technology. PETROF can pre-determine body of the tone and harmonics. But it doesn't stop there. PETROF also has a very large an-echoic chamber (meaning there is almost no echo in this room. You can almost hear your own heart beat it's so close).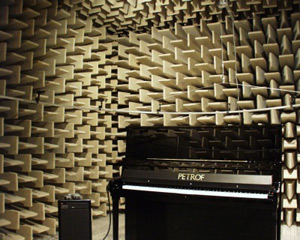 It's large enough to house a grand piano and test their results. Also in the facility is a Feutron machine. The Feutron tests materials that go into a piano and pushes the envelope for both temperature and humidity. According to Jan Prostředník, every substance from glues, adhesives to finishes get tested at extreme temperatures and humidity. Practically what does this mean? It means that if they've tested materials in such an extreme way, there's very little chance of it going wrong elsewhere in the world. They know all of their materials and how they will react. That translates into confidence knowing that they've done environmental "stress tests" with everything that goes into the instrument.
But what about the music? Ahhhh this is the enjoyable part. At PETROF you see almost every stage of construction. (Everything is made locally with the exception of German Renner actions and German hammers). Everything comes together in this one factory and when you finally put your fingers on the keys, it translates into the most wonderful tone. Their pianos truly feel like an extension of your fingers. The keys are responsive and quick, and the tone contains a gradual crossover from soft and felty with a tinge of sparkle to bold brazen power.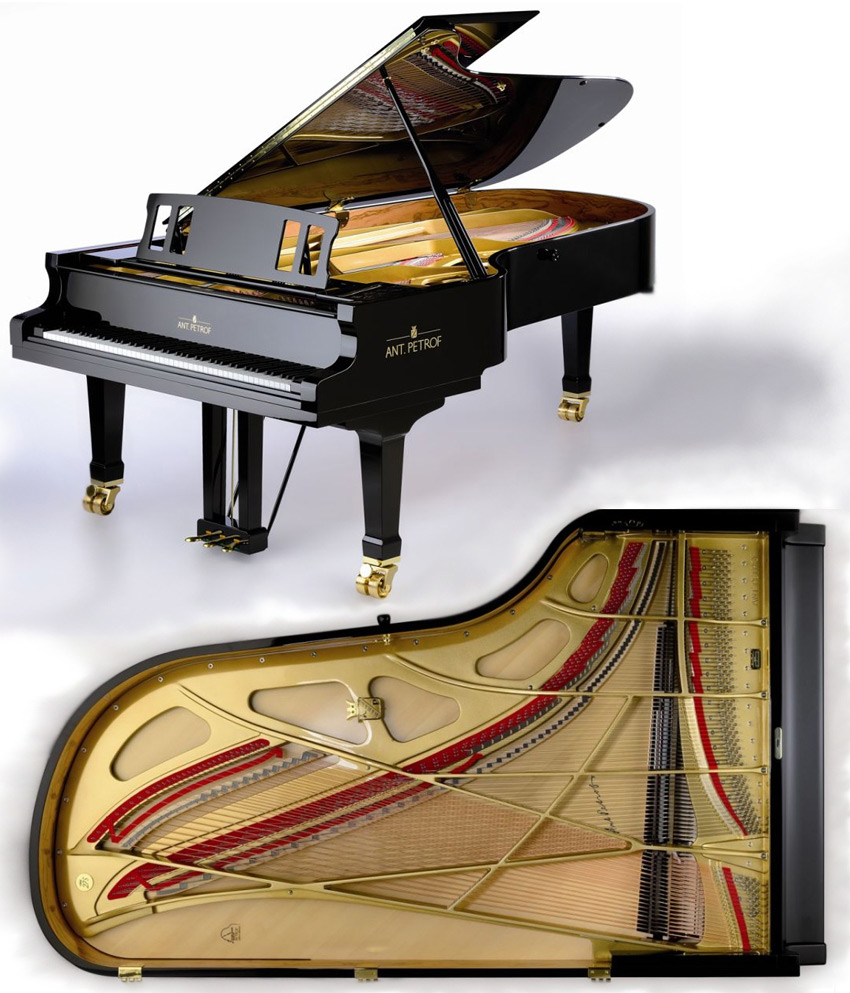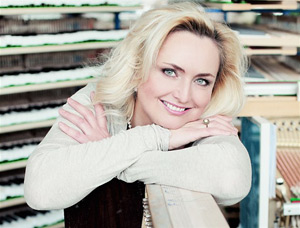 At the end of the tour, I had the wonderful opportunity to meet Zuzana Petrofova (English ~ Susana Petrof). What a delight to meet a living legend – CEO of this company 5 generations later! That evening we drove through the town and passed the old bell tower. Across the street from this church is the family PETROF home. As central as PETROF is to this town, I believe musically, they have become central to the world stage over the last 150 years and I suspect will continue to strive to build pianos of excellence and serve the musical community at large.



Coming soon – the dynamic virtual PETROF tour. If you haven't yet seen our piano factory tour chapter, you can see it HERE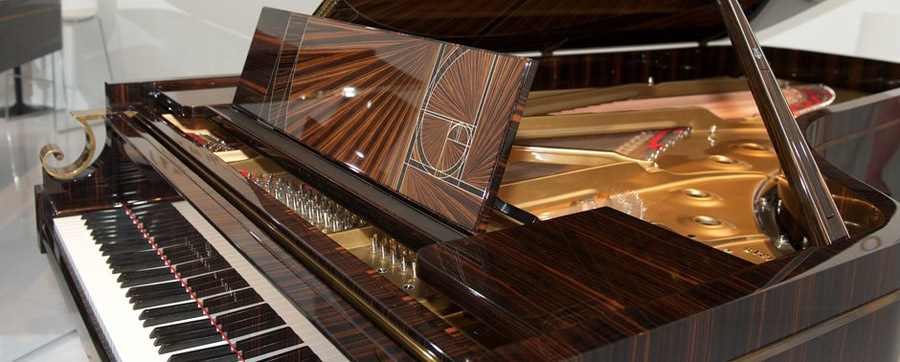 In the late 1980's, I was completing high school and thought it would be interesting to try out the new computer program called "Choices". Our guidance counsellor had this brand new hot-off-the-press system to help determine ideal career options based on a series of questions. You would sit in this tiny little cubicle and fill in little circles with a dull pencil that marked answers to questions like "Would you rather be in the garden or work on a science experiment?" After what seemed like an eternity the computer card filled with answers was then scanned into the computer and VOILA! out would come all of your potential career options. Even back then I was a bit of a computer geek but also completing my Classical piano diploma and so I thought this would be fascinating and hoped this might shed some light on my future. And so the much anticipated result? Career options for Glen Barkman: 0. Laughing it off I remarked "Does this mean I'm a good-for-nothing?" The new young guidance counsellor was both apologetic and appalled at the results. Having answered questions with an affinity towards both math and music, the computer couldn't reconcile these differences because when I was growing up music was considered part of language skills and not mathematics. It wasn't until the decade of 1990's when studies clearly revealed the correlation between math and music. It's almost humorous now because everyone sees that the 'world of course is round' and that mathematics and patterns are intrinsically linked to music.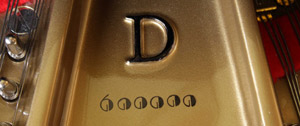 When it came time to celebrate Steinway's 600,000th piano, the company turned to furniture/interior designer Frank Pollaro (
pollaro.com
) who also designed the limited edition "Rhapsody in Blue" for Steinway (circa 1996).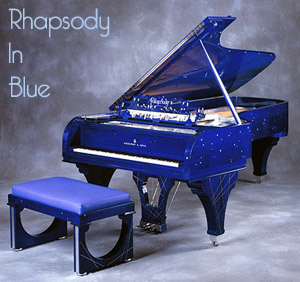 His thoughts as he was asked for the challenge: "Designing Steinway & Sons' 600,000th piano was an honor and a challenge. To me, knowing that this piano would become part of history meant that it had to be more than just a beautiful design, but also needed to visually convey a deeper message. As I considered the number 600,000, the Fibonacci spiral came to mind. The way in which it continues to grow but stay true to its form is very much like Steinway & Sons over these many years. Combining the universal languages of music and mathematics suddenly made perfect sense."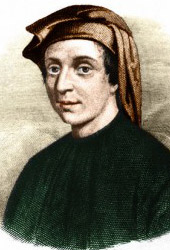 Fibonacci or Leonardo Bonacci (c. 1170 – c. 1250) is credited with 2 math concepts: one is the widespread use of Arabic numbers instead of Roman numerals and the other, the Fibonacci spiral. If you're like me, there's this vague recollection of studying something about Fibonacci way back in the distant past.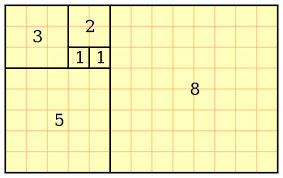 Investigating it a bit further, I remember now both the math and the subsequent pattern it makes. It starts like this:
1+1=2. Then you take the sum (2) and the last number in the equation (1) and add them together. So the new pattern is 1+2=3… 2+3=5… 3+5=8 and so on. The complete pattern is then:
1 1 2 3 5 8 13 21 34 55 89 144 233 377 etc
If you then turn these into blocks (see graph paper), each block having an arc within, a pattern begins to formulate similar to that of a spiral shell. This design can be found throughout nature but it's interesting as Frank Pollaro mentioned that it's a perfect design for the serial number 600,000 from Steinway pulling together math and music.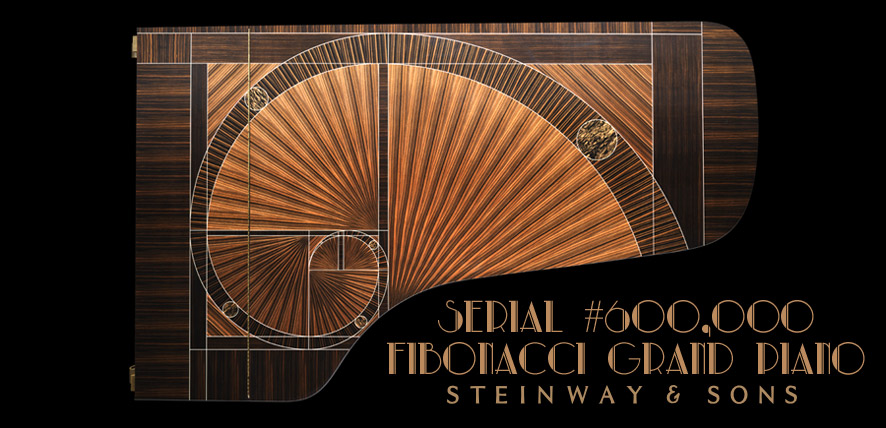 Some facts about the Steinway Fibonacci:
It's based on the structure of a Steinway Model D – Concert 274cm long or 8'11 ¾"
From start to finish it required nearly 6000 hours of production over a 4 year time span
The cabinet veneer is made from macassar ebony wood outlined by synthetic ivory
It is priced at 2.4 million USD
Six Model B Steinways based on a similar design will be made available for sale (for less than 2.4M)
Finished in high gloss, the look of the wood is further enhanced. Notice the details on the rim ~ the design echoed once more and instead of having legs, the entire base is also one large spiral!



Other famous Steinway designs are serial #100,000 presented to the White House in 1903 gilded with gold leaf.
A second design, serial #300,000 was given to the White House in 1938.
Steinway #500,000 was designed by Wendell Castle and has the names of 832 pianists and 90 ensembles on the Steinway Artist roster of 1987.



Where do piano companies like Steinway go now that mega piano companies are building more affordable and competitive pianos? Symbolically like New York City itself, if there's no place to build, you build up. According to Paulson who purchased Steinway Company in 2013, "The Steinway brand is both opulent and bulletproof." Steinway, although still supplying the world with concert level pianos is pursuing yet still higher levels in art cases appealing to exotic and affluent buyers. Similar to Fibonacci's spiral, I expect we'll see the concept of artistically designed pianos blossom and unfold in the years to come.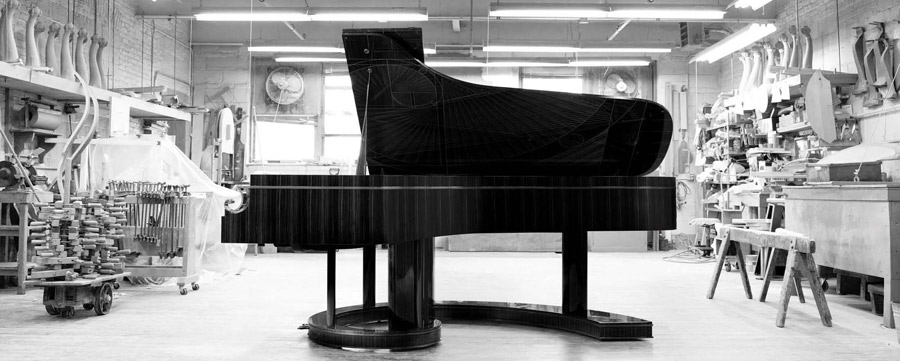 Three weeks ago I was in a discussion with Basilios Strmec of Vienna International (North American distributers for Hailun, Petrof & Sauter) regarding the creation of virtual piano factory tours on Piano Price Point.
After a slight pause his first response was, "Glen, how flexible are you?"
"Pertaining to what exactly?" was my reply not having any clue where he was headed.
"I'm leaving for China in 10 days and if you can clear your schedule, I'd like to invite you to Hailun Piano Company to do your first tour".
Knowing I was planning a trip to Toronto for that week I said "Let me call you within 24 hours". I managed to shuffle some dates to make this happen as I deemed it an exciting new adventure and opportunity.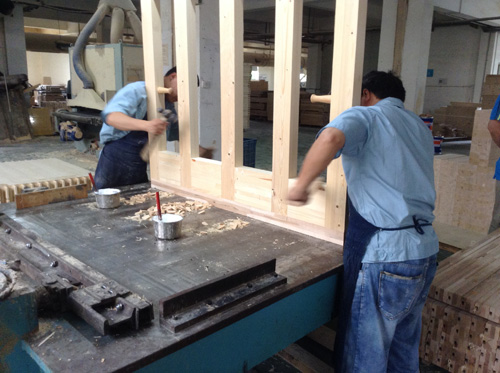 With new-to-me technology of panoramic photography I started to explain to Basilios during the shuttle from Shanghai what it is I hope to achieve. "I want to bring the masses to the factory" I said, knowing that it is an impossibility in reality but plausible with virtual technology. "I would like to give people the opportunity to look around – to see the stuff of every day life – to see the sawdust and the chisel shavings, to see the rough cast iron frames before they get sprayed beautifully in gold, silver and rose. I'd like consumers to begin with lumber and iron, leather, cloth and felt and end with a finished product ~ to show from inception to creation this process of making the piano." OK I wasn't quite that poetic but… you get the point.
In usual enthusiastic manner Basilios replied "Well let's make this happen! Hailun is transparent and I'd like you to feel at home – to photograph and walk around as you would like." It wasn't until I started shooting panoramic images that his eyes lit up. "Wow this is fantastic! It really shows the factory as if you're standing right here." That was my intention precisely. The new chapter called Piano Factory Tours is in editing stage and will be released August 2015.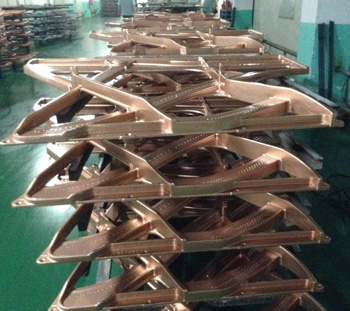 5 Days Later
Debriefing this whirlwind, it's simply overwhelming the stature and size of the Hailun Piano Company. They manufacture roughly 38,000 pianos per year. Now if you do the math, that's just over 3,150 pianos per month in 4.2 MILLION square feet of factory space.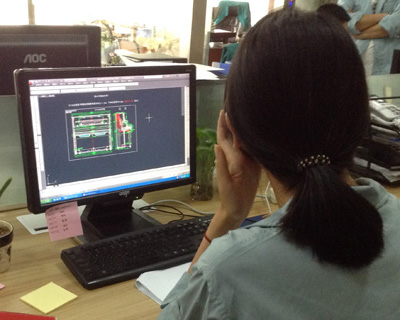 The construction of the piano is divided up into stations where each employee is trained in specific tasks. Some work on tone wood – the sound producing elements of bridges and soundboards while others work on action parts and how the piano plays. Some produce beautiful finishes and others are involved in the construction of the frames. At the end of the assembly there are usually at least 3 levels of refinement ~ rough tuning and regulation (making all the parts function evenly), then 2nd tuning and voicing (making all of the notes sound consistent) and then 3rd regulation and tuning. All pianos are inspected along the way at various levels. Oh and when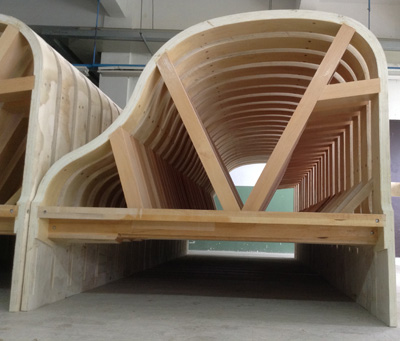 you walk into the factory, the sounds – you can't even begin to describe this one machine – up until this point I had only seen pictures –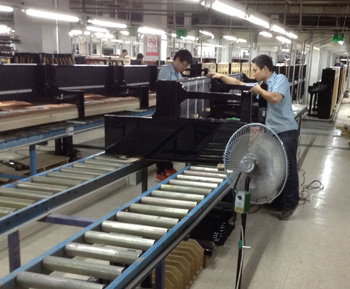 The piano gets sent into an extremely well insulated booth where this machine strikes the keys to 'break in' the piano. The sound of all 88 keys hitting in rapid succession settles the entire piano; the tuning of the strings settle, the hammers find their strike point and the tone begins to really blossom and not sound so 'green'. All pianos roll through the factory on what look like train tracks. They move from one section or station to another. There are some areas in the factory with tools not dissimilar to my own wood shop having the reminiscent smell of sawdust and conversely, there are multimillion dollar polishing machines working with exacting precision to achieve that mirror gloss many refer to as "piano black finish" or ebony polish. In order to create a piano however, it's not simply the sum of the parts – it's the design team of piano visionaries and engineers working at computers and CNC machines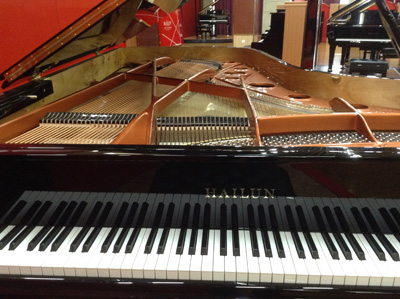 (computerized cutting tools precisely notch and cut down to 1/1000th of an inch).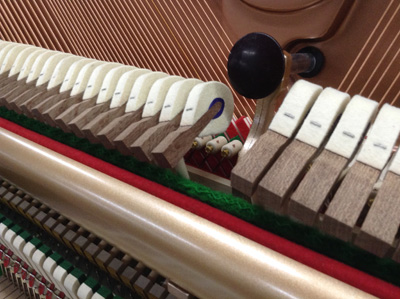 It's also logistics – transporting parts from one area to another and not get bottle necked at any stage along the way. Imagine if there would be a problem in one section, pianos would just start piling up at over 100 per day! So the entire process needs to flow from one section to another. And don't forget about packaging – the creation of boxes, pallets and air tight packaging. At the helm of this giant ship is Mr. Hailun Chen – an absolute larger than life personality who despite cultural and language barriers makes everyone feel welcome. The few interactions over dinner and meetings, there were great laughs but you also recognize that he's a remarkable leader who would be first to tell you that it takes a team to build a piano. Hah… and I thought my 5 day trip to China was a whirlwind – try building an entire line of pianos, manufacturing facilities, installing giant machinery, with hundreds of workers, an entire sales force with global presence, achieving publically traded stock status all in just 15 years. Wow.

Special thanks Mr. Hailun Chen & Basilios Strmec (Vienna Piano) and the entire staff at Hailun Piano for accommodating this photo shoot and for facilitating and sponsoring this entire trip from start to finish. Thank you so much for the tour – halfway around the world and back within 5 days. Cheers to Hailun Piano and may you see continued success and growth in the coming years.

Oh and one last thing… in between meetings, I had the opportunity to sit at a Hailun grand piano ~ model 218 (7'3" long) in a performance venue built within the factory. (You'll be able to see it on the virtual tour). It was lovely not only to catch my breath for a moment but to also sit at this FANTASTIC piano and remember that it's the inspiration of music that moves mankind to create and build instruments of beauty for the indulgent purpose of expressing what our hearts feel.
Go to Top