Posts tagged
fiber
Behind the scenes in the piano business it's a very small world. You won't last but 10 minutes before you hear something about Abel hammers. Hammer heads – the felt that strikes the strings on a piano are in my mind the most critical foundation of tone. Abel is world reknown specializing in hammer manufacturing. It was my pleasure to meet Norbert Abel last month and have him shed some light on the piano hammer making proccess. Every time I interview someone I learn something new about the piano trade. Although I've been in the business for just over 20 years, I only now have heard 2 words which were unknown to me before this interview: Lanolin and Biofelt. Read on to hear the words of Norbert Abel. And by the way… Abel makes about 50,000 sets of hammers per year… multiply by 88 keys on a piano that equals 4.4 MILLION hammers annually. They are arguably one of the greatest authorities on hammer making in the world.
Glen Barkman: The History of Abel – How did you come into this business?
Norbert Abel: My father, Helmut Abel started his own hammer production business in the year 1982 after he had worked for another German manufacturer making piano hammers and action parts for 23 years. His goal was to produce hammers in the 'old style' which meant custom making hammers for each manufacturer using high quality materials and advanced techniques.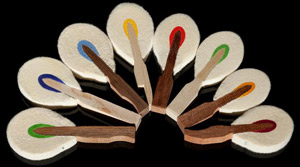 All pianos are different and have individual requirements and so with this custom approach, he convinced many of the piano makers and technicians with the Abel quality and philosophy; making hammers for many brands to individual specifications.
From the beginning I have been involved in the business side and have seen the continuous growth and development of production. In 1988, my brother Frank started into the business and has taken over production. The third generation, my son Alexander is now learning step by step the difficult procedure of hammer making. Since 1993 the Abel Hammer Company has a factory in Frankenhardt, Germany. In our history, our facilities have increased two times now to 24,000 square feet of manufacturing space with an annual production of over 50,000 sets of piano hammers per year.
What are the steps in making hammers?
Hammer making looks to be very easy: Take some wood, some felt and put both into a hammer press and the hammers are finished. But it is not that easy. The whole procedure is much more complicated.
Everything starts with the felt. Felt is a natural product and based on Merino wool (Merino is a type of sheep with incredibly fine and high curled fibers) from South Africa, New Zealand or Australia. In these countries the Merino wool will be selected into different grades. For making hammer felt only a high grade wool fiber can be used. Then the raw wool comes into a cleaning process to Europe where all dirt, sand, dust, mud, vegetarian parts are washed out. This process is called carbonizing under the use of sulphuric acid. However, this acid is counter productive to hammer making as it has the undesired effect that a lot of natural lanolin will be also washed out (and the acid also is not good for the environment).
Natural lanolin (also called wool wax ) is very important to keep the natural resilience in the hammer felt which greatly affects piano tone. To retain this lanolin, Abel started the BIOFELT PROJECT 2003-2006 (sponsored by the European Union) with the result of a felt called NATURAL FELT which did away with harsh chemicals in the washing stage of felt making. This is a more natural product – not as white in color but incredibly versatile in sound. The use of this new Abel Natural Felt is responsible for great success in the piano business in our company.
Felt sheets will be then cut into strips after the sheets have been carefully controlled. The single wool fiber is still in a curled position. In the hammer press the felt will be pressed around the hammer moulding to stretch the wool fibers and to build up the resilience in the hammer felt. This procedure is the main secret of the hammer production. All hammer makers have a slightly different philosophy with this. Here is where Abel's 55 years of experience in hammer making from Helmut and Frank come into play. Understanding the whole process from "Sheep to Hammer" is the basis of the high quality Abel hammer production.
Although we have our own brand of felt, we also incorporate other felts from other makers to give a wide range of choice so that each maker can select hammers suited to their needs and guarantee the Abel high quality standard of manufacturing.

What's the difference between cold and hot pressed hammers? How does that affect the hammer head?
Cold pressed means that the felt in the hammer press form will be pressed with no heat or almost no heat. This guarantees that the natural resilience of the wool fiber will be kept alive. Hot pressed hammers in a heated press stabilize the wool fibers however it means that the natural resilience is gone and the hammer felt has lost its elasticity and the ability to create a maximum range of sound colours. The Abel hammer production is a cold pressed process for this reason.

Why are hammers measured by weight? (for example 16lb hammers)
Hammers need a different weight because the pianos are different in size. The bigger the piano, the more weight is required to bring the long strings into vibration and to create maximum sound. For this reason especially the weight and size of the felt are important. A big hammer has a lot of concentrated resilience in the felt to stimulate the string to maximumize sound producing energy.
How does the wooden moulding material affect the hammer?
Different hammer wood is important for different weight. Especially big pianos need larger felt with light hammer mouldings. The large felt is important to maximumize sound vibration and the light woods like walnut and mahogany keep the total weight on a level which makes piano playing possible. So if you combine large felt hammers with light wooden mouldings, the overall weight is manageable at the keyboard.
What is the purpose of underfelt? Do colours designate manufacturer or something of function to identify a design or a time period?
When the first hammers were built the hammer makers did not have the same size felts available that we have today. It was necessary to make a hammer with different layers of underfelt and a thin top felt outside. Nowadays, we can make the same size of hammers with one layer of underfelt and a midsize topfelt or with no underfelt and a big size topfelt. The quality of the underfelt is always the same. But the underfelt can be dyed with different colours to show different brands.
How does quality of felt affect tone? Within one sheet of felt there might even be discrepancies in tone, correct? What felt does Abel use?
We use various felts from different makers. Different felt manufacturers each have a 'signature' in the type of felt they make. The combination of felt and felt making procedures will result in different sounding hammers. In this way hammers can be individualized for customized requirements. Felt is a natural product. There are natural discrepancies within a sheet and from one sheet to the next sheet. It depends on the ability of the hammer maker to realize these discrepancies and to select the felt strips. Abel has skilled people who test all felt strips by hand and with their experience they select the strips in to different grades like soft, medium or hard. We call this the "outside quality". The inside quality depends on the different raw wool and manufacturing process of felt in the felt factory. That means the inside quality describes different characteristics of felt from different felt makers. At Abel we are always in discussion with our felt suppliers to keep the inside and outside quality of the felt sheets within an acceptable quality range. Abel is in contact with all hammer felt manufacturers worldwide which allows us to always select the right felt for our customers and retain diversity.
Density of felt also produces really different results. Is there a way of determining sound from a certain hammer from density and/or elasticity?
The density can vary from one sheet to the next sheet and also within a sheet. As long as the density is within the tolerance of the Abel specification the felt can be used in the Abel hammer production. Density of felt sheets can be determined with the felting process, the milling process and a pressing process. Most important is the felting and milling which enables the wool fiber to interlock and to build up a system of fibers with a maximum elasticity when the felt becomes pressed around the hammer moulding. This complicated procedure has a big influence on the sound of a piano. A hammer with a lot of resilience and a lot of natural life in the felt can create a wider tonal range. The best felt to reach this goal for our production is the ABEL NATURAL FELT. Hammers with less resilience and stabilized wool fiber do not have the ability to create such a wide variation of tonal colour at the piano.


I just want to say thanks to Norbert for allowing us a small glimpse into the art of hammer making. In addition to manufacturing of hammers, Abel also performs operations related to hammer customization called shaping, coving and tapering. Of interest to some wanting to preserve a vintage instrument, Abel also has the capacity to re-felt hammers on existing mouldings. This keeps the wooden shanks and flanges intact and keeps the authenticity of the instrument. Amazing! Hope you enjoyed this interview as much as I did.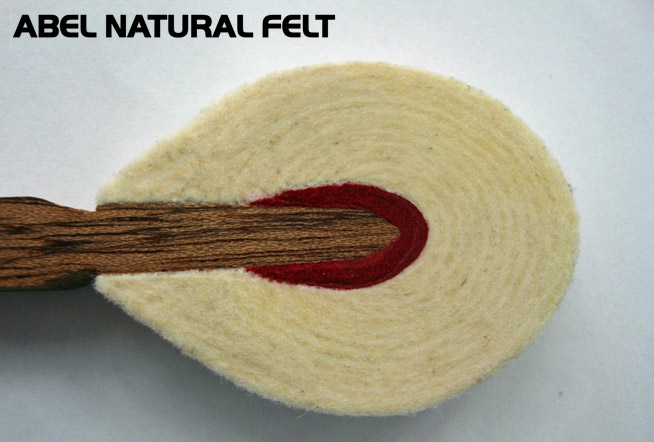 ++++
I was in the office of a metal fabricator recently and admired his collection of vintage wooden golf clubs. Not being a golfer I inquired "Are these rare?" He laughed and replied "Not really… titanium and other alloys have all but replaced traditional clubs like these. I just like the look of them." Having been around pianos most of my life, I've often wondered about the traditional use of wooden parts in the mechanical action of the piano. We somehow have managed to romanticize every aspect of this instrument and when faced with the possibility of making more efficient, versatile, stronger and consistent parts out of composite materials like nylon or carbon fiber there are far too many competitive voices that ignorantly refer to these as 'plastic'. Plastic has this connotation of cheap grocery bags and kid's toys. If you're in that camp, think again about how not only golf clubs have changed but how airplanes also used to be made out of wood. Historically, the first bicycle was made completely out of wood and yet the majority of Tour de France bikes are now made out of carbon fiber… and for the record, I won't be taking my next flight on any wooden airliner. Why have we embraced certain areas of technology and accepted it as the norm and yet reject it in the piano?
"The piano is made for music. It's not just a machine." I agree whole-heartedly however, the moving parts of the action – do they create sound? The joints and levers called the whippen assembly – do they make noise? Are they tuned? Most of these parts are inert and inaudible. If you ever get to see a technician take an action piece out of the piano, flex the joint and listen for any kind of noise. They're incredibly quiet.
So if the joints (also known as the flanges) have a more tactile application, why not fit them with new composite materials? That's what has happened with parts inside Mason & Hamlin pianos. Wessell, Nickel & Gross (WNG) is the parts company who manufacture such composite parts (same owners as Mason & Hamlin). Composite literally means 'combined'. It's the joining of the aforementioned components – usually nylon, carbon fiber or epoxy materials.
When speaking earlier this year with Kirk Burgett, president of Mason & Hamlin and WNG, we touched on various aspects of their pianos that have been re-designed with 'outside the box' thinking. One such concept is hammer shanks. The hammer is the lever (that looks like an actual hammer) which strikes the strings with a felt head. To my knowledge, WNG is the only composite shank maker in the world. So what's the big deal? Why change what already works well for hundreds of years? In this slow motion video provided by WNG, (which is very compelling I might add) it demonstrates how wooden shanks absorb energy like a spring instead of transferring energy to the string. Ideally in a piano action, you don't want to lose energy from the moment you touch the key. Piano touch should be an extension of your fingers and ultimate transfer equals maximum output of the instrument. So even if you could get wood that was incredibly rigid to match the strength and resilience of composite shanks, getting 88 shanks to operate in the same manner is challenging.
Mason & Hamlin have all but eliminated that variable of inconsistency by implementing these shanks into their pianos. And I must say, their pianos are suitably impressive. Advantages of new composite materials:
1. Strength and rigidity
2. Consistency
3. Resilience to humidity fluctuation
4. Reduced mass
Take a moment to watch the video and if you have the opportunity, try a new Mason & Hamlin piano. If you need confirmation that they're building quality, you'll be convinced in short order. WNG also offer a wide variety of aftermarket parts for rebuilders of pianos as well.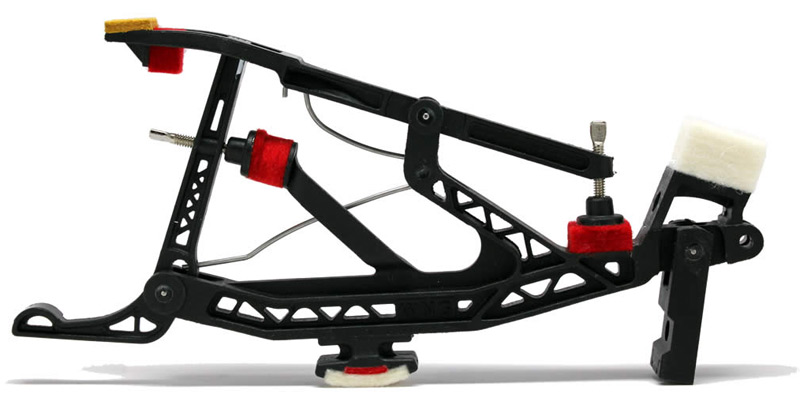 A special thanks also to Kirk Burgett for his passion in piano design, creativity and innovation. Pictured above, a whippen assembly made out of composite material ~ welcome to the 21st century.