Posts tagged
fazioli
The National Association of Music Merchants had their annual show again this year in (not so sunny) Anaheim California from January 19th-22nd. NAMM used to be merely a trade show for wares in the music business. It has now morphed into so much more: I was speaking with music school owners whose sole reason for going to NAMM is the educational component (called NAMM U for University) where teachers and schools discuss ideas and share what works. There are clinicians giving demonstrations in every field from banjo to music writing. The NAMM oral history project also has been going now for years where interviews are done with iconic people in music arts and industry. The main stage has music going continuously as well as events in various hotels in the surrounding area. Those are just the official NAMM events but there's so much more that happens from business meetings, networking to a major Christian worship night. Regardless of your involvement in music, there is truly something for everyone to gain at NAMM. This year's attendance eclipsed 100,000 attendees!
Breaking the silence of 30 years, Steinway made a presentation with Spirio, their automated digital player system. I sat and watched legendary pianists on a display and simultaneously those same notes were being played on the Steinway grand in front of you. Digital systems were a bit of a theme this year. Yamaha presented Music Cast, a way to broadcast their Disklavier sound to anywhere throughout your house. QRS (Story & Clark pianos) – one of the oldest innovators of player pianos has moved to Bluetooth and introduced control of the piano through smartwatch. PianoDisc (Mason & Hamlin, WNG) also introduced a redefined ease-of-use app for their player systems. When you start to see video of your favourite performer and then see the keys move in sync with the performance, it's quite fascinating to watch.
Also in attendance were Bechstein and Steingraeber – both companies are from Germany and haven't been to NAMM for several years. It was great to not only see these pianos but to sit down and play, listen and feel their latest iterations of manufacturing. I really enjoy meeting the families behind the pianos. Seventh generation Alban & Fanny Steingraeber were at their booth. Christian Bluthner was present at the show as was Paolo and Lucas Fazioli, Hannes Schimmel Vogel and Zuzana Petrof. While there are many musical celebrities that show up at NAMM, I just happened to see Herbie Hancock, legendary jazz musician.
Always of interest are pianos that take the stage for eye candy. This year were 3 pianos: Although not a new concept, the grand piano from Kawai (seen in the video) looked visually remarkable. Seiler did a vintage car (seen below) in fire engine red. My favourite was the Gustav Klimt "Woman of Gold" painting on the Bosendorfer. It's a 1906 painting that has been transferred and highlighted in 24K gold leaf on the under side of the grand lid. The music rack and legs also had art case highlights. You can read more about the Klimt painting on Wikipedia and read more about the reproduction on the Bosendorfer here. Below you can spin the view by either grabbing the picture with your mouse or using the arrows to walk around the grand.
In other news, Grotrian has introduced a new line called the Freidrich Grotrian – a joint manufacturing effort between China and Germany. Hailun Piano company debuted their 2.0 version of their hydraulic grand lid system where you need no prop lid stick at all to hold up the lid. On some of the larger grands, trust me the weight can be substantial. But their proprietary system allows you to lift the lid with one finger and simply place the lid at any position and it will stay there. Pearl River, who manufacture the largest amount of pianos annually (~130,000) continues construction on their new facilities. Speaking with Stephan Mohler, state-of-the-art computer systems are being equipped in the new transformation. Renner with Lloyd Meyer as well as the Piano Technician's Guild (PTG) also had booths.
Brands at the Show (alphabetical)
Baldwin, Bechstein, Bösendorfer, Blüthner, Brodmann, Fazioli, Fridolan Schimmel, Geyer, Hailun, Hoffmann, Haessler, Hallet Davis, Hardman, Irmler, Kawai, Kingsburg, Knabe, Mason & Hamlin, Pearl River, Perzina, Petrof, Pramberger, Ravenscroft, Ritmuller, Sauter, Schimmel, Seiler, Shigeru Kawai, Steinway, Weber, Wilhelm Schimmel, Wilhelm Steinberg,Yamaha, Young Chang
Piano Price Point is starting a "Piano Walk-Around Channel" on YouTube where you can take a 10 second walk around grand and upright pianos. This was initiated at NAMM 2017 and will be available soon and searchable by make and model.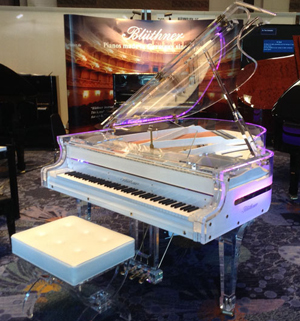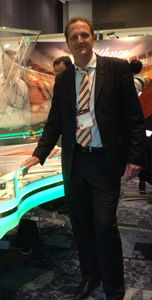 I always enjoy the back story – the behind-the-scenes look at why pianos are made and developed the way they are. This year I had the opportunity to have a few minutes with Christian Bluthner. Without question one of the eye-popping pianos was the acrylic Bluthner grand. I did not know that Christian Bluthner is actually Doctor Christian Bluthner ~ a certified physician. When speaking with him about the piano he remarked "It took me back to my medical days in researching the acrylic for this piano (released in 2014). We used to use Petri dishes made of medical grade acrylic which would not distort the light. With this high grade acrylic, it can be buffed and polished and will not turn yellow. That's what we incorporated into this piano". Absolutely fascinating.
One of my other favourite moments took place early on Saturday morning in the Pearl River room where I chanced upon Lothar Thomma and Stephen Mohler. I snapped this pic as they were making last minute adjustments to a Ritmuller grand piano. Piano Price Point featured these two (see October 2013 on Kayserburg)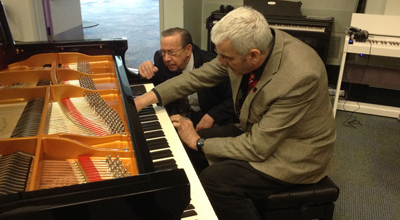 Together they are the designer and builder for Pearl River, Ritmuller and Kayserburg lines. Although they are serious about their work they are actually quite humorous together. We laughed and had a great exchange for quite some time. Stephen Mohler who was raised in Switzerland, lives year round in China and spends his time teaching principles of piano building. He said "You cannot teach piano making on infrequent trips to China. It must be done consistently and daily".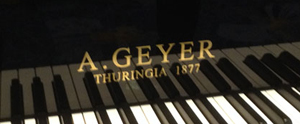 Also at NAMM: newcomers to the piano land – A.Geyer. Although not an old name, Geyer is an old German brand revisited again and manufactured in China. At the booth is no stranger – Colin Taylor (formerly Bosendorfer and Brodmann). Specs and stats will be on Piano Price Point when they come hot off the press. While many piano companies are raising prices slowly in the industry, Geyer is seizing entry level price points with pianos that present well. Congratulations to Geyer for their launch into what many deem a challenging marketplace for a start-up.
So fast I almost missed it… In fact I did a double take. In the midst of the Young Chang group was this grand named "Fridolin by Schimmel". When I inquired about this instrument, I was told by Larry Fresch about this interesting and unique collaboration. It's no secret that many companies build for other makers.
What makes this unique however is that Young Chang builds the piano and also sells it under its own dealer network. Usually if a company builds for someone else, the piano is then marketed and distributed by the commissioning agent. Not so in this case – it is completely built, distributed and marketed by Young Chang.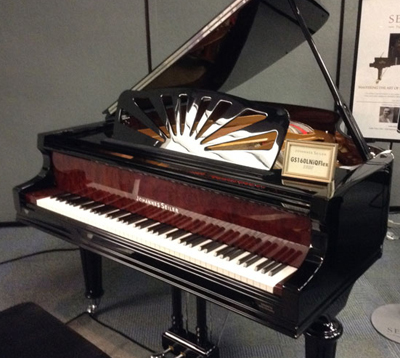 Introductions – Samick unveiled its Johannes Seiler line. Seiler is an old German name which was purchased from Ursula Seiler in 2008 by Samick. Now available are 3 lines – Still "made in Germany" Seiler – the company is continuing to manufacture there with models marked SE and sport Renner actions. Relative copies also called Seiler are made in Indonesia called the ED line. For the first time this year, the entry level GS series called Johannes Seiler were unveiled which are pianos made in Indonesia with different yet beautiful designs.


Perzina also introduced the Gerhard Steinberg for North American distribution (not to be confused with Wilhelm Steinberg). Under direction of Marti Gordon formerly of Empire Music, both the Perzina and G.Steinberg pianos are hand built instruments from Yantai Perzina factory in China.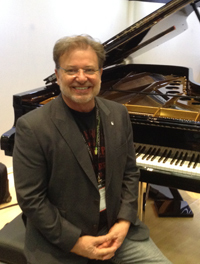 I'm not into digital pianos but there's one piano that I must mention worth noting. Ravenscroft under the direction of Michael Spreeman make 2 models of concert pianos which he meticulously recorded into digital samples. This new division called Ravenworks – a combination of piano sounds and custom built keyboards are made to emulate the real McCoy. When I listen to most keyboard recordings I can spot them a mile away. Not so with Ravenscroft! If you ever need to do serious recording in the studio, I have to go on record by saying this is the most believable piano sample I've ever played. And it also takes a technician like Michael Spreeman to deliver a keyboard that has touch response like an acoustic piano.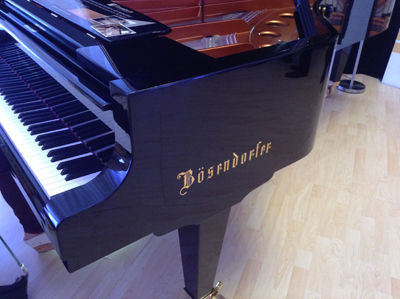 Finally, Bosendorfer showed a prototype of what will most likely be officially released mid year – the new 280 Concert Grand. Although not at liberty to say anything technical at this point, Ferdinand Braeu (senior technical director for Bosendorfer) said the new design will deliver wider dynamic range and was on display for sampling.
This year was an exciting trip connecting again with friends and contacts. My only regret – not catching Paulo Fazioli to talk about piano design. Hopefully next year.
To view the entire slide show of 140 photos, click HERE.
Present at the show in alphabetical order:
A.Geyer ~ Baldwin ~ Bluthner ~ Bosendorfer ~ Brodmann ~ Cline ~ Fazioli ~ Fridolin ~ Grotrian ~ G. Steinberg ~ Hailun ~ Hallet Davis & Co. ~ Hardman ~ Irmler ~ Johannes Seiler ~ Kawai ~ Knabe ~ Mason & Hamlin ~ Otto Meister ~ Pearl River ~ Perzina ~ Petrof ~ Pramberger ~ Ravenscroft ~ Samick ~ Schumann ~ Shigeru Kawai ~ Seiler ~ Wilh. Steinberg ~ Weber ~ Yamaha ~ Young Chang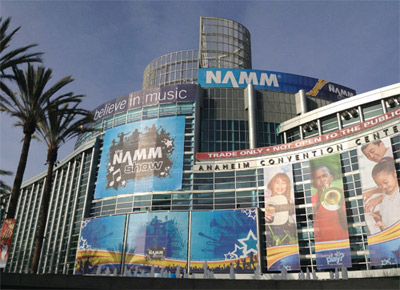 If you've never heard about NAMM, it's the largest music trade show in North America. NAMM stands for the National Association of Music Merchants. So if you're in the trade, whether it be musical instruments, band instruments, music software, support – like sound reinforcement, lighting, guitar strings, music books… this is the place to be. Established in 1901, the show now has reached an attendance of 95,709 visitors. Hosted in sunny Anaheim, California, the following pictures are the piano highlights for me. Hopefully they'll give you a glimpse in terms of what it's like. Enjoy!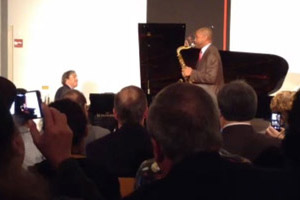 In the middle of the trade show was a small concert highlighting Branford Marsalis and Joey Calderazzo, hosted by Schimmel. It was an intimate event in a venue that held only about 80 people. Kudos to Schimmel for this. For years I've followed the musical careers of both Wynton and Branford Marsalis. Joey and Branford play at such a high level and yet somehow make it so incredibly accessible and fun… best moment of the show for me. And it also brought back home again why we are involved in the music business… to make music.
Many of the brands that you see in stores were represented at the show. On the 3rd floor were Kawai, Samick, Schimmel, Pearl River, Kayserburg, Ritmuller, Hailun, Kingsburg, Petrof and Cline. On the 4th floor on display were Fazioli, Bluthner, Ronisch, Baldwin, Otto Meister, Hallet & Davis, Schumann, George Steck, Schulze Pollmann, Baldwin, Mason & Hamlin, Perzina, Story & Clark, Ravenscroft as well as Young Chang.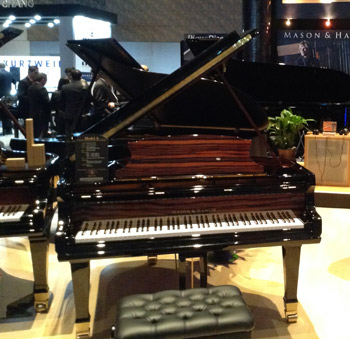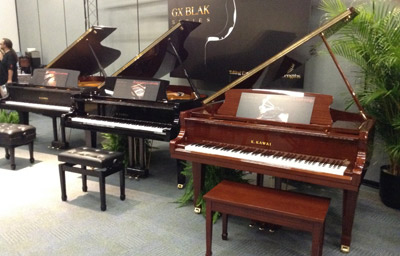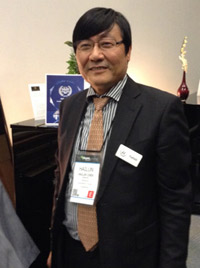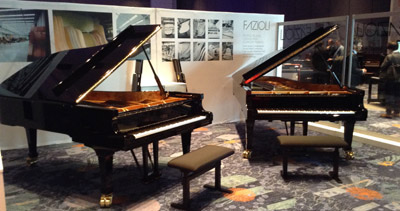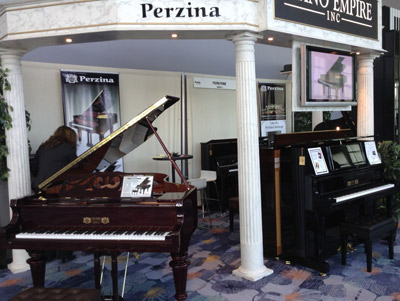 I always count it a privilege to meet people at this show who are what some would call 'movers and shakers'. It was great to meet Mr. Hailun Chen (from Hailun pianos). He's this unassuming man humbly standing in the corner. After I showed interest in the technical side, we then started dismantling his pianos in order to show me the finer points. Despite the language barrier (he's pointing out features and I'm nodding) we still managed to connect about some of the new features of Hailun. When you consider that the Hailun company is responsible for manufacturing not only tens of thousands of pianos but is also a supply house of action parts to many companies, it was truly an honor to meet him. Connecting with Christian Bluthner (Bluthner pianos), Michael Spreeman (Ravenscroft pianos), Kirk Burgett (president Mason & Hamlin), Del Fandrich (designer of Young Chang), Thomas Dolan (CEO of QRS and Story&Clark) was also very exciting to hear what is going on in each of their respective companies.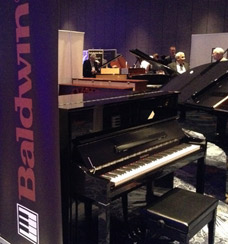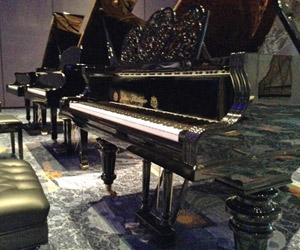 One of the FIRSTS this year was the Kayserburg release of their grand piano from Pearl River Piano Group (see Piano Price Point blog October 2013 for more details on Kayserburg). The piano played and sounded wonderful… and although the price is TBA, in usual Pearl River fashion it will represent excellent value when it hits the market in North America. Unbeknownst to me, someone snapped a picture of me playing the Ravenscroft piano. They also released a VERY fine computer based sample of their piano. Pictured to the right is the unmistakeable look of Bluthner music rack and legs.