Posts tagged
Chen
Three weeks ago I was in a discussion with Basilios Strmec of Vienna International (North American distributers for Hailun, Petrof & Sauter) regarding the creation of virtual piano factory tours on Piano Price Point.
After a slight pause his first response was, "Glen, how flexible are you?"
"Pertaining to what exactly?" was my reply not having any clue where he was headed.
"I'm leaving for China in 10 days and if you can clear your schedule, I'd like to invite you to Hailun Piano Company to do your first tour".
Knowing I was planning a trip to Toronto for that week I said "Let me call you within 24 hours". I managed to shuffle some dates to make this happen as I deemed it an exciting new adventure and opportunity.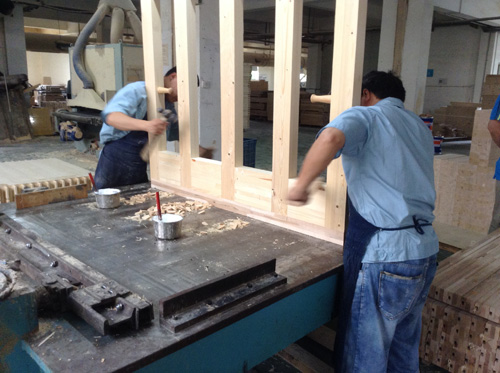 With new-to-me technology of panoramic photography I started to explain to Basilios during the shuttle from Shanghai what it is I hope to achieve. "I want to bring the masses to the factory" I said, knowing that it is an impossibility in reality but plausible with virtual technology. "I would like to give people the opportunity to look around – to see the stuff of every day life – to see the sawdust and the chisel shavings, to see the rough cast iron frames before they get sprayed beautifully in gold, silver and rose. I'd like consumers to begin with lumber and iron, leather, cloth and felt and end with a finished product ~ to show from inception to creation this process of making the piano." OK I wasn't quite that poetic but… you get the point.
In usual enthusiastic manner Basilios replied "Well let's make this happen! Hailun is transparent and I'd like you to feel at home – to photograph and walk around as you would like." It wasn't until I started shooting panoramic images that his eyes lit up. "Wow this is fantastic! It really shows the factory as if you're standing right here." That was my intention precisely. The new chapter called Piano Factory Tours is in editing stage and will be released August 2015.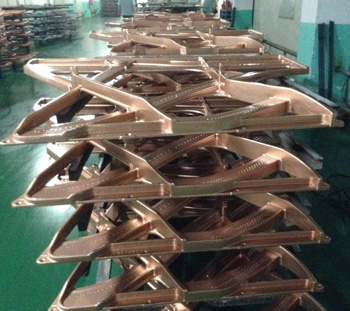 5 Days Later
Debriefing this whirlwind, it's simply overwhelming the stature and size of the Hailun Piano Company. They manufacture roughly 38,000 pianos per year. Now if you do the math, that's just over 3,150 pianos per month in 4.2 MILLION square feet of factory space.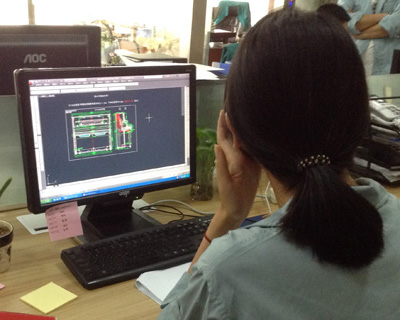 The construction of the piano is divided up into stations where each employee is trained in specific tasks. Some work on tone wood – the sound producing elements of bridges and soundboards while others work on action parts and how the piano plays. Some produce beautiful finishes and others are involved in the construction of the frames. At the end of the assembly there are usually at least 3 levels of refinement ~ rough tuning and regulation (making all the parts function evenly), then 2nd tuning and voicing (making all of the notes sound consistent) and then 3rd regulation and tuning. All pianos are inspected along the way at various levels. Oh and when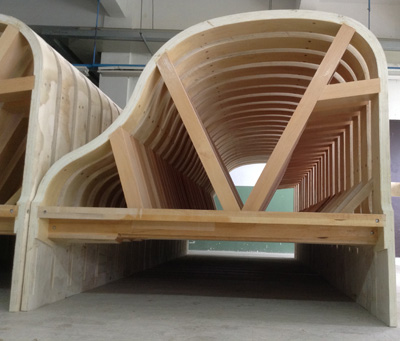 you walk into the factory, the sounds – you can't even begin to describe this one machine – up until this point I had only seen pictures –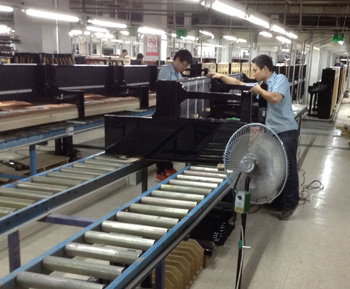 The piano gets sent into an extremely well insulated booth where this machine strikes the keys to 'break in' the piano. The sound of all 88 keys hitting in rapid succession settles the entire piano; the tuning of the strings settle, the hammers find their strike point and the tone begins to really blossom and not sound so 'green'. All pianos roll through the factory on what look like train tracks. They move from one section or station to another. There are some areas in the factory with tools not dissimilar to my own wood shop having the reminiscent smell of sawdust and conversely, there are multimillion dollar polishing machines working with exacting precision to achieve that mirror gloss many refer to as "piano black finish" or ebony polish. In order to create a piano however, it's not simply the sum of the parts – it's the design team of piano visionaries and engineers working at computers and CNC machines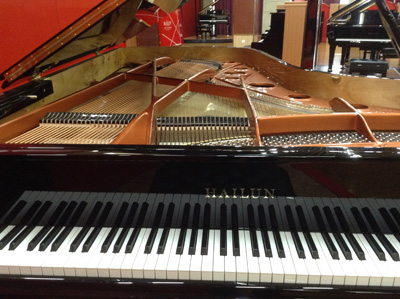 (computerized cutting tools precisely notch and cut down to 1/1000th of an inch).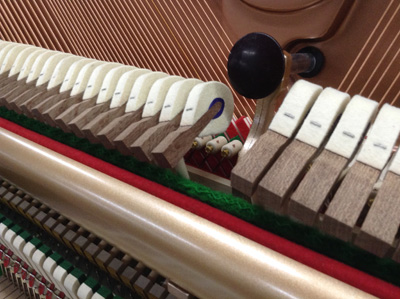 It's also logistics – transporting parts from one area to another and not get bottle necked at any stage along the way. Imagine if there would be a problem in one section, pianos would just start piling up at over 100 per day! So the entire process needs to flow from one section to another. And don't forget about packaging – the creation of boxes, pallets and air tight packaging. At the helm of this giant ship is Mr. Hailun Chen – an absolute larger than life personality who despite cultural and language barriers makes everyone feel welcome. The few interactions over dinner and meetings, there were great laughs but you also recognize that he's a remarkable leader who would be first to tell you that it takes a team to build a piano. Hah… and I thought my 5 day trip to China was a whirlwind – try building an entire line of pianos, manufacturing facilities, installing giant machinery, with hundreds of workers, an entire sales force with global presence, achieving publically traded stock status all in just 15 years. Wow.

Special thanks Mr. Hailun Chen & Basilios Strmec (Vienna Piano) and the entire staff at Hailun Piano for accommodating this photo shoot and for facilitating and sponsoring this entire trip from start to finish. Thank you so much for the tour – halfway around the world and back within 5 days. Cheers to Hailun Piano and may you see continued success and growth in the coming years.

Oh and one last thing… in between meetings, I had the opportunity to sit at a Hailun grand piano ~ model 218 (7'3" long) in a performance venue built within the factory. (You'll be able to see it on the virtual tour). It was lovely not only to catch my breath for a moment but to also sit at this FANTASTIC piano and remember that it's the inspiration of music that moves mankind to create and build instruments of beauty for the indulgent purpose of expressing what our hearts feel.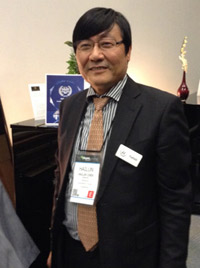 Earlier this year at NAMM I interacted with Mr. Hailun Chen – truly a privilege and honour to connect with such a humble visionary who has influenced and supplied more piano parts than we're probably aware of. I greatly respect individuals who state "I have put my name on my pianos and on my company". Mr. Hailun Chen is the real McCoy where his name is his guarantee.
Working with a translator, he showed me different concepts in his pianos. What caught my eye was this silver looking gleam under the keys on one of their upright pianos. As seen in the picture, the key "bed" is the horizontal frame that the keys rest on. It's imperative to have a solid key bed without which the piano touch would be compromised in evenness and functionality. Normally made out of wood, frames will sag or warp over time. It's a common problem.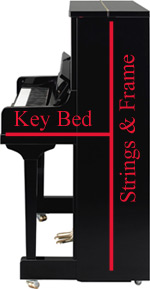 Aluminum however, prevents this problem and ensures both structural integrity but also alignment for a life-time. It is completely warp resistant. So if the strings run vertically in an upright piano, the key bed is perpendicular to the frame. If there is any sagging or warping in a wooden key bed, even by a few millimetres (1/16th of an inch), the problem is compounded in the vertical alignment of the strings.
So what are the implications of integrating aluminum? (See? I knew you would be as excited about this innovation as I am. This innovation BTW is exclusive to Hailun pianos and is officially called PAS system – Permanency- Accuracy- Stability).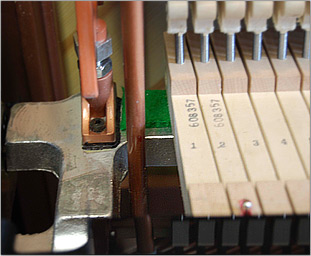 Well to keep any piano completely in 'check' and performing optimally, regulation (fine adjustments) are done. Quite often, as pianos age and get worn, piano technicians are making these adjustments to compensate for worn parts but also for a sagging key bed. What happens then if key bed issues were taken out of the equation? Indeed, the regulation would be a much easier task. Speaking with Basilios Strmec, CEO of Hailun Distribution for North America, it gets even better. Let's say you are an avid pianist working hard on a performance degree and you used one of the Hailun pianos as a workhorse. You would expect to see substantial wear and tear, correct? Over years, when pianos start to feel and sound worn, if you had an aluminum key bed, you could simply swap actions and renew the instrument to its original condition.
That means in essence you would have a mechanically NEW piano – with new joints, hammers and parts. It would feel new but also the fresh felt on the hammers would make it sound new. Historically during construction of a piano, one instrument's parts were fitted to just one piano – meaning they're not interchangeable. Even if it's the same make, same model, same brand, same year, you would usually not be able to change out parts readily. With modern computer based CNC (Computer Numerically Controlled – in other words carving out parts by computer control), the precision is such that you could actually swap out the 'engine' of the piano with 4 bolts in a few minutes. In essence then, we've reached an age in manufacturing where not only are you investing in the present piano but saving on the rebuilding costs for years to come. That's amazing! Kudos to Hailun for the innovation in the industry. Special thanks to Basilios Strmec for taking the time to discuss this with me and providing information.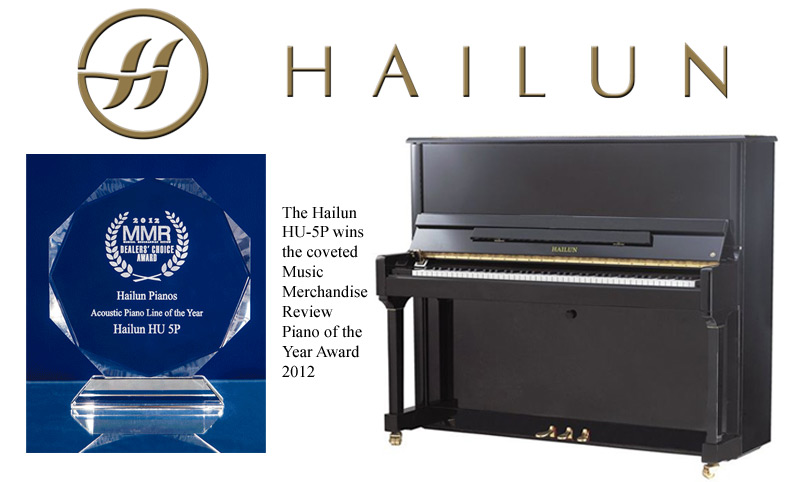 Haven't heard of Hailun? They have over 430,000 square feet of manufacturing space and employ over 1,100 people and one of only 2 Chinese made piano companies listed on the Shenzhen stock exchange.