Sauter Piano Made in Germany
I wandered through the halls of the Vienna Music Museum the day after visiting Sauter Piano in Germany. It seemed incredible to me to view keyboard instruments from as old as 1750. By the early 1800's, the piano had already undergone dramatic improvements. Two famous builders ~ Nanette Stein (earliest known female piano builder and company owner) married Johann Streicher (famous Viennese piano builder) and together they became a formidable force manufacturing pianos of excellence, having clients and becoming friends with both Beethoven and Mozart. In 1813, a young carpenter from Germany named Johann Grimm joined the Streicher business as an apprentice. For 6 years he worked and studied the art of piano making until the political climate changed in Vienna in 1819 whereupon he returned to Spaichingen to begin building pianos on his own. Having no heir, the company was inherited by his nephew Carl Sauter and thus the lineage of Sauter pianos began. Six generations later, Carl Ulrich Sauter together with economist Otto Hott continue to lead this nealy 200 year old company. In fact, it is the oldest continuously running family-operated piano company in the world.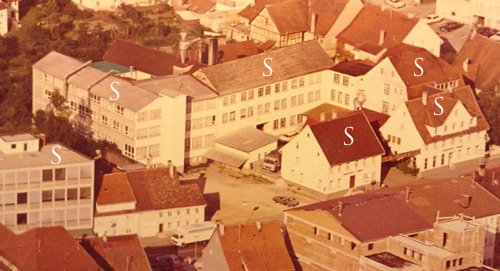 The company remained in its original location adding on to the buildings from 1819 until 1974 (the earliest building located in lower right).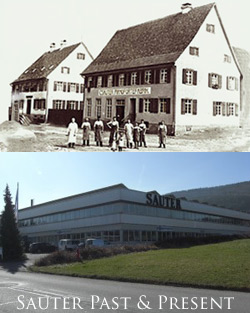 Moving literally 500 meters up the road, Sauter built a state-of-the-art location between 1974-1983 and is presently located there.
"Have you heard of Sauter?" I've asked several people over the years. Most people I know haven't had the privilege of seeing or playing a Sauter piano. Nestled in the Black Forest in Germany, Sauter remains a well kept secret, manufacturing pianos of excellence.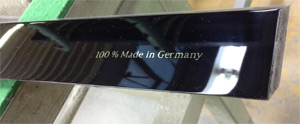 Sauter is one of the few companies that are truly 100% made in Germany. What does that mean? Traditionally, Germany has the highest grades of materials in the world. Sauter's materials are locally sourced, their labour is local, their manufacturing has occured in the same location for just shy of 200 years.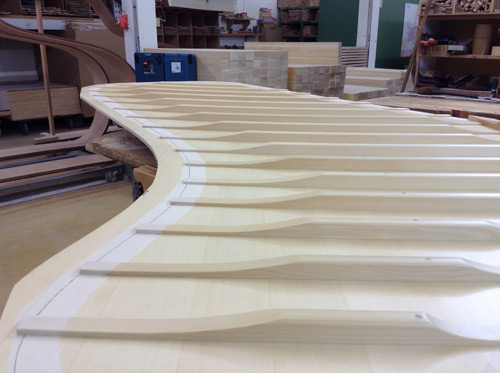 When I sat to play a few of the pianos in the Sauter factory, the tone was very soft and velvety at lower volumes. Not muffled by any means ~ instead, it was focused, clear but never offensive. This continues up until forte (loud) dynamic levels and then when you really play into the piano at fortissimo (very loud), the tone blossoms into this bold sound filled with an array of beautiful overtones. The control is extremely balanced and lovely to the touch ~ incredibly silky. My perceptions of the piano were that of "comfortable to the ears" and I truly enjoyed the fact that you could play the piano with lots of color and control. Voicing a melody line is a beautiful experience. Sauter has some unique and interesting design concepts: Historically they were the first company to introduce steel as a reinforcement into piano actions, providing rigidity and excellent transference of energy to the soundboard. Renner action parts are used throughout. Solid, low altitude spruce is used for their soundboards and they even manufacture their own cast iron plates. Titanium parts are used extensively for termination string points on their larger instruments.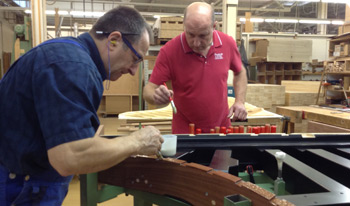 As a company, I have to say that in keeping with German stereotypes, Sauter is efficient in production flow, innovative in their tools and beautiful in their designs. Refined over almost 200 years, their scale designs are well thought through. If you have spent any time in a woodworking shop, you'll know that jigs are vital to consistency. What I enjoyed seeing on the walls are jigs that look like bobsleds – heavily worn with decades of use. Jigs are simply custom made tools that resemble patterns. They might show where to cut out a soundboard or pinblock. Sometimes they're used for tracing around while at other times, they show where to drill precision holes so that each piano turns out uniformly.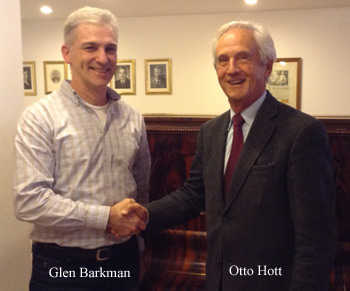 What is also interesting is the fact that being a smaller production facility (hundreds of pianos not thousands annually), the Sauter factory workers will often fill the shoes of more than one production station showing them to be a truly multi-skilled workforce. Where efficiency is required, Sauter is ingenius in developing tools for precision and accuracy and yet fully retain hand crafted involvement and finishing. Specialists work laboriously as they continually refine the pianos to achieve what I would deem near perfection in both touch and tone. At the end of the work week, the entire facility shuts down for an intensive cleanup time to make ready for the following week. Sauter is earmarked by cleanliness and organization. Some of the polishing guys (who I jokingly called "the men in white") wear cleansuits. Wood piles are neatly stacked, floors are immaculately swept and high quality tools are placed at their respective benches.

My tour of Sauter ended up in the showroom. Sauter pianos are visually stunning, incorporating European designs from Peter Maly. Their lines are smooth, clear and sparse. The pianos are modern and incredibly well proportioned. Even their showroom seems more like an art gallery – small, intimate and well planned. If you've never played one of these pianos, you should search one out. If nothing else, it will impress you with how beautifully designed, built and well crafted these timeless instruments are.
To view the complete lineup of Sauter pianos, click HERE