Piano News from NAMM 2014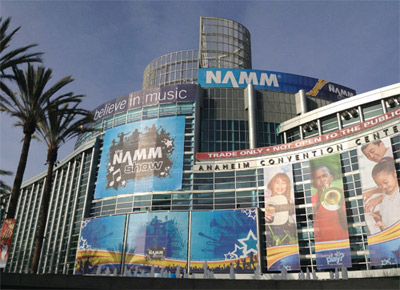 If you've never heard about NAMM, it's the largest music trade show in North America. NAMM stands for the National Association of Music Merchants. So if you're in the trade, whether it be musical instruments, band instruments, music software, support – like sound reinforcement, lighting, guitar strings, music books… this is the place to be. Established in 1901, the show now has reached an attendance of 95,709 visitors. Hosted in sunny Anaheim, California, the following pictures are the piano highlights for me. Hopefully they'll give you a glimpse in terms of what it's like. Enjoy!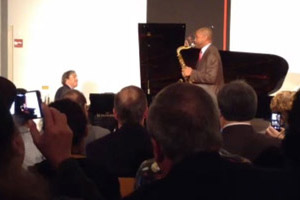 In the middle of the trade show was a small concert highlighting Branford Marsalis and Joey Calderazzo, hosted by Schimmel. It was an intimate event in a venue that held only about 80 people. Kudos to Schimmel for this. For years I've followed the musical careers of both Wynton and Branford Marsalis. Joey and Branford play at such a high level and yet somehow make it so incredibly accessible and fun… best moment of the show for me. And it also brought back home again why we are involved in the music business… to make music.
Many of the brands that you see in stores were represented at the show. On the 3rd floor were Kawai, Samick, Schimmel, Pearl River, Kayserburg, Ritmuller, Hailun, Kingsburg, Petrof and Cline. On the 4th floor on display were Fazioli, Bluthner, Ronisch, Baldwin, Otto Meister, Hallet & Davis, Schumann, George Steck, Schulze Pollmann, Baldwin, Mason & Hamlin, Perzina, Story & Clark, Ravenscroft as well as Young Chang.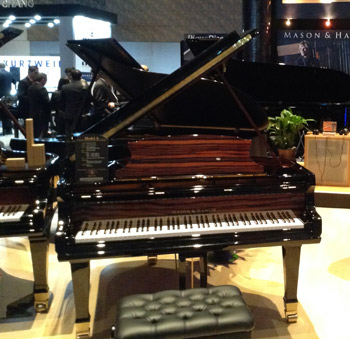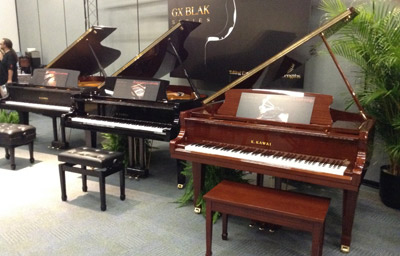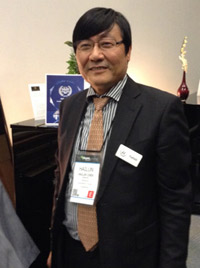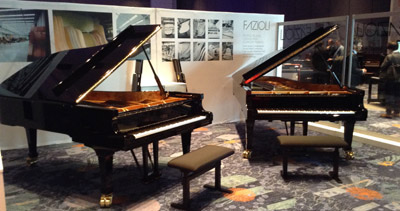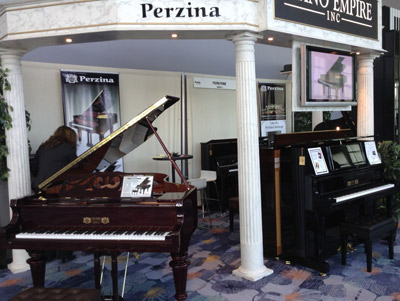 I always count it a privilege to meet people at this show who are what some would call 'movers and shakers'. It was great to meet Mr. Hailun Chen (from Hailun pianos). He's this unassuming man humbly standing in the corner. After I showed interest in the technical side, we then started dismantling his pianos in order to show me the finer points. Despite the language barrier (he's pointing out features and I'm nodding) we still managed to connect about some of the new features of Hailun. When you consider that the Hailun company is responsible for manufacturing not only tens of thousands of pianos but is also a supply house of action parts to many companies, it was truly an honor to meet him. Connecting with Christian Bluthner (Bluthner pianos), Michael Spreeman (Ravenscroft pianos), Kirk Burgett (president Mason & Hamlin), Del Fandrich (designer of Young Chang), Thomas Dolan (CEO of QRS and Story&Clark) was also very exciting to hear what is going on in each of their respective companies.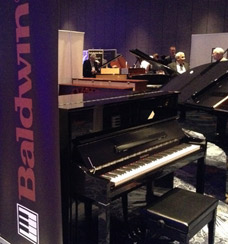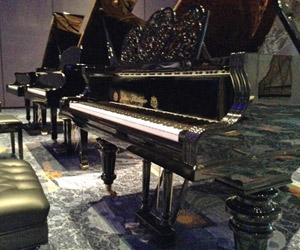 One of the FIRSTS this year was the Kayserburg release of their grand piano from Pearl River Piano Group (see Piano Price Point blog October 2013 for more details on Kayserburg). The piano played and sounded wonderful… and although the price is TBA, in usual Pearl River fashion it will represent excellent value when it hits the market in North America. Unbeknownst to me, someone snapped a picture of me playing the Ravenscroft piano. They also released a VERY fine computer based sample of their piano. Pictured to the right is the unmistakeable look of Bluthner music rack and legs.