Latest Cosmetic Trends in Pianos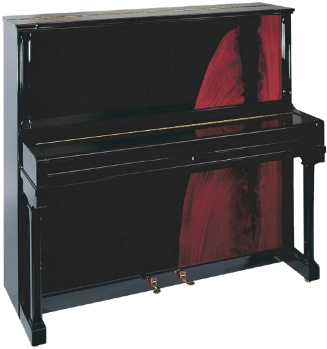 To prove artistry and craftsmanship in the late 1800's, pianos were intricately and ornately carved. As the Victorian era ended and we were ushered into the 20th century, many of the older piano legs were swapped for simplistic ones to stay 'modern'. The advent of both world wars saw an era where mainstream piano cabinets became simple and plain and if you wanted something a little special you ordered an "art case" piano. Fast forward to the late 60's… black is IN. Browns are in the background. Why? With the advent of resins and polyester finishes, there was a demand for a more polished look and manufacturers didn't need to consume time with matching great looking veneers. Let's face it, you can spray black over top of any finish but great cuts of wood require time, attention and skill.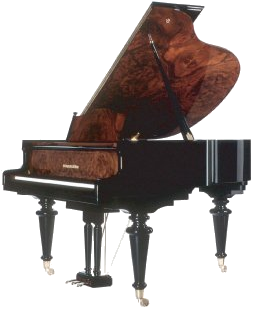 Fifty years later, after a sea of black pianos, makers are slowly changing the tides. Accents are in. Custom makers such as Steingraeber are touting their skill by mixing wood with black – that's the hottest trend. As I've piled through thousands of pictures of pianos and brochures compiling this online book, the common theme is that the mix of wood with black is what many are finding the 21st century trend. From a sales perspective, it's a 'value added' feature or another way to sell up.
And it's not just happening with the boutique makers – right across the board at every price point – from Bosendorfer, Fazioli to Hailun to Story & Clark to Yamaha these accents are becoming more and more prevalent. Is it a completely new trend? No. Many of the European art case pianos have been integrating different woods on rims and under sides of lids for over a century. What is new is that these accents are becoming the 21st century mainstream for piano decor. While there used to be carvings and "gingerbread" on old pianos, now there are accents of exotic woods on rims, music rests and selective panels.