Kawai's New GX series of Grand Pianos
Earlier this year, Kawai introduced us to their newest GX line of pianos following nearly a 20 year run with the RX series. Continuing on with their high tech Millenium III actions made of styran infused with carbon fiber, the piano scale has also been redesigned. However there are bigger structural changes which are outlined here: 1. Stretcher widened. The stretcher is the perpendicular beam (pictured left with lock plate) that connects the left/right sides of the rim. Kawai has solidified this beam and connected it to the pinblock and frame to act as a single unit.

2. Concert key buttons. Notice that the length of the key buttons (pictured right with red bushings) are very long acting as structural reinforcement to the key. Stiffer keys mean better energy transfer to the action.
3. Longer keys in all models. This lengthens the distance from the fulcrum (pivot point) enabling both greater control in dynamics and minimizing touch difference from front to back of the key at the keyboard.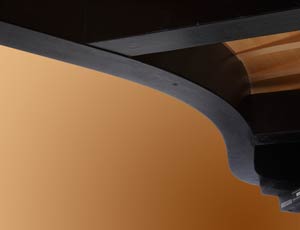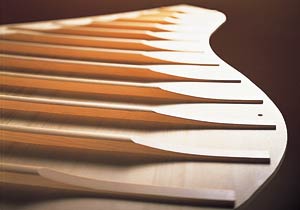 4. New rim design called "Konsei katagi" meaning "mixed temperament", mixing 2 alternating woods, one from northern grown closed pore hardwood, the other a tropical grown open grain wood provides both projection,warmth and full body.
5. New tapered soundboard. Using straight grained, quarter-sawn solid spruce for the GX line, the new soundboard taper offers greater sustain and projection.